By David Russell
Options volume surges in Valassis (NYSE:VCI) Communications today as a volatility seller looked to earn premium from the debt-laden advertising stock.

The trader wrote about 4,440 contracts each of the March 25 puts and the March 25 calls as part of a so-called straddle strategy. The trading was broken into several pieces, with the calls fetching about $2.31 and the puts some $1.49, according to optionMONSTER's tracking programs.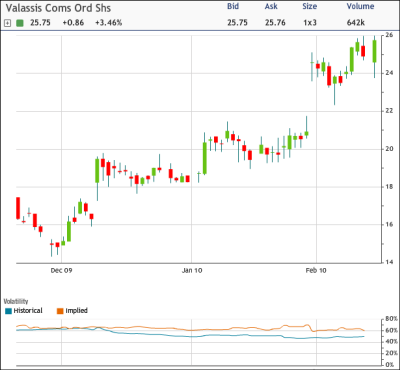 VCI rose 3.46 percent to $25.75 in afternoon trading and is up more than 1,600 percent in the last year. The company, which provides direct mailing and newspaper inserts, has been exploding higher on strong earnings and an improving credit profile after a receiving a positive legal settlement on Feb. 1.

The junk-rated name also has a series of events scheduled before March expiration: Fourth-quarter earnings on Feb. 22, followed by presentations at Credit Suisse and Baird Conferences the next two days. VCI will also appears at the JP Morgan Global Leveraged Finance Conference on March 3.

Implied volatility often declines following such events. It now sits at about 64 percent, up from 60 percent at the beginning of the month.
Today's options trader is apparently trying to exploit that trend to earn income by selling a straddle, which will profit from VCI remaining little changed through expiration. Given the approximately $3.80 of premium earned, he or she will make money as long as the stock closes above $21.20 or below $28.80. (See our Education section)
Overall options volume in the name is five times greater than average today.

Author's Disclosure: No positions