Global Ship Lease (NYSE:GSL) is a company that an investor can continue to sail into 2014 for higher returns, while enjoying a smooth ocean. Although a smooth sea has never made a skilled mariner, It is my personal belief that Global Ship Lease will provide an investor with a journey for ample returns over the next year. All aboard Global Ship Lease, for a discussion that will delve into the clear nature of this compelling investment opportunity.
Global shipping is an industry that is generally under-followed, as the industry is boring. Although there is nothing boring about a successful company with a bright future - that company is Global Ship Lease.
A Smooth Sea
Each industry has its own ocean in the investment world; constantly interacting with each other to create the business world we know and take part in on a daily basis. Having a foundationally solid balance sheet and fundamentals translates into a smooth sea in comparison to the industry that Global Ship Lease conducts business in. These calm waters are better than weathering a hurricane, and when coupled with GSL's growth metrics it will make for a compelling voyage.
| | | | | | | | | |
| --- | --- | --- | --- | --- | --- | --- | --- | --- |
| | P/E | P/S | P/B | P/Cash Flow | Debt/Equity | Debt/Assets | Current Ratio | Short Interest as % of float |
| GSL | 8.44x | 1.76x | 0.78x | 3.18x | 1.16x | 0.51x | 0.54x | 1.53x |
| Industry | 25.6x (sector) | 1.8x | 1.9x | 9.1x | 1.3x | - | - | - |
To further compound the calm waters that makes up GSL, the company is trading under its book value for starters. Moreover, GSL's P/E ratio is lower than 78% of other companies in the Water Transportation Industry and its debt/equity ratio indicates that it is on par with other companies in the industry when using debt to finance growth. Another key aspect that is compelling, in my opinion, is the low short interest in the company. This means that the company is not a target for bashers or stock manipulation used to exacerbate the PPS to the gain of a high short interest. It also speaks that the company is attracting more investors for its voyage than those banking on the company's decline. Having a strong foundation, versus an overleveraged company based upon metrics, creates a smooth sea that the company can drive on moving forward.
In comparison to specific industry names, Geneco Shipping & Trading (NYSE:GNK), Eagle Bulk Shipping (NASDAQ:EGLE) and Dryships (NASDAQ:DRYS) all have no P/E value since all of these companies have a negative TTM earnings per share value. Interestingly, at a quick glance, all of these companies also trade above their one year target estimates as well. For example:
DRYS trades at $3.50 with a one year target estimate of $2.89
GNK trades at $2.59 with a one year target estimate of $1.27
EGLE trades at $3.839 with a one year target estimate of $1.67
GSL Trades at $5.50 with a one year target of $7.00
(All targets from Yahoo Finance)
Although these are quick metrics, with a one year estimate below their value these competitors may already have their gains priced in. Moreover, for the reasons described below in this article, It is my opinion that Global Ship Lease is the best way to play the shipping services sector moving forward. Other companies in this industry are Royal Caribbean (NYSE:RCL) and Kirby Corporation (NYSE:KEX), although it is my opinion that Global Ship Lease is the best way in the industry moving forward.
The Recent Voyage:
On November 14, 2013 GSL's CEO hosted the company's most recent earnings call. A key aspect for successful investing is making sure that management is aligned with the concept of delivering for shareholders, advancing the company and planning for the future. For the third quarter ending September 20, 2013, GSL delivered some impressive numbers. GSL had its 17 vessel fleet utilized at 100% as there was no off-hire period at all - leading to the highest possible revenue of $36.1 million for the quarter. This speaks to the efficiency of the company's operations, having 100% fleet utilization for the quarter. This translates into operations that are being run extremely efficiently.
GSL had an EBTIDA of $23.5 million that was used to pay down $15.8 million of debt for the quarter. This translates into a net bank debt to the last 12 months adjusted EBITDA of 3.9x , a low value for the company. Following the re-chartering of two 4,100 TEU ships back in May of 2013, the company has had no gaps in operations and has been able to generate $68.6 million of adjusted EBITDA for nine months ending September 30, 2013. GSL used this to pay down a total of $41.4 million of debt in that nine month period.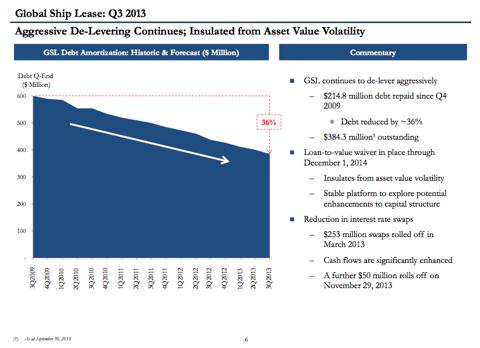 (Click to enlarge)
As to any concerns with delaying the departure of any vessels that the company owns, the next scheduled inspection for one of its vessels has been postponed until late 2016. In total the company only has two of its seventeen vessels scheduled to be dry-docked after the end of 2015. This results in GSL's full fleet being out, earnings revenue and reducing drydock costs in the near term.
The company's fleet has an economic life of 30 years and the average life of the fleet today is roughly 9.5 years. Moreover the charter life has an average remaining term of 6.7 years, representing total revenue of around $950 million. Outside of the two vessels already detailed, as charters expire in the second quarter of next year, this will only translate into 4% of the company's total revenue being affected. In aggregate, this translated into a strong revenue bases, predictable costs and long term visibility into the future of the company's operations and cash flows.
The above slide demonstrates the forecast for supply growth through 2013. Supply growth continued to exceed demand growth. On the other hand, pressure continues to be seen with short-term charter rates and asset values due to the fact that there is excessive capacity.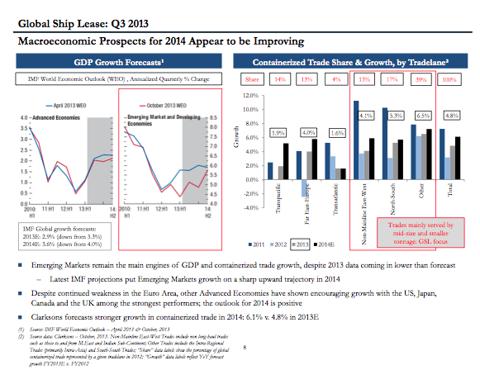 (Click to enlarge)
Moving onto the rest of 2013 and 2014, the IMF report demonstrates encouraging growth in emerging markets. Interestingly, containerized trade is based 70% of global trades in emerging markets. GSL is set to serve this market as the company's fleet includes smaller to mid-sized ships aimed to serve this market.
One item that has hit GSL in recent years has been a tough marketplace that is set to improve in 2014. The above slide demonstrates supply growth at a full cost of 5.6% for cellular capacity, and at 4.9% for all container capacity. The latter is less than the forecast demand growth of 6.1%, which is encouraging. The above slide also demonstrates a concern that the company has been facing in the near term, which is that charter rates have been under pressure. The company has been raising prices to combat this area of concern.
The company has been improving its financials over the near term. One area of concern is the drop in revenues of $36.1 million down from $39.5 million for the comparative three-month period ending September 2012. GSL has blamed lower revenues for two of its vessels that were subject to renewals at lower rates. This was offset by no dry-dockings in the quarter ending September 2013.
Moving on to future dry-dockings, the company has none planned for the fourth quarter of 2013, two for 2014 and none for 2015. The company has rolled off $253 million in swaps in mid-March and no dry-dockings has led to increased cash flow for the company.
To conclude on the strong position the company is in based upon its recent earnings call, I would like to restate that the company's fleet remains fully chartered through April of 2014, only with expirations of two vessels before late 2016 and $1 billion of contracted revenue spread over the next seven years with stable costs.
The Journey Ahead
Two firms have initiated coverage of GSL in recent time; both with buy ratings on the company. Global hunter securities has a $7.00 price target on the company, while another firm, EuroPacific Canada has a $6.00 price target. Using the median, a price target of $6.50 translates into an expected gain of 18.8% from the current price per share of $5.47.
On a technical analysis basis, GSL is quite the unique company. At first glance, a RSI of 83.10 signals that shares could be due for a correction. Although this is based upon past trading in relation to current levels. Moreover, as can be seen from mid-July to the beginning of September and mid-September to mid-November, once the company obtains a new leg up, it holds that level for a time frame of roughly two months. As such, the company could be on the uptrend to its next leg up, or be maintaining that newfound level which both signify a neutral or bullish sentiment - not a bearish one. This is more conceptual than T/A based, although it applies to the company.
Incremental Value

Interestingly, estimates from E*Trade Financial put the company as having $0.56 in earnings for 2014. I believe this is below what the company will see due to the factors outlined below and expect to see closer to $0.77 in earnings in 2014. The analysts demonstrated above put the company as having a target share price of $6 to $7, and using the company's current P/E ratio of 8.44x, this would result in a share price of $6.50 - upside of 18.8%. Using the analysts' estimates in the $6 to $7 range for 2014, while using the current P/E results in EPS for 2014 in the $0.77 range.
Generally, my thesis on the company's outperformance are linked to several factors that favor the company's outperformance for 2014. My estimates do not differ from the analysts as I also expect a PPS of $6 to $7 as seen by the two analysts above.
Low valuation in comparison to the industry, positive P/E due to positive EPS in comparison to negative EPS with industry peers.
Under

analysts' estimates, whereas competitors are all over their one-year targets and have their value baked in already.

17 ship fleet, that is going to be 100% fully utilized in 2014, after the 2 new vessels were re-chartered in 2013.
Global Ship Lease paid down $15.8 million in debt for the quarter, $41.4 million in the last reported nine month period. This translates into the company's drive to continued de-leveraging.
Only dry dockings are set to occur after 2015, all vessels are available for 2014.
Fleet has an economic life of 30 years, and Global Ship Lease's fleet is only 9.5 years old on average.
Demand for containerized shipping is set to increase next year.
Macroeconomic factors affecting the industry are improving and will positively affect the industry moving forward.
$1 billion dollars in contracted revenue spread over the next seven years.
Positive technical analysis factors that favor short term improvement in the price per share.
Conservative 18.8% upside using the company's current P/E ratio.
No principal agent problem as insiders own 37.29% of the company's shares.
The under-followed nature of the company demonstrates an under-followed investment opportunity.
On a side note with regard to earnings estimates - analysts usually underscore the dynamics of the company's mid year estimates, to the upside and the downside. For the positive reasons stated above, this is an excellent demonstration of how analysts may be miscalculating 2014's EPS as well - as the above factors are not factored in moving forward and are only based upon black and white earnings estimates.
Mulit-Layered Fundamental Opportunity: What Sets GSL Apart
Global Ship Lease is set apart from its competitors due to the strong fundamental basis the company entertains.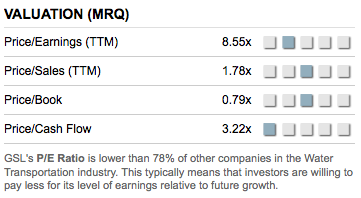 GSL's P/E ratio is lower than 78% of its peers, has a P/S and a P/B on target with the industry and a very low P/Cash flow with regard to the industry. This marks the company as undervalued in comparison to the industry itself.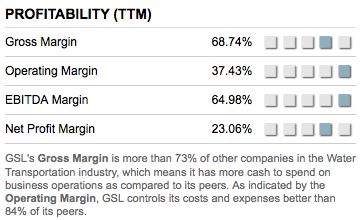 GSL is an extremely profitable company, having a gross margin higher than 73% of its peers and being able to control its costs and expenses better than 84% of its peers with regard to its operating margin. Each margin listed is on the high-end or above average level with regard to other companies in the water transportation industry.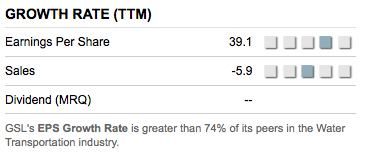 GSL's EPS growth rate is impressive, higher than 74% of its peers. Sales are down slightly although are still in the mid range for the industry.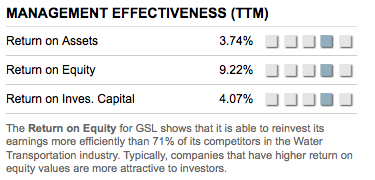 Global Ship Lease's management are not taking a cruise either as GSL packs above average returns in comparison to the water transportation industry. GSL has a ROA, ROE and ROIC above the mid-range for the industry.
This four-layered overview with regard to the industry itself marks GSL as an attractive investment in the water transportation industry in comparison to the company's peers.
Conclusion
Global Ship Lease is a company whose recent journey is summed up very nicely in the most recent conference call. This data demonstrates a company that is not only foundationally strong (smooth sea), although strong enough to continue growing into the future. The company is undervalued in comparison to the industry it competes in, and is not facing any major headwinds in the distant future. Furthermore, the company's data on dry-docking coupled with the charter expirations define a company that is not facing any headwinds for years to come. Dry-docking of ships and charter expirations are a main concern to be discussed before investing in the company, and these headwinds are well into the future.
With a fully chartered fleet out to April of 2014, the company continues to generate strong cash flow. With annualized savings of $7.5 million due to $253 million in interest rate derivatives being rolled off in mid-March and other savings as $50 million in derivatives were rolled off in November results in increased savings for the company moving forward.
With stable costs and cash flows, $950 million in contracted revenue with an average remaining contract term of 6.7 years, savings with regard to derivatives, cash flow being used to pay down debt, fundamentally undervalued metrics no financing risk until 2016 and no exposure to asset volatility it is my opinion that GSL will continue to reward shareholders with an 18.8% upside potential.
Disclosure: I have no positions in any stocks mentioned, and no plans to initiate any positions within the next 72 hours. I wrote this article myself, and it expresses my own opinions. I am not receiving compensation for it (other than from Seeking Alpha). I have no business relationship with any company whose stock is mentioned in this article. Always contact a financial professional before executing any trades. This article is informational and is in my personal opinion.