Bill Barrett Corp. (NYSE:BBG) has historically been a natural gas E & P company. More recently with the low natural gas prices, BBG has moved aggressively into oil E & P. In Q3 2013 56% of pre-hedged revenues came from oil sales. Oil production averaged 9,880 barrels per day (or 25% of production). This was up 25% over the year ago quarter. As of September 30, 2013 BBG had the following major oil development areas: the Uinta Basin -- 151,393 net acres, the DJ Basin -- 75,300 net acres, the Powder River Deep -- 68,285 net acres, and a variety of other exploration properties -- 235,510 net acres. BBG's core natural gas properties amounted to only 65,525 net acres; and the sale of the West Tavaputs acreage, which is expected to close in December 2013, should cut that number roughly in half. BBG is quickly becoming an "oil" company. Presuming decent profits on oil, this should be a very good thing for investors.
BBG's guidance for 2013 is for 30%-35% growth in oil production for the year. BBG expects oil production to be approximately 40% of total production at year end 2013. At only 25% of production in Q3 2013, this would seem undoable. However, when you factor in the closing of the West Tavaputs acreage sale for $371 million in December 2013 (about half the natural gas acreage), that should easily allow the 40% goal to be reached by the end of Q4 2013. I should note there was also a $335 million sale of natural gas assets which closed December 31, 2012. BBG is really becoming an oil company.
BBG expects to have total production of 85-87 Bcfe at year end 2013. It expects about 40% to be oil production. All of its 2013 capital program has been directed at oil growth. BBG currently has nearly 3000 oil drilling locations and about 4000 gross drilling locations; and it may delineate many others as further development work is done. It has proved reserves of 1.04 Tcfe (29% oil and 59% proved developed). It has 2.9 Tcfe in risked resources. BBG has a lot of potential.
After the West Tavaputs sale closes, BBG will have achieved a debt to EBITDAX ratio of 2.8x. This is a reasonably stable level; and it is close to BBG's longer term goal of 2.5x.
I wouldn't say BBG has great management. It has missed on earnings in each of the last three quarters. However, the earnings reported have shown steady improvement, although all of them have been losses. Q4 is expected to be the first slightly profitable quarter in 2013; and if history repeats itself, that will miss too. However, BBG is expected to be solidly profitable in 2014. Its EPS are expected to grow by 237.70% to $0.73 for FY2014; and this estimate is a significant rise from the $0.51 EPS forecast just three months ago. Even if BBG misses the current FY2014 estimate, the result should still be great compared to FY2013's result. Further the average analysts' next 5 years EPS growth estimate per annum is 36.75%, which is fantastic. The above numbers are expected to yield a PE of 36.49 by the end of 2014, and that is just the beginning of the longer term good news.
BBG is not leaving all to chance either. It has hedged approximately 70% of its production in Q4 2013; and it has 46 Bcfe of hedges for FY2014 (as of October 21, 2013). This is a little more than half of FY2013 production. This seems a bit light for a company that wants solid insurance. However, BBG will almost certainly acquire more hedges over time. Plus the 2014 hedges are at an average price of $8.80/Mcfe. This is better than the hedges in Q4 of $8.13/Mcfe, although this is surely due to the higher percentage of production that will be oil in FY2014 (40%+).
The oil development data seem to bear out the good news. Two new delineation wells in the DJ Basin had average IP (initial production) rates over 1000 BOE/d over a peak 24 hour period; and IP rates averaged about 500 Boe/d over a 30 day period. Six new pad wells in the Northeast Wattenberg area (DJ Basin) had peak 24 hour IPs of more than 1000 Boe/d; and these averaged 600 Boe/d over the first 30 days. These are not mind numbingly great results; but they are good solid results. The chart below shows the production growth profile for BBG's DJ Basin holdings.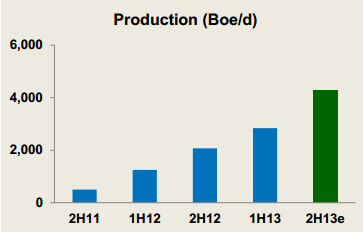 The Uinta oil program growth chart below does not look as prolific; but it does show good solid growth.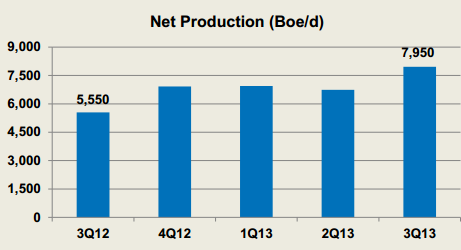 In addition to BBG's increases in production, etc., other companies such as refineries, pipeline companies, and rail companies are increasing their presence in BBG's two main oil plays -- the Uinta and the DJ Basin. In fact infrastructure building by such companies is expected to double infrastructure capacity in the DJ Basin by 2015. Such ancillary projects by other companies should make BBG's ramp up in its own production easier and more profitable.
I don't want to paint everything as rosy though. BBG did have significant write downs in Q3 2013. BBG had impairment charges of $216.6 million due to the write down of the West Tavaputs assets to the expected sale price and write downs of exploration properties in the Southern Alberta Basin in Montana. There were other less expensive items too. These write downs should not be an every quarter occurrence. The main development areas look solid; and BBG has most of its acreage already HBP (held by production). Therefore it should not lose acreage by not having drilled; and it should be able to drill in the way that it feels is most strategic.
All told, BBG looks like it will become nicely profitable soon. It appears to be about to turn the fiscal corner to greatness (or at least goodness). If analysts are at all correct, it should have many years ahead of solid EPS growth (+36.75% EPS growth per year for the next five years). This should make it a good to great long term buy. I am sure some people will scoff at my recommendation due to BBG's past history; but the company has changed. BBG gives a lot of indications that it is about to become solidly profitable (and continue growing rapidly from there).
The two year chart of BBG provides some technical direction for this trade.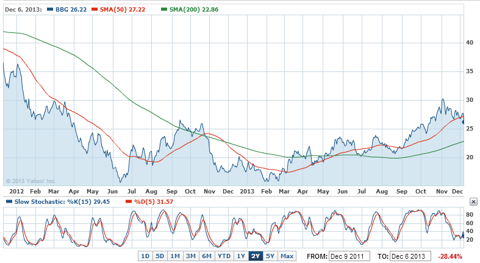 Click to enlarge
The slow stochastic sub chart shows that BBG is near oversold levels. The main chart shows that BBG suffered from a downtrend in 2012. It formed a strong double bottom formation in 2012 and 2013. It has proceeded to go up from there. Technically there is strong reason to expect BBG to continue to go up over time. A double bottom formation is one of the strongest technical indicators in the market.
BBG has been in an uptrend since early in 2013. It is a buy. It has a mean analysts' recommendation of 2.6 (a high hold). It has a CAPS rating of five stars (a strong buy). In a situation like this, the CAPS community most often moves in advance of the brokerage analysts. With all of the technical and fundamental positives, BBG is a good long term buy, although investors will want to keep an careful eye on any future write downs.
NOTE: Some of the fundamental fiscal data above is from Yahoo Finance.
Good Luck Trading.
Disclosure: I have no positions in any stocks mentioned, but may initiate a long position in BBG over the next 72 hours. I wrote this article myself, and it expresses my own opinions. I am not receiving compensation for it (other than from Seeking Alpha). I have no business relationship with any company whose stock is mentioned in this article.