The quarterly results in the month of October seemed to bring to a halt the rally in the share price of Seagate Technology (NASDAQ:STX). Operating in a fierce competitive business segment, the company observed a reduction in revenues by 6.51% and basic earnings per share plunged to $1.2 from $1.48 for the same period a year ago. On the other hand, its competitor has managed to upscale its revenue and the profits too have been good on account of high margin products. Steve Luczo, Seagate's chairman and chief executive officer, is quite optimistic as the prevalent opportunities in the core business (cloud, mobile and open source storage advancement) seem to be burgeoning. The share price is once again looking upwards after a short glitch in October (refer figure below).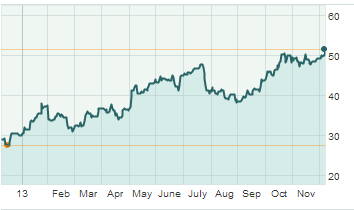 Figure: Movement in share price of Seagate in the last year
If the words of the CEO are expected to materialize then we could clearly hint at where the share prices would be in the next few months.
The Big Data Industry
In an earlier report by International Data Corporation (IDC) there is going to be an emergence of the intelligent economy. The report also states that the Big Data technology and services will grow from $3.2 billion in 2010 to $16.9 billion (a CAGR of 39.4%). In a newly released forecast, IDC projects that the worldwide big data technology and services market will grow at a 31.7% compound annual growth rate (CAGR) with revenues reaching $23.8 billion in 2016.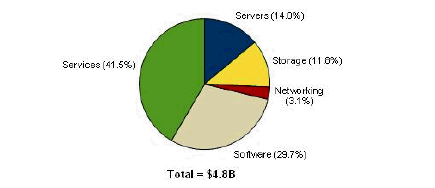 Figure: Worldwide Big Data Technology and Services Revenue by Segment (Source: IDC, 2012)
It is clearly mentioned in the figure above that the contribution of storage forms 11.6% of this total chunk of revenue. Companies like Seagate Technology, Western Digital Corporation (NYSE:WDC) and San Disk Corporation (SNDK) are looking forward to boost up their market share in this segment. These players are constantly introducing newer technologies in data storage in order to outpace each other and the future in this industry will be determined based on the remuneration of the company. Seagate offers hard disk drives at nominal rates and it is expected that at the current rate of growth there may be a shortfall in the hard drive industry in 2015-16. While it is anticipated that Seagate might enhance this as a win-win situation to augment its growth, a major deterrent might be the inception of Fusion Drive by Apple (NASDAQ:AAPL) and of WD Black2 dual drives that might compete with Seagate in terms of price estimates and performance as the speed offered is quite faster.
Revenue Generation For Seagate
While technology is a major determinant of success for the sector, the revenue channels along with the geographical distribution should be assessed in determining the future growth of Seagate. A lot can be apprehended from the revenue pattern of the companies functional in this sector. The following table provides us with critical information based on which we may draw certain conclusions.
Table: Revenue by channel and geography
| | | |
| --- | --- | --- |
| Revenues by Channel (%) | June 29, 2012 | July 1, 2011 |
| OEM | 72% | 69% |
| Distributors | 21% | 22% |
| Retail | 7% | 9% |
| | | |
| Revenues by Geography (%) | | |
| Americas | 26% | 29% |
| EMEA | 19% | 20% |
| Asia Pacific | 55% | 51% |
Source: Seagate, 2012
A bulk of Seagate's orders arrives from OEM manufactures. A characteristic of this channel is that it is reliable and bulky. While OEM contracts account for 72% of Seagate's revenue, this figure for Western Digital is only 63% of its total revenue. Retail channels require "greater marketing support, sales incentives and price protection periods" and, therefore, a lower share of this stream puts Seagate at a better position than Western Digital.
Revenue according to geographical regions is another eminent aspect and the fact that a major chunk of it comes from a fast growing region heralds well for the company. Regions of America and Europe are already well-developed in terms of technology, hence, the required penetration in these regions may be low. Focusing on developing markets may be the key to the future. Unfortunately for Seagate this is no secret as its competitors have also realized this and their reach in these markets are comparable and the revenues by geography for both Western Digital and Seagate are almost similar.
Fundamental Analysis On The Positive Side
Taking a look at the valuation ratios we observe that there is scope for investment in Seagate (refer table below).
Table: Comparison of valuation ratios of Seagate with the industry
| | | |
| --- | --- | --- |
| Valuation Ratio | Seagate | Industry |
| P/E | 11.36 | 18.71 |
| Price to Sales | 1.19 | 1.91 |
| Price to Book | 9.62 | 55.1 |
| Price to Cash Flow | 5.02 | 2.71 |
Being considerably lower than the industry standard (except in case of Price to Book), the valuation ratios highlight that there is enough scope for the share price to rise in the future.
Buy, Buy, Buy For Seagate
As a matter of fact, there is a general consensus that the hard drive industry is still yet to reach its zenith. While flash devices may be the future of database technology and Big Data storage, the cheaper alternative provided by Seagate should make the business viable for at least 2-3 years. The threat from emerging technologies may be prevalent but as long as the markets in emerging economies remain untapped it is very likely that the hard drive space will still be in huge demand. Seagate too is trying to provide alternatives that are as fast as its peers and with the price it offers there is likelihood that it may raise concerns for its competitors.
The company is also looking to launch advanced high margin products through which it should be able to improve its bottom line in the succeeding quarters. It has also ventured into the flash memory segment by launching products like Seagate® 600 SSD, Seagate® 600 Pro SSD and the Seagate 1200 SSD which are characterized by greater speed and higher integrity. Unfortunately for the company, the price erosion in this industry has been a very decay.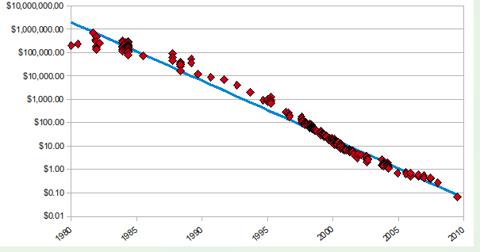 Figure: HDD Cost per GB, 1980-2009
At current levels, the business may be sustainable for a few more years to come but there has to be a marked improvement in technology in the near future.
Investors could expect to see the stock price rise from $51.42 to at least $60 in the next year. An investment horizon above one year could be too risky considering the dynamism prevalent in the storage industry.
Disclosure: I have no positions in any stocks mentioned, and no plans to initiate any positions within the next 72 hours.
Business relationship disclosure: The article has been written by Analysts at EurEx Consulting. EurEx Consulting is not receiving compensation for it (other than from Seeking Alpha). EurEx Consulting has no business relationship with any company whose stock is mentioned in this article.