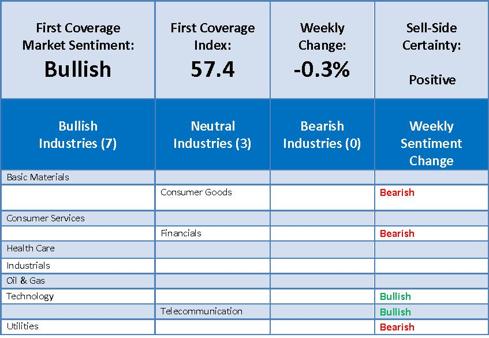 Will the Market Shift its Focus Back Home This Week?
The volatility may remain this week, but with a spate of U.S. economic news scheduled for the last three days of the week, the focus will likely be back on what is happening at home. Most of that news is expected to be positive, especially in the manufacturing area. If that comes true, it could tie in nicely with the very strong sell-side sentiment and good fundamental picture in the Technology Industry.
Sentiment for Consumer Services, and Especially for Tech, Remains Strongly Positive
First Coverage sell-side contributors seem to be onto something with Technology. Last week we said that sell-side sentiment for Tech was in the midst of a two-month uptrend and seemed to be poised for an upside breakout of a flattish seven-month channel. And did it ever last week. It posted a 6% gain in sell-side sentiment that put it only about 10% below the peak hit in June 2008. Even though Tech industry prices rebounded almost 2% last week, they remain down 6% year-to-date.
Sell-side sentiment for the Consumer Services industry eked out a less than 1% gain last week, but that was enough to keep sentiment on its two-month uptrend and on its broader eight-month uptrend.
Telecomm and Basic Materials May Be Forming Positive Trends
The last two weeks we have commented that sell-side sentiment may be poised for an upside breakout in Telecomm and Basic Materials. That remains very true for Telecomm, which posted a 4% sentiment gain last week. It appears Telecomm in the last month has reversed what had been a very sharp and deep two-month decline. However, the outlook for Basic Materials dimmed slightly with a decline of just less than 1%.
Financials and Health Care Still Can't Find Many Friends
Financials and Health Care, the two industries with strong two-month negative trends in sell-side sentiment, again showed declines in sentiment last week, with Financials down 7% and Health Care down 1%. It was no surprise the two industries were among the worst price performers last week.
It's too early to add the Utility industry to the decidedly negative group, but after a gradual sell-side sentiment decline for over a month, Utilities really took it on the chin last week with a 6% drop. On the other hand, the Industrials, with a sentiment gain of 3% last week following small gains in the previous two weeks, may have broken their downward trend of the prior six weeks.
Stocks to Watch
Over the last week, the following stocks had the largest bullish and bearish sentiment shifts amongst the sell-side.
Bullish:
| | | | |
| --- | --- | --- | --- |
| | | | |
| | | | |
| | Teck Cominco Ord Shs Class B | | |
| | | | |
| | Pioneer National Resource Ord Shs | | |
| | | | |
Bearish:
| | | | |
| --- | --- | --- | --- |
| | | | |
| | | | |
| | Papa Johns International Ord Shs | | |
| | | | |
| | Wells Fargo & Company Ord Shs | | |
| | | | |
Until next week …
Disclosure: No positions