With companies like First Solar (NASDAQ:FSLR) doubling in price and now trading close to their 52-week high, is it now time to plow your hard-earned cash into the apparent solar revolution?
Well, the answer is simple. While solar power is a green, renewable energy solution, the reality is there are SIGNIFICANT obstacles to it becoming a go-to mainstream energy solution. That doesn't mean there aren't fortunes to be made, though.
No Solar Without Subsidies
Sure, the price of solar energy panels has plunged - down to less than $0.50 per watt of power today from over $3.50 per watt in 2005. But that's largely thanks to the Chinese, who continue to produce below cost due to massive government subsidies and incentives to producers and consumers.
For most countries, though, solar just isn't on the menu. In the United States, for example, the price per kilowatt hour for electricity needs to be above $0.21 before solar can really make inroads and be competitive on the market. The price isn't even close to that, except in Hawaii.
The truth is, while the price of solar panels and photovoltaic cells can plunge, solar can't compete without massive subsidies in most of the world.
For example, in Florida, you'd think solar would be the perfect energy solution for the "Sunshine State."
But it's not.
According to the Energy Information Administration (EIA), Floridians pay less than $0.12 per kilowatt hour for electricity, on average. That's almost 50% less than the minimum threshold price before solar becomes competitive. In places like Kuwait, the price per kilowatt hour is just one cent.
There are places in Europe where solar can be competitive. For example, in a high-cost region with heavy government subsidies like Germany, where the price per kilowatt hour is more than $0.35.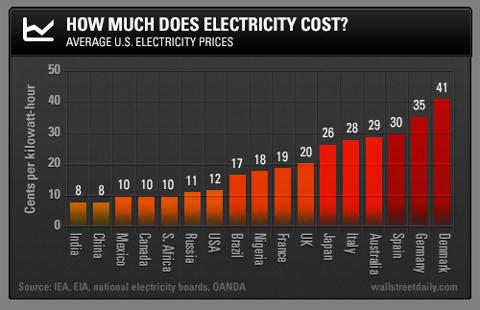 Click to enlarge
Solar faces several other obstacles before it can go mainstream…
If You Want to Bet on Solar, Head to Asia
Needless to say, the ability to store solar energy is crucial, in order to keep the power on at night. But the batteries needed to store the power aren't cheap. And while a combination of solar and conventional power would solve this issue, it would also lengthen the payback time of the equipment.
The biggest impediment to solar is the price per megawatt hour, compared to fossil fuels like coal and natural gas.
For example, solar power costs about $156 per megawatt hour, versus less than $100 for coal and as low as $65 for natural gas, depending on the country you're comparing it to.
While companies like SunPower (NASDAQ:SPWR) are leasing entire solar systems to their customers, the obstacles to solar adoption still outweigh the positives for now.
That doesn't mean you can't profit, though. How?
Well, until the price differential narrows - and without any game-changing government subsidies - your best bet is to buy companies that deal with Asia. Like Kyocera (NYSE:KYO), which manufactures the panels and ceramics used in solar energy production for its Japanese customers.
And "the chase" continues,
Karim Rahemtulla
Disclosure: I have no positions in any stocks mentioned, and no plans to initiate any positions within the next 72 hours. I wrote this article myself, and it expresses my own opinions. I am not receiving compensation for it. I have no business relationship with any company whose stock is mentioned in this article.
Additional disclosure: Oil & Energy Daily is a team of financial researchers. This article was written by Karim Rahemtulla, one of our financial researchers. We did not receive compensation for this article (other than from Seeking Alpha), and we have no business relationship with any company whose stock is mentioned in this article.