Valero (NYSE:VLO), North America's largest refining company, has seen its stock rise sharply in tandem with most of the rest of the refinery sector over the past couple of months. The primary driver of this rally in the refining space is the divergence between WTI (West Texas Intermediate) and Brent oil prices.
The two main oil benchmarks had reached parity in early summer and now stand at ~$10/barrel. A large disparity greatly impacts the refiner's earnings and margins in a positive way. This has resulted in the stock vastly outperforming the overall market over the past couple of months (See Chart).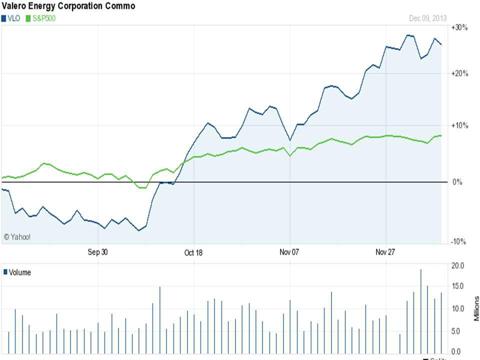 Click to enlarge
I believe Valero still has some upside left due to mounting positive catalysts as well as reasonable valuation. I am holding onto my holdings and will add to my position if the refinery sector pulls back from its recent rise.
Positive Catalysts:
Valuation:
Despite its recent rally, valuation is still solid for Valero.
4 reasons Valero's valuation is reasonable at $46 a share:
The stock still sells at just 9x forward earnings, this is ~60% of the market multiple for the overall market. In addition, consensus earnings estimates for FY2013 have moved up more than 15% over the past month.
In addition to the positive view and comments from analyst firms listed above, Valero has S&P's highest rating "Strong Buy" as well.
The company is emerging as an export play. Look for this to accelerate as our domestic energy boon continues to create excess refinery outputs. Valero's Gulf Coast refineries leave it well-positioned to continue to benefit from this emerging trend.
Valero has a solid balance sheet (Even before proceeds from IPO of Valero Energy Partners) and pays a 2% dividend yield. I would look for dividend yield to increase substantially in coming years as capital expenditures abate and also as Valero has a very low payout ratio (less than 20% of FY2014's projected earnings).
Disclosure: I am long VLO. I wrote this article myself, and it expresses my own opinions. I am not receiving compensation for it (other than from Seeking Alpha). I have no business relationship with any company whose stock is mentioned in this article.