Uranium is a significant source of fuel used in nuclear reactors that generate electricity for personal and industrial consumption throughout the world. Supply and demand have come out of balance as a result of increased demand and globally reduced mining supply. Above ground stockpiles of uranium have filled that gap, but there is about to become a significant change to the supply of available above ground uranium. Finally, average uranium mining costs are presently below uranium selling prices. These factors will be reviewed in this article and point to a positive investment environment for uranium and for companies that mine it.
According to the Nuclear Energy Institute:
"As of November 2013, 30 countries worldwide are operating 435 nuclear reactors for electricity generation and 72 new nuclear plants are under construction in 14 countries. Nuclear power plants provided 12.3 percent of the world's electricity production in 2012. In total, 13 countries relied on nuclear energy to supply at least one-quarter of their total electricity."
Despite unfortunate and well-publicized disasters such as Chernobyl and Fukushima, nuclear energy has many other benefits as a source of energy and is here to stay. That is because a single uranium fuel pellet the size of a pencil eraser contains the same amount of energy as 17,000 cubic feet of natural gas, 1,780 pounds of coal or 149 gallons of oil. There are no emissions of carbon dioxide, nitrogen oxides and sulfur dioxide during the production of electricity at nuclear energy facilities. Nuclear energy is the only clean-air source of energy that produces electricity 24 hours a day, every day. As shown below, absent those disasters, nuclear energy is a low cost, low emissions form of power generation.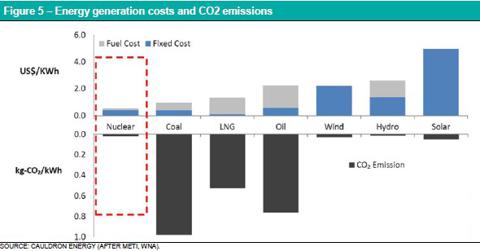 Uranium Prices Are At An 8-year Low
After spiking on supply shortage fears in 2007, the spot price fell from almost $140/lb to $40/lb. Prices then began to recover and made it back to $70/lb when the Fukushima disaster hit. They have since worked their way down to $35/lb.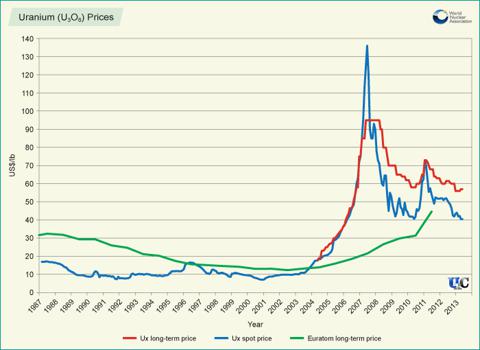 (chart source: World Nuclear Association)
However, since the beginning of November, prices have begun to recover once again. The balance of this article will examine the factors affecting uranium prices and put forward a thesis that uranium should increase in price for several years.
Demand for Uranium Exceeds Supply
Since the early 1990s, primary uranium production has remained well below reactor requirements. But that shortfall has been made up for from significant above ground stockpiles.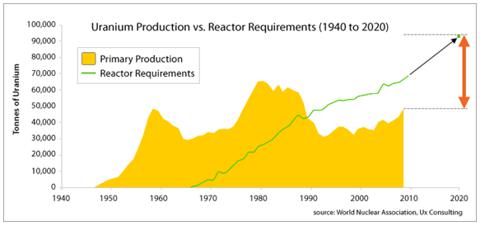 But as of 2014, the uranium market is expected to go from net surplus from all sources (primary mining production plus above ground stockpiles) to a net deficit, as shown in the table below: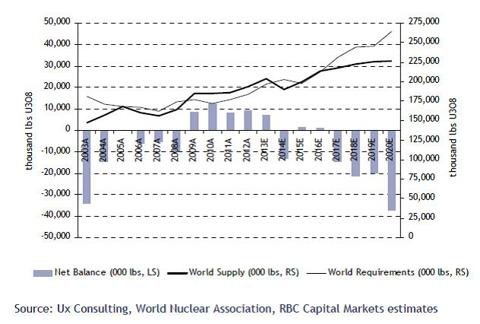 That deficit is expected to worsen as the number of nuclear power plants are scheduled to increase by 33% to 2030, according to the World Nuclear Association.
Adding to that deficit, one significant source of above ground supply will cease to exist at the end of this month.
Current Uranium Prices are Below New Mine Marginal Costs
Raymond James mining analyst and geologist David Sakowski was quoted in The Energy Report as saying:
"Well, if we look at existing operations, the majority of them would be losing money by selling their material at $40/lb….When we look at the majority of additional projects needed to fill the looming supply gap, we think they need prices north of $70/lb to go forward. This is one of the key reasons why we feel the sub-$50/lb prices are unsustainable."
Existing mines are unlikely to increase output until prices have moved up substantially.
Near-Term Catalyst 1: End of the HEU Agreement
The primary mine supply of uranium only supplies about 83% of the demand for uranium. The balance of the demand is met by secondary supplies, which exist in the form of inventories owned by the Russian and American governments, re-cycled or re-processed uranium from spent fuel rods and uranium from former warheads.
The US-Russian HEU Agreement (also termed the "Megatons to Megawatts Program") is a unique government-industry partnership, under which Russia is dismantling a portion of its old Soviet-era nuclear warheads, removing the highly enriched uranium and blending this material with uranium of lower U-235 enrichment levels to produce commercial-grade, low-enriched uranium for use in nuclear power plants. Since the agreement was signed, 500 tonnes of Russian weapons-grade HEU - equivalent to 20,000 warheads - have now been downblended into 15,259 tonnes of LEU and generated approximately $13 billion in revenue for Russia. This is by far the single largest source of secondary supply, accounting for roughly half all non-mined uranium and roughly 10% of total global uranium annual supply, and 50% of the US annual supply.
The HEU Agreement terminates at the end of this month. The final shipment of 10 containers has left Russia for the port of Baltimore. No more of this favorably priced (the Agreement called for below market pricing which Russia challenged in court in 2008) will hit the market after this shipment is unloaded. The sudden removal of this significant source of secondary supply is likely to have a positive impact on prices.
Near-Term Catalyst 2: Japanese Reactor Re-starts
A potential additional near-term catalyst exists in the re-start of Japanese nuclear reactors. Japan idled all 50 of its nuclear reactors following the Fukushima disaster in March of 2011. Safety inspections have been on-going since that time. The Japanese government has yet to make an announcement as to when those 50 reactors may come back on line. But, on December 6, Japan's Minister of the Economy, Trade and Industry stated "Nuclear is an important base load power source we will continue to use with conditions that we will secure safety from the view points of stable supply, reduction of cost, and global warming measures," in draft policies posted on its website. A government energy panel released a draft plan that reversed the government's previous plan to phase out the use of nuclear power. Citing the costs and pollution associated with coal-based electricity generation, the draft Basic Energy Plan says nuclear energy should remain "an important and basic power source that supports the stability of Japan's energy supply and demand structure." A re-start of some of those reactors would further increase demand and serve to reduce Japan's hoard of some 100 million lbs of uranium stockpiles which have hung over the market and depressed the price of uranium by nearly 50% since the Fukushima disaster.
Conclusion
Uranium is about to head into a supply deficit with imminent termination of the HEU Megatons for Megawatts agreement. This deficit is not likely to be remedied by increased mine production until such time as prices rise to recoup all-in costs of production. The very recent announcement from Japan reversing its earlier position to cease using nuclear power post-Fukushima adds to the demand potential. This creates a positive investment scenario for investors wishing to invest in uranium.
Those readers who want to act on a positive outlook for uranium can consider Uranium Participation Corporation (OTCPK:URPTF), which holds physical uranium. They describe their profile on their website as:
"Uranium Participation Corporation is an investment holding company which invests substantially all of its assets in uranium, either in the form of uranium oxide in concentrates ("U3O8") or uranium hexafluoride ("UF6"), with the primary investment objective of achieving appreciation in the value of its uranium holdings. The mission of the Corporation is to provide an investment alternative for investors interested in holding uranium."
In a subsequent article, I will look at potential uranium producers that offer investment merit. Those wishing to act on this thesis now can do so by doing further research into Market Vectors Uranium and Nuclear Energy ETF (NYSEARCA:NLR) and the Global X Uranium ETF (NYSEARCA:URA), two prominent nuclear and uranium ETFs.
Disclosure: I have no positions in any stocks mentioned, and no plans to initiate any positions within the next 72 hours. I wrote this article myself, and it expresses my own opinions. I am not receiving compensation for it (other than from Seeking Alpha). I have no business relationship with any company whose stock is mentioned in this article.