AOL (NYSE:AOL), which competes with Google (NASDAQ:GOOG) and Yahoo (NASDAQ:YHOO) in the search and display advertising markets, still makes money from its traditional internet dial-up business. We estimate that the dial-up internet subscription business constitutes 14% of the $28 Trefis price estimate for AOL.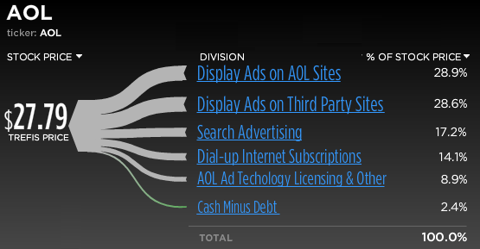 AOL's internet subscriber count has declined from more than 25 million in 2005 to fewer than 5 million in 2009. We estimate that AOL will have 3.4 million internet subscribers in 2010 and that this figure will trend down to nearly zero over our forecast period.
AOL's dial-up internet business will continue to be a casualty of the shift to broadband internet like that offered by cable companies such as Comcast (NASDAQ:CMCSA) and Time Warner Cable (TWC) as well as telecom companies such as Verizon (NYSE:VZ) and AT&T (NYSE:T).
You can modify our forecast for AOL's dial-up internet subscribers above to see how AOL's stock could be impacted if its subscriber base were to erode even quicker than we have forecast.
Disclosure: None