By Brandon Matthews
Click to enlarge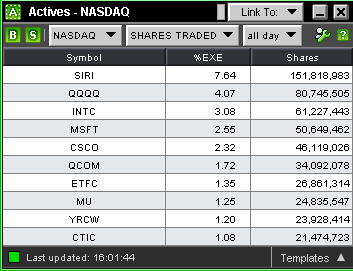 Shares of Sirius XM Radio (Nasdaq: SIRI) are continuing to trade higher on very heavy volume. SIRI shares began the new year at .59. Tuesday, they touched an intraday high of .98 and closed at .9585, up over .06 or 7.52%. Total daily volume was 151,818,983 shares, nearly doubling that of the quad Q's. In fact, SIRI share volume nearly equaled that of INTC, MSFT and CSCO combined.
Sirius XM shares last traded above the one dollar mark on September 19, 2008. With shares hovering just under one dollar, it is almost a certainty that Sirius XM Radio will be able to avoid both a delisting letter in March and a need for a reverse split. Sirius XM, it seems, is ready to move off the "De"-list and assume its former role as the darling of Wall Street.
One of the most simplistic and accurate forms of technical analysis is to buy when a stock is up on heavy volume and to sell on heavy down volume. Volume begets volume, and these trends tend to accelerate. The action suggests that demand for SIRI shares is by far outpacing supply, as volume has been increasing on a weekly basis.
Even Jim Cramer himself was forced to swallow his first mouthful of crow Tuesday, as he publicly admitted that Sirius XM's balance sheet had greatly improved. There will no doubt be more to follow. Personally, I cannot wait to hear him explain how he has been bullish on Sirius XM since its nickel low, and go into detail of why he felt it was such a good buy over a year ago. Perhaps he can use the Olympic bump of his show to admit that he was wrong and officially change his position. Few will take notice, and he can always use the recorded version to back up his would-be, newly-found bullish posture on the Satellite Radio provider.
In this case, the "home-gamers" got it right. Yes Jim, it's true. He who laughs last, laughs best.
Position: Long SIRI