China Mobile matters to Apple (NASDAQ:AAPL) but it matters less than most people think.
Apple is reportedly on the verge of announcing a deal with China Mobile (NYSE:CHL) to carry its popular iPhones in China. Until that deal is done, Chinese smartphone users wishing to use an iPhone have had to subscribe to China Unicom (NYSE:CHU) or China Telecom (CHU). Many have.
The Chinese mobile phone market is the largest in the world with over 1.2 billion users.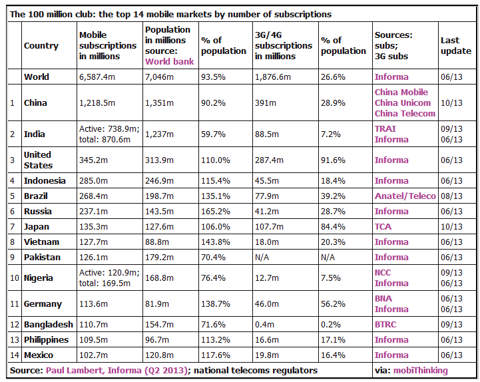 The three Chinese carriers divide up this market with China Mobile having the lion's share of total subscribers but less than half the total 3G users.

Presumably, China Mobile's lower share of 3G arises in part because of the geography each serves and in part because of the lack of the iPhone on China Mobile. That has not stopped many Chinese consumers from buying iPhones following the iPhone 5s and iPhone 5c launch in China earlier this fall.
The Chinese demand for the newer iPhones was nevertheless somewhat muted, with the percent of the new iPhones activated in relation to previous iPhones in use in China lagging behind similar data in much smaller markets in the United Kingdom, Australia and Canada in the 72 hours following the launch.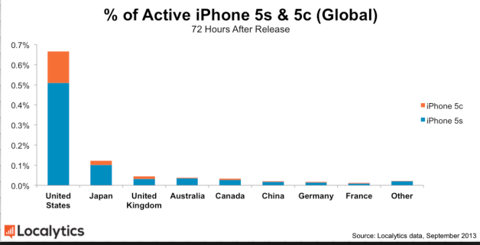 Even with the new iPhones available in China for 5 weeks by the end of October 2013, Apple's share of the Chinese market remained below 2012 levels according to Kantar World Panel data, while Android OS based devices continued to expand share to reach 78.1%. While the new iPhones were popular in China, they were not the blow out success Apple enjoyed in other markets suggesting upgrades for China Mobile customers will follow a similar path once the phones are available.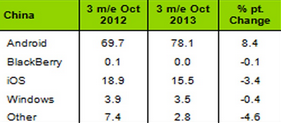 Rumors of a pending deal with China Mobile have been in the marketplace for well over a year. It is hard for me to imagine Chinese consumers lining up overnight to buy iPhones from China Mobile after waiting a year for the deal to take place. Rather, I believe that those Chinese who wanted an iPhone for its prestige value and exceptional features simply walked over to competing China Unicom and China Telecom and bought one. As I understand it, Chinese customers are not tied to their carrier by any contract terms and have a lot of freedom to move.
That does not mean the iPhone deal with China Mobile is not important. The more reach Apple has with carriers the more phones it will sell. And, its extraordinary success in Japan with DoCoMo indicates that having the right carrier at the right time can make a big difference.
As China Mobile rolls out its 4G network, there will be a real incentive for an estimated 45 million China Mobile subscribers who currently use an iPhone to upgrade to one that supports the 4G speeds it will be able to offer. This roll out will take place over time, but it would not surprise me if most of the 45 million current subscribers upgrade within a year or two as 4G becomes available.
At the same time, the competitive offerings from Lenovo, Samsung, LG, Xiaomi and others give consumers a lot of options and the relentless competition will mute the iOS advance in my view. Gene Munster of Piper Jaffray estimates the China Mobile deal will help Apple sell 17 million iPhones in 2014.
I think that is a pretty good number to work with, and would represent an increase from the approximately 9 to 15 million iPhones sold in China and used on the China Mobile network today assuming the 45 million current iPhone users on the China Mobile network purchased their iPhones over 3 to 5 years.
Those sales will be a tailwind for Apple in 2014, but in my view are unlikely to be enough to offset the slower growth of a maturing market; the pressure from competitors; and, the effect of lower average selling prices on margins.
I hold puts on 1,000 Apple at a $485 strike and will look for an opportunity to short the stock in the $600 range as the current momentum continues.
Disclosure: I am short AAPL. I wrote this article myself, and it expresses my own opinions. I am not receiving compensation for it (other than from Seeking Alpha). I have no business relationship with any company whose stock is mentioned in this article.
Additional disclosure: I hold puts on AAPL at $485 strike expiring April 2014