Ulta Beauty (NASDAQ:ULTA) missed the Zacks Consensus for the first time in 5 years last week. Investors have punished this Zacks Rank #5 (Strong Sell) by crushing its shares by about 30%. Is it really that bad at Ulta?
Ulta operates 664 beauty retail stores across the United States and an e-commerce web site. It offers 20,000 affordable cosmetics and beauty products, as well as full-service salon capabilities.
The Miss Heard Around the World
If there was one thing to count on, it was Ulta's earnings track record. It hadn't missed the Zacks Consensus in 5 years.
But on Dec 5, that streak came to a sudden end as Ulta reported earnings of $0.72, two cents under the Zacks Consensus.
Sales rose 22.4% to $618.8 million from $505.6 million in the year ago quarter. Comparable store sales gained 6.8%.
The redesign of the web site was finally completed this quarter. This was a large part of the company's strategy and appears to be paying off as e-commerce sales grew 74.4% and represented 170 basis points of the 6.8% same store sales increase.
Ulta also opened 55 new stores in the quarter compared to 49 new stores in the third quarter of 2012.
But the earnings miss loomed large.
Lowered Guidance for Q4
Ulta gave guidance for the fiscal fourth quarter of $1.07 to $1.10. This is lower than previous expectations due to the belief that the softer retail trends at the end of the third quarter would continue in the fourth quarter and the anticipation of a highly promotional holiday shopping season.
The Zacks Consensus had been looking for $1.25. 6 estimates have already been lowered since the earnings report, pushing the Zacks Consensus down to $1.09, which is now inline with the company's expectations.
Analysts also lowered estimates for the full fiscal year and fiscal 2014. The Zacks Consensus for fiscal 2013 fell to $3.25 from $3.33 in the last week.
The Zacks Consensus on fiscal 2014 was also chopped to $4.03 from $4.21.
Fourth quarter same store sales are expected to rise 7% to 9%, including sales from the newly designed web site.
Shares Crushed
Shares plunged on the earnings miss and continue to sell off. They're now down about 30% from where they were trading before the earnings report.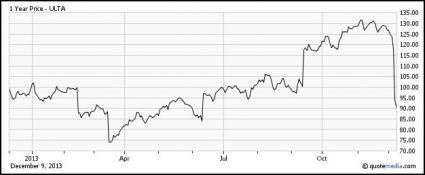 Even with the plunge, Ulta's shares aren't exactly cheap. They're still trading with a forward P/E of 28.
However, double0digit earnings growth is expected for both this year and next year with earnings expected to rise another 24% in fiscal 2014.
If you're interested in a retailer with a consistent earnings track record which is a Zacks Rank Buy, you might want to consider Tractor Supply (NASDAQ:TSCO). It has beat for 5 years in a row, is also expected to grow earnings by the double digits and is a Zacks Rank #2 (Buy).
[In full disclosure, the author of this article owns shares of ULTA.]
Tracey Ryniec is the Value Stock Strategist for Zacks.com. She is also the Editor of the Turnaround Trader and Value Investor services. You can follow her on twitter at @TraceyRyniec.