Western Digital Corporation ("Western") (NYSE:WDC) is up almost 10% since my October report, but there is still room for further gains. For right now, I think $85 per share is the intrinsic value based on forecasted fundamentals. On a price/book basis, 2.44 is justified.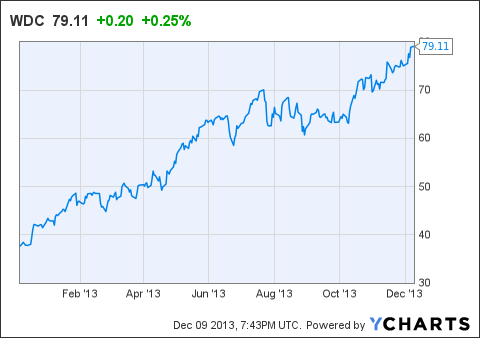 Looking at my last report, I am dissatisfied with my valuation of Western. I think the 5-year average valuations reflect an unconsolidated industry. In this report, I use the forecasted fundamentals to incorporate industry consolidation. Also, I use the P/B ratio as the appropriate valuation metric as EPS is volatile.
I think Western's valuation will continue to benefit from industry consolidation, but the secular headwinds from mobile and cloud should keep a lid on the valuation. I'm going to continue to monitor the company's profitability. But for right now, I'm bullish on Western.
Recent Developments
On October 17, 2013, Western acquired Virident Systems, Inc., a provider of server-side flash storage solutions for virtualization, database, cloud computing and webscale applications; the company continues to enhance its competitive position in flash storage.
Fundamental Analysis
From a business perspective, the industry consolidation could be driving the valuations. Also, Western is investing heavily in NAND technology. Those are both positive for the valuations and the market is correct in bidding up the valuations of the company. Additionally, the hard drive industry is strong relative to the PC market with management forecasting flat revenues in the fiscal second quarter.
During the fiscal first quarter, sales of enterprise SSDs increased 51% relative to the year-ago quarter. I expect SSDs to be a growth area in fiscal 2014. Also, I think non-PC sales will become a larger portion of totaled revenues, which should approximately offset weakness in PC; the PC market should stabilize in fiscal 2014/2015.
The net revenue y/y decline in the fiscal first quarter is attributable to the competitive pricing pressure and the change in product mix. I think those two factors could continue to hinder net revenue growth. But as non-PC sales becomes a larger portion of revenues and the PC market stabilizes, the ASP impact on net revenues should decline. Consequently, I think we could see net revenue growth in fiscal 2015 and/or fiscal 2016.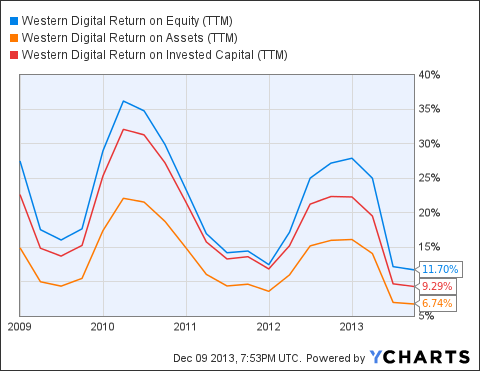 WDC Return on Equity (TTM) data by YCharts
I'm worried about the declining return on assets, equity, and invested capital, and asset turnover. This could be a sign of a maturing company, competitive pressures, or both. I'm leaning towards maturing company, but I'll pay careful attention to the competitive environment. Additionally, Western is becoming less efficient.
Looking forward, there are a couple significant risks to the results of operations. Mobile computing presents a risk as smartphones and tablets do not possess HDDs. Also, cloud computing presents a risk to the results of operations as electronic data storage becomes more efficient. These are secular headwinds within the industry that Western's management will have to effectively combat.
Relative to the storage industry, Western is one of the better investment opportunities, by revenues growth.
Valuation
I'm going to use price/book value to assess the relative valuation. EPS is highly variable; consequently, I think P/B is a more appropriate model. Also, shareholders' equity is roughly equal to liquid assets. But the share repurchases may distort the historical comparisons. Relative to P/E, I prefer the P/B value model for this valuation. Western is trading modestly below my intrinsic value estimate.
The book value per share is $34.97 and the market price per share is $78.97. Thus, the P/B is 2.258. To measure the sensitivity of value to a goodwill writedown, I will calculate the tangible P/B, assuming $0 of goodwill. The tangible P/B is 3.005; P/B increased 33%.
I examined also the off-balance sheet assets and liabilities and the composition of financial assets and liabilities. As of September 27, 2013, there were no off-balance sheet liabilities disclosed. Also, most of the financial assets are measured at fair value without the need for significant estimates by management. Thus, I think that shareholders' equity closely represents net assets.
Previously, I valued Western Digital using the 5-year average valuations; the result was an intrinsic value of $44.90 per share. In this valuation, I will try to incorporate the shifts in the industry.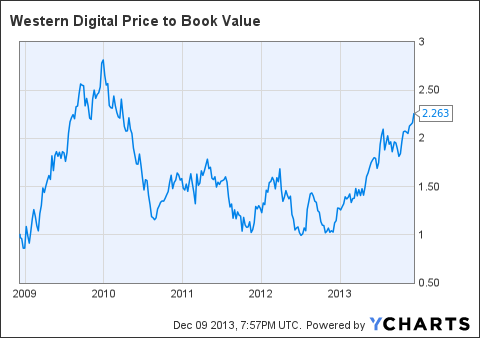 WDC Price to Book Value data by YCharts
I estimated a range of potential justified P/B value ratios using the 5-year median ROE of 15.96%. I view Western as having a sustainable growth rate between 3.5% and 4%; consequently, the justified P/B is 2.44. I would accumulate below 2.15 and distribute at 2.91. So, Western is around intrinsic value, but there is some room for upside.
Using the method of comparables, Western is around its intrinsic value, but it is slightly below the intrinsic value. The industry P/B is 2.5 and the P/B of the S&P 500 is 2.5. There is room for upside.
I think that forecasting the fundamentals of the P/B ratio is a more appropriate valuation metric as the 5-year average valuations do not reflect current operations accurately.
I'm going to assume that the book value per share remains constant. The previous trade would now have a stop loss at about the break-even level. If the price rises to the $85 per share level, the P/B ratio would be at the 2.4 level. This would be an ROI of about 18%, excluding commissions.
Disclosure: I have no positions in any stocks mentioned, and no plans to initiate any positions within the next 72 hours. I wrote this article myself, and it expresses my own opinions. I am not receiving compensation for it (other than from Seeking Alpha). I have no business relationship with any company whose stock is mentioned in this article.