In an excellent article by Sandy Fielden at RBN Energy, the author explains how the ban on US crude oil exports is benefiting east Canadian refiners and oil producers in the offshore East Canadian oil fields of Hibernia, Terra Nova and White Rose. In affect, the US is exporting oil to Canada at WTI prices freeing up Canadian oil production to be exported at international Brent prices. Companies like Suncor Energy (NYSE:SU), Husky Energy (OTCPK:HUSKF), Exxon Mobil (NYSE:XOM), and Chevron (NYSE:CVX) are all likely receiving higher realized prices for their cut of production from these fields.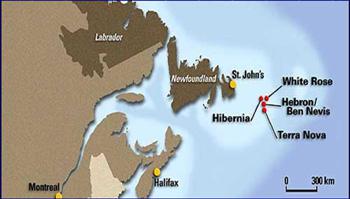 According to Fielden, US crude exports to Canada are rising while at the same time Canadian exports outside the US are also rising. In effect, the US is exporting light-sweet crude to Canada at a discount to WTI which is enabling Canada to export its light-sweet production to the international market based on higher Brent prices. As a result, Canadian refiners are taking advantage of cheap US imports to improve their processing margins. And oil producers from the Hibernia, White Rose and Terra Nova fields are freed up to export their product at higher Brent prices.
Fielden says market data suggests oil is flowing to Eastern Canada primarily by tanker from the Eagle Ford or by rail and tanker from the Bakken. He also cites a Reuters report that India's biggest refiner bought one million barrels of Canadian White Rose crude through a tender from trader Glencore. Also, according to a Platts report in August (2013), Chile's state-owned oil company has been buying at least one cargo a month of Canadian Hibernia and Terra Nova crudes since April 2013.
Who Benefits?
There are three major oil fields in production offshore of Eastern Canada: Terra Nova, Hibernia and White Rose:
Suncor Energy (37.675%) - operator
Exxon Mobil (19%)
StatOil (15%)
Husky Energy (13%)
Murphy Oil (10.475%)
Mosbacher Operating (3.85%)
Chevron Canada (1%)
Exxon Mobil (33.125%) - operator
Chevron (26.875%)
Suncor (20%)
Canada Hibernia Holding Corporation (8.5%)
Murphy Oil (6.5%)
Statoil (5%).
Husky Energy(68.875%) -operator
Suncor (26.125%)
Government of Newfoundland and Labrador (5%)
Together these three fields account for about 200,000 bpd of light and medium gravity crude. Although there is a ready market for that production at Eastern Canadian refineries, there is no Canadian law to prevent its export. So the Canadian refiners are buying the cheaper US crude imports, and the oil producers are selling their product on the higher Brent based international market.
The Winner Is
Although Suncor is primarily an oil sands centric company, it may be the biggest winner of the new trend in US exports to Canada. Suncor has stakes in all three fields listed above which contribute a combined production of about 50,000 boe/day to the company. If the spread between light-sweet from the Eagle Ford and Brent was, say $10, and Suncor can export that 50,000 bpd to receive Brent prices as opposed to competing against US crude at WTI, that's an extra half million bucks a day for Suncor.
Exxon, Chevron and Husky are also likely benefiting by this new dynamic.
Of course Suncor is also battling the US crude export ban south of the border in terms of realized prices for the WCS it produces. However, being an integrated company, SU is maximizing its oil sands crude slate into the refineries it owns and operates thereby capturing near Brent based prices for refined product.
I should also note that SU's November oil sands production hit a new all time record of 437,000 bpd, up 62,000 bpd from October. With no major oil sands turnaround maintenance planned until 2016, SU is well positioned for a long run of continued production growth.
Summary And Conclusion
The US ban on crude oil exports (Canada is an exception) has resulted in increased imports of US crude by East Coast Canadian refineries. This has pushed out local offshore Canadian oil production into the export market where it receives higher prices based on the Brent benchmark. Suncor's East Canada offshore production is benefiting from this new trend, a trend which is likely to continue as the US Gulf Coast gets swamped by light sweet crude oil shale production. Meantime, oil sands production is growing strongly. While Suncor's P/E looks relatively high in comparison to other integrated energy companies, look for earnings growth to accelerate in 2014. There is no oil sands related turnaround maintenance scheduled for 2014 (or 2015), so the historical lumpiness in SU's oil sands production will go away for an extended period of time. As a result, production, profits and dividends should grow substantially over the next two years. SU is a buy.
P/E ("ttm") = 17.3
EPS ("ttm") = $1.98
Div (Yield) = 0.76 (2.10%)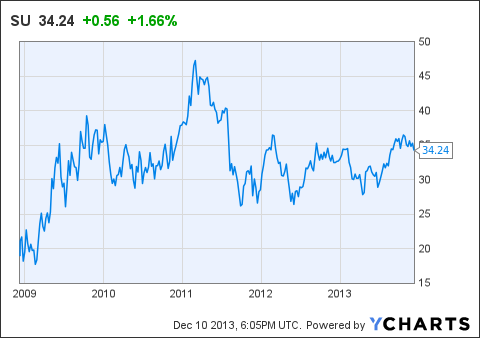 Disclosure: I am long SU, XOM, CVX. I wrote this article myself, and it expresses my own opinions. I am not receiving compensation for it (other than from Seeking Alpha). I have no business relationship with any company whose stock is mentioned in this article.
Additional disclosure: I am an engineer, not a CFA. The information and data presented in this article was obtained from company documents and/or sources believed to be reliable, but has not been independently verified. Therefore, the author cannot guarantee its accuracy. Please do your own research and contact a qualified investment advisor. I am not responsible for investment decisions you make. Thanks for reading and good luck!