Qwest Communications (NYSE:Q) has announced fourth-quarter 2009 earnings with adjusted (excluding severance charges) earnings per share (EPS) of 8 cents, matching the Zacks Consensus Estimate while falling from the year-ago quarter adjusted EPS of 11 cents. For full year 2009, EPS of 38 cents missed the Zacks Consensus Estimate of 40 cents.
Reported net income plunged 39% year-over-year to $108 million or 6 cents a share due to higher non-cash pension expenses, increased severance costs (associated with job cuts) and lower revenues as erosion in legacy landline business continues due to wireless substitution.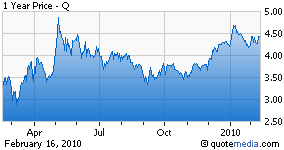 Operating revenue declined 9.7% from the prior-year quarter to $2.99 billion, a tad shy of the Zacks Consensus Estimate. Revenue for full year 2009 declined 8.6% year-over-year to $12.3 billion, in-line with the Zacks Consensus Estimate.
The annualized revenue decline is primarily attributable to lower voice service revenue as consumers continue to disconnect their landline services. Adjusted EBITDA for the quarter declined 8% to $1.09 million on account of higher pension expenses.
Results by Segment
Business Markets
Revenue from the business market segment declined 2% year-over-year to $1.03 billion in the quarter due to declines across legacy voice and data businesses. The segment contributed 34% of the group revenue for the quarter.
Driven by growth in IP services, strategic revenue increased 7% year-over-year to $410 million and accounted for 40% of total business market revenue. Revenue from legacy voice services declined 7.5% year-over-year to $467 million.
Data revenue also decreased 9.2% year-over-year to $148 million due to increased customer switch to IP-based services. Total access lines declined 9.1% year-over-year to 2.4 million.
Mass Markets
Reported revenue from this segment declined 13% year-over-year to $1.2 billion, representing 40% of total revenue. Strategic revenue (including broadband and video revenue) increased 4% from prior-year quarter while voice service revenue declined 11% year-over-year, partly due to wireless substitution.
Qwest's growth business broadband Internet added 23,000 new customers in the quarter, taking the total subscriber base to nearly 3 million. Direct TV video subscriber base grew by 23,000 to 880,000 customers. However, these positives were offset by a 12.3% year-over-year decline in access lines that reached 6.84 million at the end of 2009.
Qwest-branded wireless service revenue declined 95.5% year over year to $4 million. The company discontinued this service on October 31, 2009. Qwest added 64,000 wireless subscribers in the quarter and exited 2009 with 856,000 customers, up 18.5% year-over-year.
Wholesale Markets
Revenue from wholesale markets declined 13.9% year-over-year to $679 million (23% of total sales), due to access line erosion and lower long-distance sales. Strategic service revenue declined 1% year-over-year to $307 million, while voice revenue contracted 22.3% to $372 million. Total access lines decreased 9.1% on an annualized basis to 1.03 million.
Cash Flow, CapEx and Dividend
Adjusted free cash flow for the quarter declined 14.7% year-over-year to $506 million, due to higher capital expenditure (CapEx), which increased 6.9% year-over-year to $386 million. Qwest remains committed in offering attractive returns to shareholders as it paid a dividend of 8 cents per share for the quarter, amounting to approximately $138 million.
Outlook
Qwest has released its outlook for full year 2010 with adjusted EBITDA is expected in the range of $4.3 to $4.4 billion. CapEx for the year is projected at $1.7 billion or lower. Adjusted free cash flow for 2010 is forecasted between $1.5 billion and $1.6 billion.
The company expects pension and post-retirement benefit expenses of roughly $130 million, down from $70 million reported in 2009. Qwest foresees improving revenue trends in 2010 and expects pace of its sales decline to slow to "low-to mid-single" digit rate by the fourth quarter. The current Zacks Consensus Estimate for 2010 revenue and EPS are $11.7 billion and 31 cents, respectively.
Opportunities & Challenges
Qwest continues to invest in building necessary infrastructure to boost network capacity and availability. Historically, the company has allocated a major portion of the overall CapEx in deploying additional fiber-to-the-node ("FTTN") capacity to increase the performance of its broadband network. Moving forward, Qwest plans to increase spending on deployment of fiber optic cable to support wireless services.
Through a joint venture with Alcatel-Lucent (ALU), Qwest is upgrading its fiber-based network infrastructure to offer top Internet speeds of 100 gigabits per second (Gbps), a significant increase from the current peak speeds of 40Gbps. Leveraging its FTTN network, the company introduced a new fiber-based Ethernet backhaul wholesale service for wireless operators in 2009.
This new service enables wireless operators to upgrade their existing copper-based wireless backhaul networks to faster fiber optic connections, which will expand capacity to meet the requirements for bandwidth-intensive multimedia devices and facilitate smooth transition to fourth-generation (4G) wireless networking.
However, Qwest remains more challenged than other regional telephone companies in the US such as AT&T (NYSE:T) and Verizon (NYSE:VZ) given the lack of its own wireless and satellite TV services. This has prevented Qwest from achieving meaningful penetration in these lucrative markets.
Moving forward, we expect the company's business prospects to be driven by continued strong demand for its broadband Internet service, expansion of fiber-based network capabilities and the wireless backhaul opportunity. However, access line losses due to competition will continue to erode operating revenue in the upcoming reporting periods. This is reflected in our Neutral recommendation on the stock.