Stoneridge Inc. (SRI) reported a narrower loss of $200,000 or 1 cent per share in the fourth quarter of 2009, compared to the net loss of $108.4 million or $4.63 cents per share in the same quarter a year ago and the Zacks Consensus Estimate of a loss of 4 cents per share. This was attributed to benefits from restructuring and cost-reduction initiatives.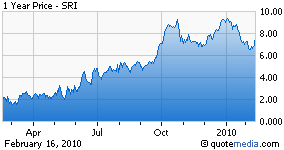 Net sales dipped 15.3% to $133.8 million due to the reduction in production volumes in the commercial vehicle markets in Europe (53.9%) and North America (17.9%). Despite this, the Warren, Ohio-based designer and manufacturer of engineered electrical and electronic components, modules and systems for the medium and heavy-duty truck, agricultural, automotive and off-highway vehicle markets generated an operating profit of $2.2 million in the quarter.
In 2009, Stoneridge reported a net loss of $32.4 million or $1.37 per share, compared to a net loss of $97.5 million, or $4.17 per share in 2008. Sales in the year slashed 37% to $475.2 million. The loss was a tad lower than the Zacks Consensus Estimate of $1.38 per share.
Stoneridge had cash and cash equivalents of $92 million as of December 31, 2009. Long-term debt remained unchanged at $183 million as of the same date compared to the same period last year.
In 2009, Stoneridge had net cash flow from operating activities of $14 million -- significantly lower than the year-ago level of $42 million. Meanwhile, capital expenditures more than halved to $12 million from $25 million in the prior-year period.
Stoneridge is banking on a recovery in the global industry as well as on its recent product launches to drive sales volume in 2010. We continue to recommend the shares of the company as Neutral (Zacks Rank #3) given the Zacks Consensus Estimate of 27 cents for 2010.