So much has been and continues to be written about Apple (NASDAQ:AAPL) here that it seems that there's not much that could be added to the discussion. But the fact is that Apple could be the smartest buy you could make now for 2014. It has everything going for it as anyone even paying marginal attention knows: Valuations are terrific even with a 40% run up since the end of June. The company is awash in cash. The buyback program should have a marked impact on EPS as the company has been buying shares at bargain prices throughout 2013. The long awaited China Mobile (NYSE:CHL) deal appears to be a done deal. Consumers have received the latest phone introductions with excitement and holiday sales will certainly be excellent. We can expect new iPad introductions early in 2014, probably a larger screen version that can further blur the boundaries between the tablet and the notebook.
What explains this extreme pattern of day of the week price change?
Of course, AAPL may also be the most heavily manipulated stock in the market. Here's a chart showing average daily closing price changes for AAPL by day of the week for the past 2 years. I've used SPY for a convenient comparison as an example of a stock that even the biggest of the big-money players would have a difficult time manipulating.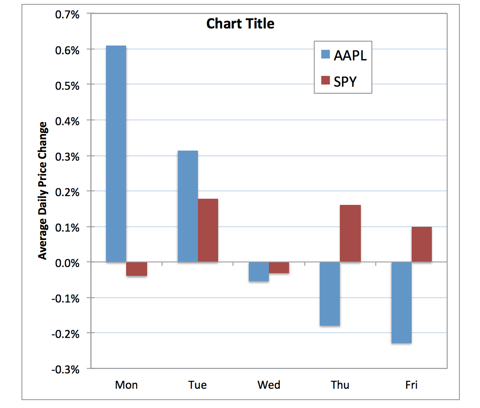 AAPL stock price routinely jumps on Mondays and falls by Fridays' closings. A paired statistical test comparing Monday and Friday closes shows that mean 80 bps difference between Monday and Friday price changes is highly significant at an incredible P value of 0.0005, which means this distribution would occur by chance only 5 times in 10,000. By contrast, the comparable test for the SPY data returns a probability of 0.43, telling us, as expected, that day-to-day change levels are essentially random. (Note: None of this says anything about price trends over time; it's simply about within-week patterns of price fluctuations.)
Indeed, one could have made a tidy profit over the last few years simply buying 100 AAPL shares at the end-of-the-week close and selling them at the beginning of the following week's open. Not that I'm suggesting this as a viable strategy, mind you, but I did run up the chart below illustrating this model in its crudest implementation. It does, I believe, effectively demonstrate the strength of the end-of-the-week effect on AAPL's share price. Again, I'm not proposing a trading strategy here, simply using it so show how skewed the weekly returns are for AAPL.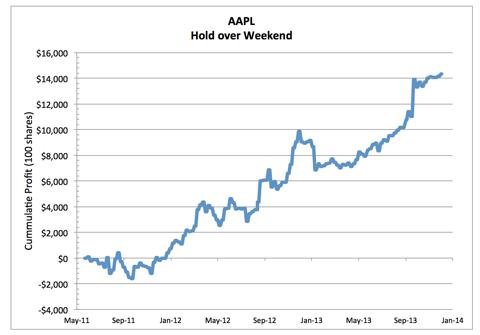 Circumstantial evidence, at best, but it seems unlikely that this pattern could have nothing to do with prices being manipulated as the weekly options expirations draw near. But, such is a fact of life for the AAPL investor.
Why I like Apple despite the apparent manipulation of stock price:
Valuation. Apple's valuation continues to be attractive even after a 40% run up from the mid-year lows. Earnings yield stands at 7.1%, and dividend yield is 2.1% with a potential increase on the horizon. In addition, EPS should get a nice boost from the buybacks that have been made at bargain prices over the past few months
Growth. Apple bears would have us believe the company's growth is behind it. There was a fine article here this past weekend by Brian Gilmartin making a case for growth ahead. The China Mobile deal is sure to drive considerable growth for Apple. Some have argued that only 10% of China's population can afford Apple products. But 10% of 1.4 billion is a lot of iPhones. The Chinese well-to-do are extremely status conscious (ask any of the luxury car makers about how important the Chinese market could be for them) and the status phone in Asia is the iPhone. Japan is a smaller market, but an important source of growth as well.
Cachet. Apple has lost none of it, it seems; customers continue to line up to buy Apple. The iPhone 5s/5c introductions have been spectacularly successful. Last week the Wall Street Journal was reporting sales of a half million iPhone 5s units per day, the highest daily output ever. iPads, Air and Mini, are selling extremely well. And, this time around, Apple is putting the devices in the consumers' hands with only trivial wait times. Apple was King of Black Friday, leading the pack for sales at Wal-Mart (NYSE:WMT), Best Buy (NYSE:BBY) and especially Target (NYSE:TGT) Apple products were the top three items on Target's sales returns list that day, and iPads accounted for a full 18% of the retailer's Black Friday sales.
Cash. Apple remains awash in the stuff. The company is still sitting on some $146B. It holds a AA+ credit rating from S&P. It sold 30-yr bonds at a mere 3.85% almost immediately. One should expect continued buybacks, acquisitions and investment in the kinds of new product development that have served Apple so well for so long.
The Icahn Effect. Carl Icahn has served notice that he would consider a proxy fight to support his efforts to use that cash to return value to shareholders. Will it come to that? Can Icahn win that fight? I think neither is likely, but mine is just another random opinion. Regardless, he will keep pressure on management. Responses will not be coming until January. Best-case scenario has new product announcements, a huge beat for earnings and a dividend increase, which will defuse some of the Icahn bluster. But I have little doubt Icahn will be keeping the pressure on Tim Cook and Apple management, and that pressure will ultimately benefit shareholders.
New Products. What's on Apple's horizon? An iPhone 6 obviously, almost certainly with a larger screen and better battery life, the top two items on iPhone users' wish lists. A revamp of the iPad line with a processor upgrade to at least the A7 and, possibly, adding a larger version of the device that will continue the blurring of the line between tablets and netbooks. iTV? iWatch? Not clear to me we'll see that TV, but some version of the watch seems inevitable.
Momentum is on AAPL's side again. A 1½% gain from today's $566.43 close will put AAPL above its 52-week high and the 600 level is a tantalizing 6% away. We'll certainly see new 52-week highs (look for it on Mondays or Tuesdays?) between now and the end of the year. Of course, that's a moving target right now as the previous highs recede into the distance, but it's a safe bet APPL will break through the current marker even if it's a 53- or 54-week high by the time it happens. Expect major momentum drivers in January. Announcements, even rumors, on buybacks and, maybe, dividends can all generate increases, so it's not impossible that 600 will be breached between now and the January 21 earnings report. And, a blow-out on earnings (not unlikely if those early returns for this quarter's sales are sustained) will fuel further momentum beyond 600.
In summary, it's clear to me the widely held belief that AAPL's share price is regularly manipulated by big-money players may well be more than another conspiracy theory. There could be a perfectly good alternate explanation for what's been driving the end of the week price drop over the past 2 years or so, but it almost certainly involves weekly options expirations. Regardless, as the saying goes, there's no point in fretting over realities that are out of your control. Certainly this pattern is something to consider for anyone who's regularly in the AAPL options market, which I would avoid, but for the buy-and-hold-at-least-for-a-while investor, this is just another source of noise. The underlying signal is, in my view, very positive, and I don't think it's going too far out on a limb to look for a $630 to $635 level sometime before the end 2014's second quarter.
But, if I were trading, I'd probably look buy on Fridays and sell on Mondays.
Disclosure: I am long AAPL. I wrote this article myself, and it expresses my own opinions. I am not receiving compensation for it (other than from Seeking Alpha). I have no business relationship with any company whose stock is mentioned in this article.