By Jon "DRJ" Najarian
Deere: Cost Cuts, Financing Strength Cited
The tractor manufacturer posted quarterly results that topped Wall Street expectations on cost cuts and strength at its in-house finance arm. Deere (NYSE:DE) blew past revenue forecasts by some $700 million and is getting lots of love in the pre-market as shares surge more than 6 percent to $57.06.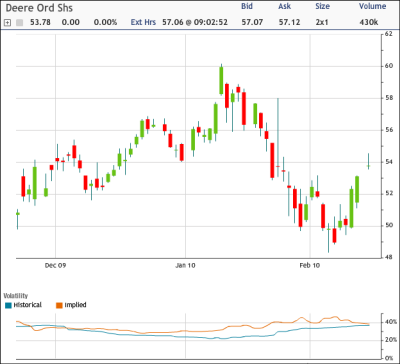 Whole Foods Bags Big Profits
The grocery chain said quarterly profit jumped 71 percent to $55.1 million, or $0.32 a share, as sales rose 7 percent to $2.6 billion. WFMI also raised guidance and is seeing a nice bounce this morning to $32.70 from yesterday's close of $30.52.
Raser Gets $33 Million Grant
The energy technology company Raser (RZ) reported that the Treasury has approved its renewable energy grant application for a geothermal power plant. The grant was for $33 million, nearly half of Raser's market cap of $76 million. Any surprise that RZ is trading up 17 percent to $1.12?
(Chart courtesy of tradeMONSTER)