SDT's recent well production reports have been nothing but terrible news. But the stock price has also crashed. Where may it go from here?
As part of a recent portfolio update, I conducted a deep technical evaluation of a set of oil and gas trusts. I took a hard look at the numbers, reviewed years of SEC filings, and built an engineering-style model to forecast trusts' future distributions based on individualized forecasts of production, prices, and expenses. This article discusses the model as applied to SandRidge Mississippian Trust I (NYSE:SDT).
The plight of SDT has been well-documented by another writer on Seeking Alpha, Daniel Moore. Mr. Moore's work also uses a quantitative model and I've found his analysis to be thorough, technical, detailed, and very informative. I decided to evaluate SDT myself for the purposes of comparing my model results to those of Mr. Moore. If you are interested in quantitative analysis of trusts or in SDT, I highly encourage you to also read Mr. Moore's work. There is a link to his analysis at the end of this article.
A General Model of an Oil and Gas Trust
Oil and gas trusts are a type of commodity investment in which an investor purchases the right to future net profits from a set of wells. SDT was created by SandRidge Energy, Inc. (NYSE:SD) to own "royalty interests... in 37 producing [and] 123 horizontal development wells… in the Mississippian formation in... Oklahoma." (Source: SDT Prospectus, p1.) SandRidge also created a second trust, SandRidge Mississippian Trust II (NYSE:SDR), to receive royalties from similar properties.
For an investor, SDT's value is based on the NPV of its distribution stream. Generally speaking, trusts distribute the profits that are left over from the sales of oil and gas after all of the other stakeholders, including the well proprietor and trust administrators, have taken their cut. The model that I use, which is shown below, assumes that future distributions may be estimated using forecasts of future well production, sales, and stakeholder expenses.

Of course, the devil is in the details. My earlier article, "Tricks that Inflate the Value of Oil and Gas Trusts," discusses some of the accounting and contractual techniques that proprietors and trusts may use to manipulate net income and, indirectly, their distributions. These tricks can mislead the investor, so it is wise to be aware of them when investing in trusts. To account for these details, the generalized model must be adapted for each trust. The rest of this article discusses the adaptations made for SDT.
SDT Trust Distribution Model
Well Production
SDT owns a share of the proceeds from the sale of oil and gas from 37 "PDP" wells that were brought online between Q4 2010 and Q1 2011 and 124 "PUD" wells that SandRidge was obligated to develop after the initial sale of trust units. SandRidge completed production of the PUD wells in Q3 2013 and all are now online.
Simply put, the performance of SDT's wells has been terrible. Total production reached a peak of 185 mbbl in Q3 2011, but has dropped sharply to 102 mbbl in the most recent quarter. Making matters worse, this nosedive occurred while SandRidge was adding wells; now that new well development has ceased, total production has nowhere to go but further down. The decline in performance has been so substantial and widespread that I wonder whether the wells are simply a junk asset.
If we assume that SDT's wells aren't complete junk, then we know that production will eventually stabilize. To estimate future total production, I developed best-fit power curves for both the PDP and PUD wells and for both oil and gas based upon historical production and the number of producing wells, as reported by SDT. These "best fit" curves suggest that SDT's well performance will continue to decline in the near term, eventually stabilizing at levels less than half of those reported in the last quarter. In the chart below, the "middle case" is the forecast of oil and gas production based on the best-fit power curves. The "best" and "worst" cases are 3 standard deviations above and below the best-fit curve, respectively.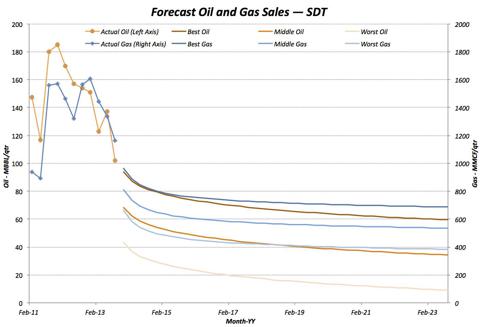 Sales Price
Oil and gas from the underlying properties is sold through closed contracts. Contract terms are unavailable to the investor, but published historical sales numbers roughly reflect NYMEX Henry Hub prices for gas and WTI prices for oil. The distribution model assumes that future sales prices will equal those of NYMEX Henry Hub and WTI/Light Sweet Crude futures. As of 12/05/13, these prices are similar to those for spot sales today and gradually move to long term values of $5.50/MCF for gas and $79.60/bbl for oil by 2021.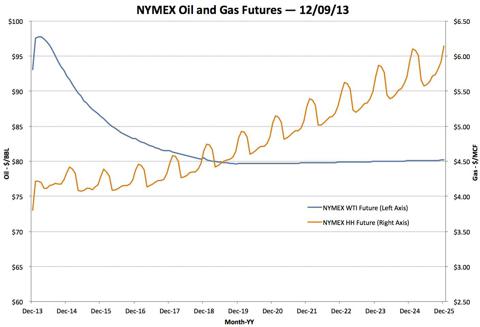 Proprietor Expenses
SandRidge deducts two categorical expenses from well revenues before the trust receives its share. The model assumes that:
"Production Taxes" will change in proportion to future gas and oil production volumes
"Post-Production" will change in proportion to the future gas production volume
If there is any consolation in the massive decline in well production, it's that these expenses should also decline significantly. Historical and forecast revenues and expenses for the trust (including hedges mentioned below) are shown in the following chart.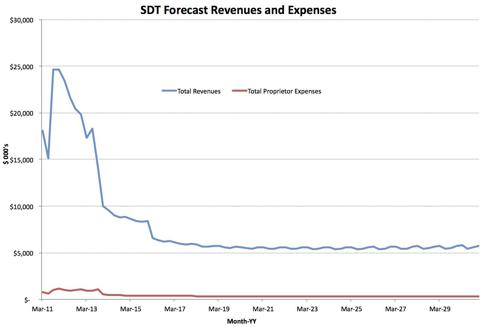 Trust Expenses
SDT trust administration deducts a single, regular charge for trust expenses. Over the past 11 quarters, the charge has varied between $250k (Q1 2011) and $544k (Q1 2013), averaging $375k. The model assumes that this charge will continue at current average levels.
Other Assumptions
The model assumes that SDT is able to gain the full value for its extensive oil and gas hedges, even for those that may exceed production, until they expire in 2015.
The model assumes that all subordinated shares will be converted to full shares on June 30, 2014. As SDT has been unable to meet even the minimum threshold, the conversion of these shares will dilute earnings substantially.
The model ignores the possible effects of all legal proceedings involving SD and SDT, including any funding reserves that may be set aside to cover legal costs, as well as the result of any possible trials or arbitration.
Finally, the model assumes that SDT will dissolve on or shortly after Dec. 31st, 2030, at which point the revenues from final production and a non-trivial residual payment will be distributed to unitholders. The residual is calculated as a 10x multiple of prior year distributions, times a 1.5 "fudge factor," less a 50% cut that is taken by SandRidge. For the middle case, the residual will has a PV-10 of $0.98.
SDT Valuation
So what's SDT worth? Given the observed decline of SDT's wells, the answer is highly dependent on the level at which well production ultimately stabilizes. The table below summarizes the NPV of future distributions for the best, middle, and worst cases for various rates of return.

As I read the table, it suggests that the current market valuation of SDT ($9.45, as I write this), assumes that production will follow the middle case with a rate of return around 8%. While this might be reasonable for some investors, my preference would be for a minimum 10% rate of return given the risk associated with SDT's wells; this equates to a fair value of $8.11 on 12/9/13.
So how does my valuation refer to that of Mr. Moore? In SandRidge Mississippian Trust I - Q3'13 Results Poor, Risk Elevated, Mr. Moore estimates a PV-10 of $11, which is a fair amount higher than mine. One difference in our approaches is methodology; Mr. Moore bases his assessment on adjusting SDT's petroleum reserve reports, while I look at just well production. As the wells have been underperforming expectations that had been created by the reserve reports, it would be reasonable that my estimate of SDT's value is lower than Mr. Moore's. Another key difference is that I've had an extra month of information regarding prices, and time to consider and learn from his detailed and thorough work. Given the difference in our estimates, I would suggest that anyone considering action on SDT read his evaluation.
Time is also a critical factor in estimating where the value of the trust will go from here. The chart below shows the estimated future distributions and future value of trust units over time. As shown, SDT's distribution is set to have two significant drops in the next two years, one with the conversion of trust units and the second with the expiration of hedge contracts. Accordingly, the future value of SDT shares will also drop, which suggests that even if the shares are fairly valued today, their share value will drop 15% by Q1 2016. All investors should understand this risk.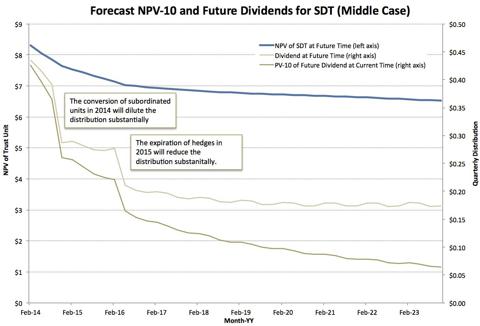 Comparing SDT's valuation to other trusts
SDT is the fifth trust evaluated by the model and SDT's results can be compared to those of the other trusts to provide a relative valuation. Other trusts that have been evaluated include:
1. Enduro Royalty Trust (NYSE:NDRO) (Forecast as of 11/12/13)
2. ECA Marcellus Trust I (NYSE:ECT) (Forecast as of 11/19/13)
3. Hugoton Royalty Trust (NYSE:HGT) (Forecast as of 11/25/13)
4. Pacific Coast Oil Trust (NYSE:ROYT) (Forecast as of 12/5/13)
The table below shows a ranking of trusts based on the difference between the model NPV and the market price at the time of evaluation. For SDT, the difference is -16%, which places it in third place.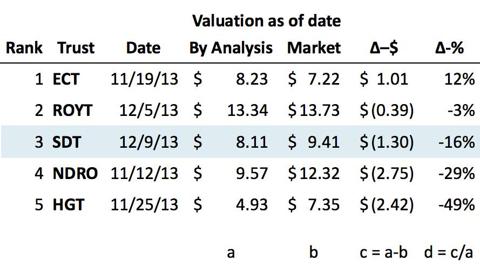 In addition to the trusts mentioned above, investors wishing to do their own comparative analysis may wish to compare SDT against:
Chesapeake Granite Wash Trust (NYSE:CHKR)
Mesa Royalty Trust (NYSE:MTR)
MV Oil Trust (NYSE:MVO)
Permian Basin Royalty Trust (NYSE:PBT)
SandRidge Permian Trust (NYSE:PER)
SandRidge Mississippian Trust II
Whiting USA Trust I (NYSE:WHX)
Whiting USA Trust II (WHZ)
Disclosure: I am long ECT. I wrote this article myself, and it expresses my own opinions. I am not receiving compensation for it (other than from Seeking Alpha). I have no business relationship with any company whose stock is mentioned in this article.