Twice in 2009, ValueExpectations.com highlighted "Fidelity's Low Priced Stock Fund", an investment strategy that has been employed since 1989 by fund manager Joel Tillinghast. The theory behind this "low-price" strategy is that stocks within the small cap space tend to experience the most frequent mis-pricings and have the least amount of analyst coverage. Mr. Tillinghast created this strategy to take advantage of the numerous inefficiencies in small caps. They started out as a strategy to invest in stocks trading below $10; that limit has since been raised to $35 to widen the pool of investable stocks.
Although this fund has been a market performer over the past year, Tillinghast had taken advantage of such mispricings during the 15 prior years, averaging an 11% annual return vs. a 6% annual return for the S&P 500 over the same period. The fund had been closed to investors since 2003, but was recently reopened in December to get more cash inflow to be able to take advantage of all of the investment opportunities they see in the market.
In our previous articles discussing this strategy, we provided a list of companies within Mr. Tillinghast's range (under $35) that met AFG's criteria of an attractive investment opportunity and both lists of stocks have performed well since their release. Each stock list contained 30 stocks from the S&P 500 broken up into three groups by stock price. (10 stocks under $10, 10 stocks $10-$20 and 10 stocks $20 -$35).
We released the first group of stocks in February 2009 and until yesterday's close the 30 stocks have returned over 73% above the S&P 500 during the same time period.
The second group of stocks has also performed well, returning over 2% above what the S&P 500 delivered since its release last June.
Since the prior 2 stock lists have outperformed, we will once again provide our readers a list of 30 stocks [Including Walgreen Company (NYSE:WAG) and Microsoft Corp. (NASDAQ:MSFT)] broken up in 3 groups that look attractive according to key criteria AFG takes into account when identifying stocks likely to outperform. All of the companies on this list ranked well according to AFG's valuation model, expected change in economic profitability (EM), and all ranked better than a sell according to AFG's overall investment opportunity signal which takes into account several other AFG criteria.
click to enlarge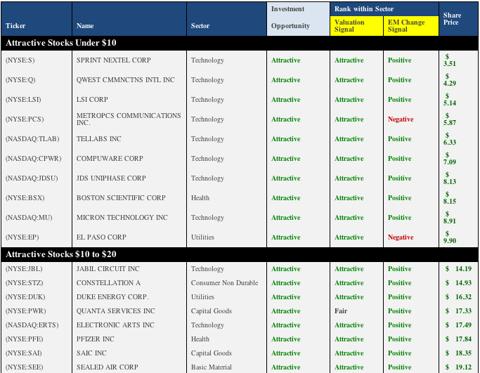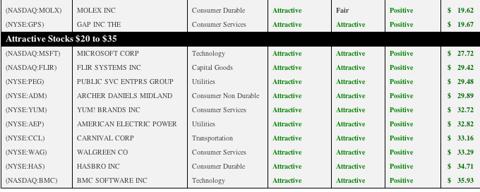 Disclosure: None