While US markets have been racing to all-time highs, there is one Canadian name that continues to go in the opposite direction. Yes, I am talking about BlackBerry (NASDAQ:BBRY). On Tuesday, the device maker hit a new 10-year low before a late day rally, as shares have lost the $6 level and are still falling. While this may not seem rather surprising to many, the pain may increase rather soon. The company is scheduled to release its fiscal third quarter results next week, and the report will be ugly. The question for investors is how much further can this stock drop? Let's see where BlackBerry stands now.
The fall continues:
It's been another painful few months for the device maker, as you can see in the chart below. Tuesday's fall set a new 52-week low, as well as a 10-year low. Shares of the name are down about 50% in the past three months or so. Tuesday's low was $5.44, a far cry from the $18.32 level that represented the 52-week high. The stock did bounce well off the day's low, but remains a far cry from even the lowest of double digits.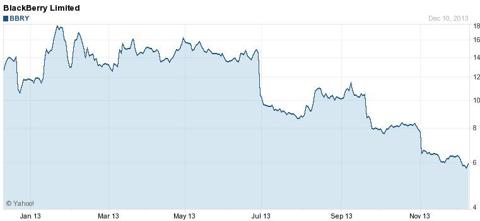 (Source: Yahoo! Finance)
Where estimates stand:
If you go to BlackBerry's estimates page, you will see a lot of red, and that is obviously not good. For the November ending quarter, which will be reported next Friday, analysts are looking for a 42% drop in revenues to $1.58 billion. Everyone knew that BlackBerry 10 would have to be the savior of this company, and it certainly wasn't. There will be a plunge in revenues, and the only question that remains is how large will it be? Current revenue estimates for the quarter are nearly half of the $3.01 billion they were in mid to late September.
When it comes to the bottom line, the picture is just as bad. Analysts are looking for an adjusted loss (after all items) of $0.43 per share, roughly double the $0.22 loss from the year ago period. This estimate has also plunged in recent months, as it stood at just a $0.15 loss in mid to late September.
The fiscal year numbers show an even worse picture. The table below shows the analyst estimates for this fiscal year (fiscal '14, ending in February 2014) and the following fiscal year.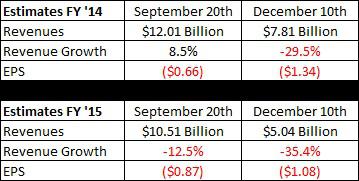 The picture is not pretty. This was a company that in fiscal 2011 had $19.9 billion in yearly revenues. Just four fiscal years later, analysts are looking for a nearly 75% dropoff. Technology sentiment can change quickly, and for BlackBerry, that is the case. We'll see how bad the numbers are next week, and those results will certainly have an impact on these estimates moving forward.
How's the balance sheet?
One of the brightest spots for BlackBerry in recent years was the company's balance sheet. The company has been on solid financial footing, with a decent cash position and no debt. That balance sheet got worse in fiscal Q2, as you can see in the chart below. Dollar values are in millions.

*Liabilities to Assets ratio.
All four numbers/ratios got worse in fiscal Q2, although the cash balance was up a little from the year ago period. The balance sheet will be a crucial item to watch. Does the cash/investments pile drop under $2 billion, or does it only decline slightly? Do working capital and the current ratio continue to fall? BlackBerry's market cap as of Tuesday's close was just $3.07 billion, and the cash represents a significant part of that. What does that tell you about the rest of the business?
Short interest update:
One other item that bulls were pointing to was the continued increase in BlackBerry short interest. For a while, every update just continued to see a new short interest high for the company. That sentiment started to change at the end of June, with short interest topping out over 184 million shares. At the latest update, the number was under 151 million shares.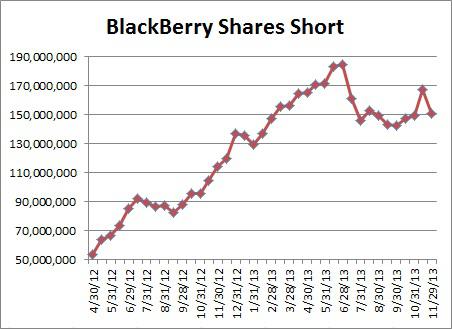 Now the latest short interest update was from the end of November, so it will be another few weeks before the next update. Was there some short covering late on Tuesday? It is certainly possible. Volume was more than 40 million shares, the most in over a month. Additionally, the past two weeks had seen volume of less than 10 million shares on a number of days. With volume falling recently, BlackBerry's days to cover ratio, the number of days it would take all shorts to cover, hit a new high over 14.6. Bulls still hope for a major short squeeze in this name. We may have seen a mini version of that on Tuesday.
Final thoughts:
A late day rally on Tuesday saved BlackBerry shares from the pits of despair. The struggling Canadian device maker traded at new 10-year lows on Tuesday, just 10 days ahead of what's expected to be an ugly earnings report. Late Tuesday, Citi downgraded BlackBerry to sell, and cut its price target from $7 to $4. I think this might be the start of a number of analyst downgrades, especially if results next week are as bad as most think they will be. Should BlackBerry shares continue this rally over the next few days, I think the short case becomes viable. This name cannot survive in its current form, and it seems just a matter of time before a breakup or something else happens. If you are going to play this name on the short side through earnings, you might want to hedge your bet just in case results happen to surprise. More pain is ahead for this company, and that might provide an opportunity for investors.
Disclosure: I have no positions in any stocks mentioned, and no plans to initiate any positions within the next 72 hours. I wrote this article myself, and it expresses my own opinions. I am not receiving compensation for it (other than from Seeking Alpha). I have no business relationship with any company whose stock is mentioned in this article.
Additional disclosure: Investors are always reminded that before making any investment, you should do your own proper due diligence on any name directly or indirectly mentioned in this article. Investors should also consider seeking advice from a broker or financial adviser before making any investment decisions. Any material in this article should be considered general information, and not relied on as a formal investment recommendation.