A few days ago I wrote an article (REITs And Rising Rates, What A Fool Believes) explaining that "I truly don't know why the market has punished REITs-but not non-REIT stocks-since May 21." I added that "if it's the increase in interest rates, then why has the market reacted so differently most of the times historically when rates increased?" It's hard to understand the market folly with REITs; however current share valuations represent an attractive entry point and opportunity to add to existing positions.
In order to take advantage of market declines to buy low, investors need a strategy that takes emotions out of the decision making process. It's a lot easier for REIT investors since the primary reason that most are buying the securitized real estate asset class is because of the dependability of dividends. Conversely, REITs are FORCED by law to payout at least 90% of taxable income in dividends and that disciplined model of investing is also the key ingredient for wealth creation.
I wrote a Forbes.com article last year and I pointed out that the true power of the REIT model is analogous to a "cake and icing" article written by Seeking Alpha writer Chuck Carnevale. In his article Carnevale explained that there are two ways of getting paid - capital gains and dividends. He added:
The two added together (capital gains and dividends) equal the shareholder's total return…the stock that pays a dividend to its shareholders is providing them a return bonus or kicker.
I pointed out in my article that "the concept of REIT investing us rooted in the same cake and icing blueprint that Carnevale wrote; however the ingredients (dividends and capital growth) are reversed for REITs making dividends the "cake" and capital appreciation the "icing". Furthermore REITs help to balance conventional common stock portfolios by reducing volatility and by providing a natural hedge against inflation."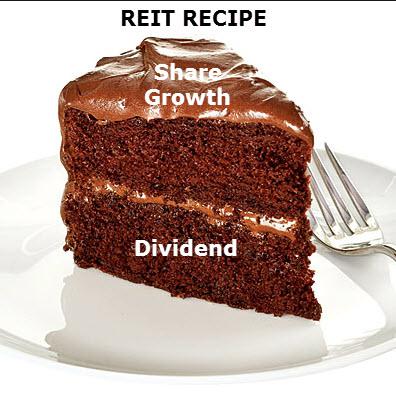 As you examine the two ways of getting paid (dividends and growth) it's natural that dividends have special appeal. Accordingly, the dependability of dividends is a big reason why investors should consider buying REIT stock. As Charles Carlson wrote in "The Little Book of Big Dividends"
If you want the recipe for getting rich in the stock market, here it is: Find stocks with above-average appreciation potential and safe and growing dividends, and buy them at attractive prices.
My Top Picks for 2014
As most of you know by now, I write about REITs. Yes there are other exceptional companies that pay dependable dividends; however, by employing diversification, investors can reduce risk without sacrificing returns. In addition, REITs provide an excellent way to hedge against inflation, especially when focusing on the companies that are likely to boost their dividends on a frequent basis.
The last few months has been quite volatile for REIT investors, especially when trying to determine the best entry pricing. There's been considerable debate as to the cause and effect for the selloff as Morgan Myrmo explained in a recent article:
While off the late-August 52-week low, negative REIT sentiment and continued interest-rate fear continues to spook the sector. Research dictates that REIT returns are more inclined to follow economic growth than rising rates, however the current investor may see a double-edged sword as economic growth will only advance the taper, which in turn will likely lead to rising rates. Market sentiment remains negative however, which promotes further decline in the sector.
Of course for value investors, the negative sentiment means opportunity and now many REIT investors are starting to find more defensible value deduced from a more reasonable assessment of the facts. In other words, and spoken in the words of a true value investor, intelligent investors can now own REIT stocks with a fair degree of certainty that, regardless of day-to-day price fluctuations, one's principal is likely to be secure.
However, finding attractive REITs that pay modest dividends is only one piece of the puzzle. Buying them is another piece. It's important to also consider the dependability of the dividend, perhaps the biggest reason that investors consider owning REITs. As Chuck Carlson wrote (in The Little Book of Big Dividends):
Don't look at yield until you've analyzed the safety of the dividend, the ability for the dividend to grow, and the overall merit of the stock.
In my monthly newsletter, The Intelligent REIT Investor, my SWAN (Sleep Well at Night) portfolio, mostly made up of blue chip REITs, has seen the average dividend yield climb by over 18% since June (2013) - from 4.06% to 4.80%. In my SALSA portfolio (focused on growth), the average dividend yield has grown from 4.97% (in June) to 5.23%. The yield in that portfolio would be much higher, however I added Gramercy Property Trust (NYSE:GPT) a few months ago and since there is no dividend paid, the average dividend yield was lower.
As part of my ongoing research, I spend considerable time trying to eliminate investment risk. Although I have yet to find a sure fire way to eliminate risk, I rely on the Grahamian-based valuation methods to filter out disadvantageously positioned stocks. Since the total return breakdown for REITs is around 60% dividends and 40% capital appreciation, I believe that investors should pay special attention to the dividend yield - a darn good proxy for investment risk.
This year I decided to put together a list of my Top Picks for 2014. This is the first year that I have predicted the winners for the next calendar year; however, I wanted to highlight the leaders that are mostly differentiated for their ability to control risk. Remember that the most successful REITs are the companies that have been able to sustain differentiation over time through good times and bad. My Top 5 Picks are the ones that I consider to have the strongest sources of differentiation and with the most durable ingredient for wealth creation - the dividends.
Realty Income (NYSE:O) has increasingly become a favorite REIT holding for many investors and given the more recent price decline, the shares have become attractively valued. Since mid-May Realty Income shares have slid by over 31% while the S&P 500 advanced by over 8.5% (during the same time). Conversely, Realty Income's valuation (Price to Funds from Operations) has fallen from 25.5x P/FFO in May to 15.8x. The dividend yield has increased from 3.97% (in May) to 5.85%.
As evidenced by the FAST Graph below Realty Income has been a stalwart performer of dividend safety. Notably the "blue chip" REIT has increased its annual dividend every year since going public (in 1994). The dependability of the dividend is the driving force for this stock and in 2014 the REIT will be a candidate for inclusion in the S&P Dividend Aristocrat list (20 or more years in a row of paid and increased dividends). Shares are currently priced at $37.51.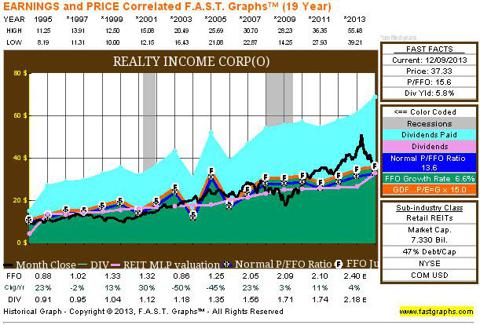 Ventas Inc. (NYSE:VTR) recently announced it is increasing the fourth quarter 2013 dividend by 8% to $0.725 per share. The dividend is payable in cash on Dec. 31 to stockholders of record on Dec. 16. Including the fourth-quarter dividend, the company's 2013 per share dividend of $2.735 represents a 10.3% increase over its 2012 dividend. For the past 10 years, the compound annual growth rate in the company's dividend has been 10%.
As evidenced by its stalwart dividend policy Ventas has always increased its dividend, with the exception of 2009 (where the dividend remained flat). The company's current dividend yield is 4.68% and the latest dividend announcement will boost the payout to over 5%. Given Ventas' long history of dividend growth and its conservative payout ratio of only around 65%, I can continue to "sleep well at night" owning Ventas shares in 2014. Shares are currently priced at $58.05.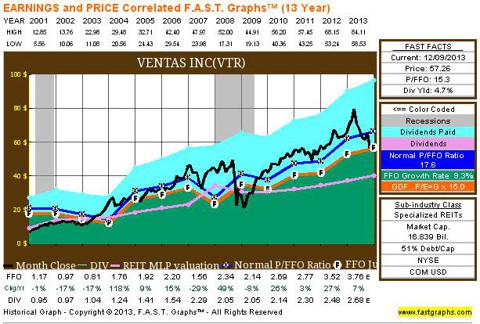 Last week I wrote an article on W.P. Carey (NYSE:WPC). As I explained, "Carey is moving closer to my Target BUY range. I'm looking for an ENTRY PRICE of $60.00 and when and if I'm able to be a shareholder I intend to hold on for the long run." I like Carey's globally diverse (28% International exposure) and the upcoming merger with CPA:16 will provide immediate accretion.
Much like Realty Income and Ventas, Carey also has an extraordinary dividend policy and the remarkable record of consistency is evidenced by the 15 years in a row of dividend increases. Carey is currently trading at $61.84 with a dividend yield of 5.55%. The P/FFO multiple is 18.8x.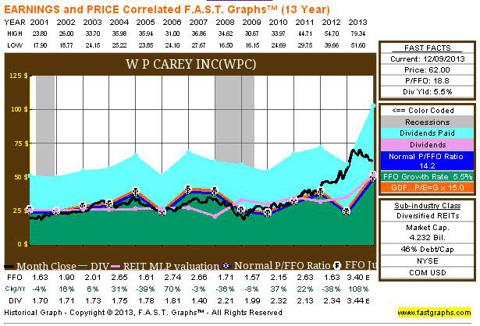 Omega Healthcare Investors (NYSE:OHI) has been another dividend favorite. Just a few days ago Achilles Research wrote an article explaining that "investors who want to find Realty Income's match in the senior care market should take a look at Omega Healthcare Investors." The author summed up the article by stating that "both companies are aggressively growing and investing, particularly during the real estate crisis, have outstanding credibility in remunerating shareholders with increasing dividends and very attractive entry yields approaching 6%."
Back in October I wrote an article on Omega and although I was attracted the fundamentals of the REIT I was not ready to invest in the shares. As I explained, "I will wait patiently knowing that a sunnier and more plentiful time is bound, as a law of nature, to resume in due course. My Omega Target Price is $29.99." I'm hoping that in 2014 I will be able to own a slice of the Omega pie. The shares are currently trading at $31.60 with a dividend yield of 6.08%. The P/FFO of 12.5 is attractive; however, I believe that given the secondary market risk combined with the operator level risk (non investment grade tenants) I'm targeting a higher risk/reward price.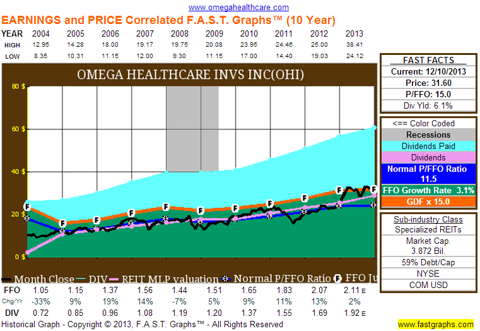 As you will discover in an article I'm writing later this week, my Best Performing REIT in 2013 is Gramercy Property Trust . I originally introduced (or recommended) Gramercy in December 2012 when shares were trading at $2.74. Then I wrote another article just a few months ago (July 2013) when shares ramped up to $4.67. The Small Cap Triple Net REIT is now trading at $5.28 - a whopping 92% increase since I recommended the shares around 13 months ago.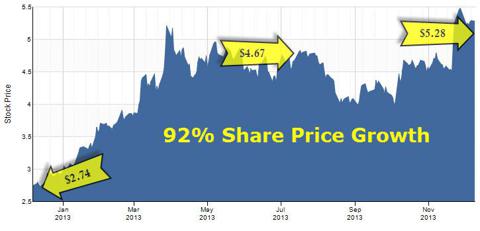 The interesting thing about this pick is that the company is currently not paying a dividend yield. Gramercy's management previously announced that it intended to start paying back its accrued dividends on its preferred stock; however, on the recent earnings call Gramercy said that it expects to pay the Q4-13 dividend in January 2014 (to shareholders of record in 12/31.13). Management also said it intends to reinstate the common dividend in Q1-14 subsequent to going current on the preferred dividend.
The FAST Graph below does not provide the same "gushing" dividend history that the others do. In the words of Chuck Carnevale, Gramercy has "all cake and no icing"…but it's coming soon. It's clear Gramercy has evolved from a mortgage-based model to a Triple Net platform and that means that the board will ultimately commence a dividend run-rate and provide the same forms of dividend repeatability as the other REITs.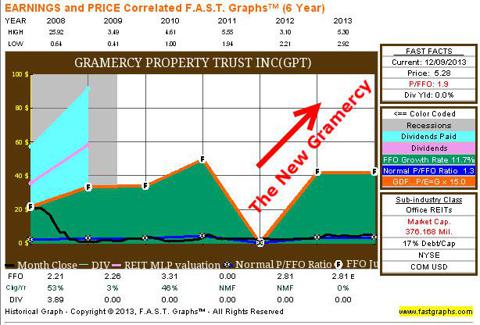 So this concludes my 5 Top Picks for 2014. I have a few other notable mentions including Chambers Street Group (NYSE:CSG), STAG Industrial (NYSE:STAG), Excel Trust (NYSE:EXL), Retail Opportunity Investment Corp. (NASDAQ:ROIC), Healthcare Trust of America (NYSE:HTA), Medical Properties Trust (NYSE:MPW), and Digital Realty (NYSE:DLR). There are over 130 U.S. Equity REITs ($530 billion) and as you consider your goals and objectives in 2014 I encourage you to consider the recipe for success. That is, "find stocks with above-average appreciation potential and safe and growing dividends, and buy them at attractive prices."

In the words of the legendary investor Ben Graham: "A stock does not become a sound investment merely because it can be bought at close to its asset value." Focus on buying stocks when they are cheap and take advantage of REITs with temporary mispricing risk. If a REIT is selling for less than its intrinsic value, chances are this will ultimately be recognized and the market will rise to a level more indicative of the company's worth.
Finally, don't be a market timer. Predicting short-term stock market direction is a fool's game. Long-term the market is going up. Market timers like to think they can capture large returns by jumping in the market to profit during bull markets, and jumping out when stocks are down. It's virtually impossible to consistently make money on market timing, and you are better off investing for the long-term, riding out the occasional gyrations. Value investors have the extra comfort ("sleep well at night") of knowing that they have a cushion of protection and that they have paid careful attention to investing with a margin of safety. Ben Graham warned us:
We all know that if we follow the speculative crowd we are going to lose money in the long run.
Happy Holidays!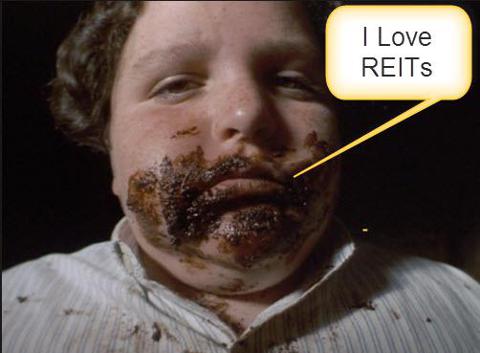 Check out my monthly newsletter (The Intelligent REIT Investor) and my NEW 3D (durable disciplined dividends) portfolio.
Source: SNL Financial and FAST Graphs.
Disclaimer: This article is intended to provide information to interested parties. As I have no knowledge of individual investor circumstances, goals, and/or portfolio concentration or diversification, readers are expected to complete their own due diligence before purchasing any stocks mentioned or recommended.
Disclosure: I am long ARCP, CBL, CSG, DLR, GPT, HTA, MPW, O, ROIC, STAG, UMH, VTR, HCN. I wrote this article myself, and it expresses my own opinions. I am not receiving compensation for it (other than from Seeking Alpha). I have no business relationship with any company whose stock is mentioned in this article.