It is no secret that MasterCard (NYSE:MA) and Visa (NYSE:V) compete with each other for consumers' dollars. They also compete for investors' dollars. Therefore, it comes as no surprise that MasterCard has just announced a big hike to its annual dividend a couple of months after Visa's announcement. Here are a few quick details from MasterCard's announcement:
The new quarterly dividend will be $1.10 (11 cents post split) per share, up a remarkable 83% from the previous level of 60 cents per share.
This gives MasterCard a yield of about 0.60%, which is obviously way too low to get the attention of most income investors.
The company also announced a 10:1 stock split and a new $3.5 Billion share buyback program.
We recently profiled Visa as a potential income stock for investors with a long time horizon. It is hard to look at stocks like Visa and MasterCard that yield less than 1% as potential income stocks. But let us look at a few points why MasterCard might deserve a place in your portfolio, especially from the total returns point of view.
Since these two companies compete so much with each other, it is only fair that MasterCard is evaluated for the same points that we evaluated Visa recently. Let us get into the details.
Dividend History: MasterCard has been paying dividends since October 2006 (the year it became a public company) and has not missed a quarterly payment since, not even during the 2008/2009 crisis. In this time period, the quarterly dividend per share has grown more than ten folds from 9 cents to $1.10.
Payout Ratio: The new annual dividend of $4.40 per share gives MasterCard a payout ratio of 17%, based on trailing twelve months EPS of $25. This is much lower than Visa's already low 28%. Obviously there is a lot of room for dividend growth here.
Dividend Growth Rate: Visa just recently met the minimum 5 year dividend growth threshold that some income investors look for. MasterCard has some catching up to do here. Although the dividend has grown more than 10 times the initial 9 cent payout, there is a no set dividend growth pattern yet. For example, dividend was steady at 15 cents/quarter from 2007 till Jan 2012 but has since been increased from 15 cents to 30 cents to 60 cents to $1.10 in less than 2 years.
Buybacks: Tuesday's buyback announcement is not MasterCard's first and it certainly won't be the last. The share count has gone down from a high of 136 Million to 120 Million in about 5 years. That represents a 12% reduction in share count.
What is impressive about MasterCard as well as Visa is the fact that they both buyback shares with their profits and not on debt. Both companies carry a big fat zero debt. As mentioned in the Visa article, it is no irony that a company that deals with credit card services carries no debt.
(click to enlarge

(Source: YCharts.Com)
Extrapolation and Future Returns: This section is a bit harder as MasterCard hasn't really yet shown the dividend growth pattern that is found in Visa. But just to make the comparison with Visa an even tussle, the table below assumes an annual dividend growth rate of 12% for the first five years and 8% per year for the next 5 years.
The yield on cost almost triples for the patient long term investor. Sure, that does look low on paper but the assumptions above are beyond conservative given the last 3 dividend hikes (83%, 100%, and 100%). Of course this frenetic pace will not continue forever but we expect the dividend growth to be pretty impressive.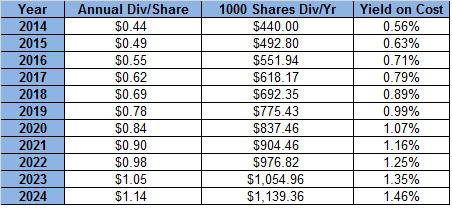 Note: Table above adjusted for the just announced 10:1 stock split.
Earnings Potential and Future Estimates: The comparisons and similarities with Visa just don't end. Like Visa, this is also a company that has been in existence for about half a century but is still seen as a growth company/stock. MasterCard is expected to grow its earnings at 18% per year over the next 5 years.
If the company grows earnings even at 10% per year over the next 5 years, we are looking at an earnings per share of $4 (post-split). Even if the company maintains the current low payout ratio of 17%, we are looking at a quarterly dividend of 17 cents per share in 5 years, which is about 50% higher than the current 11 cents per share.

(Source: Finance.Yahoo.Com)
Conclusion: MasterCard is a company/stock that has a lot of great characteristics for investors, including:
A wide moat and international presence
A rock solid balance sheet with zero debt
The willingness to reward shareholders through dividends and buybacks
A double digit earnings growth potential
A powerful brand name
If forced to pick either Visa or MasterCard, we will pick Visa just because of its clear dividend growth pattern. But there is no question that both stocks deserve your attention if you are looking for a strong dividend, dividend growth, and earnings growth candidate (meaning a powerful total return candidate). However, given the 60% run the stock has had in the past 52 weeks, we suggest waiting for a pullback before pulling the trigger, unless you are willing to treat it as a very long term holding.
Disclosure: I have no positions in any stocks mentioned, and no plans to initiate any positions within the next 72 hours. I wrote this article myself, and it expresses my own opinions. I am not receiving compensation for it (other than from Seeking Alpha). I have no business relationship with any company whose stock is mentioned in this article.