After just two years of active development drilling in the Marcellus, Southwestern Energy (NYSE:SWN) is beating its own production targets in the play by… three years.
Slightly over a year ago, speaking at an investor conference, CEO Steven Mueller laid out the company's operating plan in the Marcellus. At that time, the Marcellus was still perceived as an emerging asset in Southwestern's Fayetteville-dominated portfolio. The plan called for a remarkably steep production ramp up in the Marcellus, to over 500 MMcf/d (gross) by the end of 2013, reaching "almost 800 MMcf/d" (gross) in 2017. Southwestern was expecting to run a continuous 4-rig program. The plan sounded quite aggressive in September of last year as Southwestern had virtually no production coming out of the Marcellus as of mid-2011 and was producing just 166 MMcf/d (gross) as of mid-2012.
Southwestern's case confirms what has become the "Marcellus Forecasting Rule:" every most optimistic forecast shall prove outlandishly conservative a year later.
December 10, 2013. Southwestern just announced its new production guidance. In the Marcellus Shale, the company expects total net production to grow by over 60% in 2014 to 244-249 Bcf. Based on my more detailed analysis of Southwestern's volume projections, this equates to a Marcellus 2014 exit rate of approximately 825 MMcf/d gross. This exceeds the company's earlier targeted peak rate -- more than two years ahead of schedule. Southwestern is still operating a four-rig drilling program.
Driving the much faster than originally projected production growth is "the continued improvement in well performance in Bradford, Lycoming and Susquehanna acreage."
In fact, the performance of the company's Marcellus wells has been so strong that the accelerated production ramp up will be accomplished with less new wells and capital than originally anticipated. Southwestern plans to reduce its drilling capital in the play from $870 million in 2013 to $760 million in 2014. The company will drill a total of 75 net development wells in 2014 - including approximately 41 wells in Bradford County, 27 wells in Susquehanna County, and 7 wells in Lycoming County - compared to 108 net wells in 2013. In fact, the company may not even need four rigs to complete its next year's development plan.
Southwestern's current production is already running far ahead of the initial schedule: the company was producing 611 MMcf/d in the Marcellus as of September 30 of this year.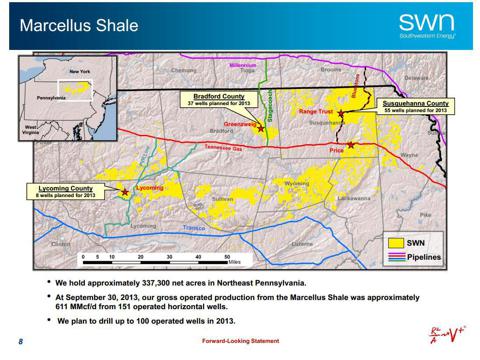 Click to enlarge
(Source: Southwestern Energy's November 5, 2013 Investor Presentation)
At this pace, assuming Southwestern finds adequate take-away solutions for its explosive production volumes, the company may reach the 1 Bcf/d milestone for its gross operated production in about 18 months from now.
In the meantime, Southwestern just joined Marcellus' "20 Bcf Per Well" Club: in its press release, the company highlighted a recent well it placed on line in Susquehanna County that achieved a peak 24-hour production rate of over 32 MMcf per day. While it is impossible at this point to make any meaningful EUR estimate for the well, the IP rate is consistent with a 20+ Bcf EUR potential, based on my analysis of production metrics for Cabot Oil & Gas's (NYSE:COG) wells in Susquehanna.
Operating Efficiencies Continue to Improve
In its press release, Southwestern highlighted continued improvement in operating efficiencies it is being able to achieve in the play.
The company expects that the average re-entry to re-entry time to drill its operated horizontal wells to total depth will be approximately 11.3 days in 2014, compared to approximately 11.9 days projected for 2013.
Southwestern's average 2014 completed well cost is estimated to be $6.8 million per well with a 4,950 average horizontal lateral with 18.0 completed stages, compared to an estimated $7.0 million well cost with an average horizontal lateral length of 4,900 feet and 17.5 completed stages in 2013.
Southwestern's cost metrics appear to have significant headroom for improvement, at least ouside of the basin's trough area. Cabot just reported its well cost guidance at "$5.8 million per well or less" in a multiple-well pad drilling format.
Evaluation Drilling On Newly Acquired Acreage To Be Initiated In 2014
Consistent with earlier guidance, Southwestern is yet to begin delineation of the Wyoming, Sullivan, and Tioga counties acreage that the company acquired from Chesapeake Energy (NYSE:CHK) earlier this year (link 1, link 2). Southwestern plans to drill a total of 8 horizontal delineation wells in 2014.
While the slow start of drilling activity on the acquired acreage is a bit disappointing, it is understandable given the absence of gathering infrastructure in the majority of new areas and time required to develop a drilling program and obtain necessary permits.
Marcellus Assets Continue To Shine
In my notes on the topic eighteen months ago, I wrote:
Due to the sheer size of Southwestern's position in the Fayetteville, the company is often perceived as a single-asset stock. This may change in the near future. The Marcellus is quickly emerging as Southwestern's primary growth engine and will likely beat the Fayetteville in terms of return on investment.

The Marcellus may play the defining role for SWN's competitiveness as a dry gas producer. (link)

2013 should offer ample operating catalysts to help focus investors' attention on the Marcellus value. SWN's Marcellus acreage and production can be worth $2.2-$4.0 billion. (link)
Well, the Marcellus Forecasting Rule certainly applies in this case: as of today, these statements sound trivial and the valuation estimate looks almost embarrassingly conservative.
Disclaimer: Opinions expressed herein by the author are not an investment recommendation and are not meant to be relied upon in investment decisions. The author is not acting in an investment advisor capacity. This is not an investment research report. The author's opinions expressed herein address only select aspects of potential investment in securities of the companies mentioned and cannot be a substitute for comprehensive investment analysis. Any analysis presented herein is illustrative in nature, limited in scope, based on an incomplete set of information, and has limitations to its accuracy. The author recommends that potential and existing investors conduct thorough investment research of their own, including detailed review of the companies' SEC filings, and consult a qualified investment advisor. The information upon which this material is based was obtained from sources believed to be reliable, but has not been independently verified. Therefore, the author cannot guarantee its accuracy. Any opinions or estimates constitute the author's best judgment as of the date of publication, and are subject to change without notice.
Disclosure: I have no positions in any stocks mentioned, and no plans to initiate any positions within the next 72 hours. I wrote this article myself, and it expresses my own opinions. I am not receiving compensation for it (other than from Seeking Alpha). I have no business relationship with any company whose stock is mentioned in this article.