Medley Capital (NYSE:MCC) recently reported year end results and beat projected EPS of $0.38 by $0.03 and adequately covered dividends. Currently MCC is a component in three of my suggested portfolios (General, High-Yield, and Value & Growth) and delivers a higher dividend yield of 10.6% to shareholders compared to the average BDC at around 9.1%. In my recent article "Medley Capital: Can It Continue To Cover Dividends?" I projected EPS of between $0.39 on a conservative basis up to $0.44 on a full 'run rate' basis. However I had projected portfolio growth of $90 million and the actual was only $63 million due to prepayment activity. The end results were a lower than ideal use of leverage and lower portfolio growth but plenty of dry powder for the upcoming quarters without the need to raise additional equity capital.
SBIC Loans
MCC has access to $150 million of SBA debentures and finally started to borrow, adding $25 million in low fixed rate ten year loans but still has another $120 million in borrowing capacity to utilize in the coming quarters. On the most recent earnings call the CEO stated "during the September 30 quarter we drew down an additional $25 million of SBIC leverage to end the quarter with the total of $30 million drawn. This was consistent with our guidance last quarter. A large portion of the current investment pipeline qualifies for the SBIC and we expect to continue to draw the leverage in a consistent and measured manner throughout 2014." I believe that BDCs that use SBIC loans have a competitive advantage over the others.
BDCs with portfolios of higher investment grade loans (like MCC) are more likely to use higher amounts of leverage to increase returns to shareholders as discussed in "BDCs And Risk: Part 1" and shown in the chart below: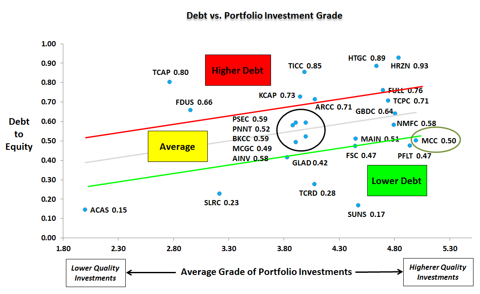 Dividend Coverage
The most recent equity offering was in September and late in the quarter so it had a nominal impact of the weighted average number of shares for calculating EPS for the quarter. However this coming quarter will obviously take into account the full amount of shares and I have included it in my most recent projections. Other income was higher than average and made up for the reduced amount of interest income due less portfolio growth. Overall I believe MCC will continue to cover dividends and have provided my revised and adjusted slightly downward projections in a recent article "MCC: Projections, Returns, Pricing and Recommendations" along with the best and worst case scenarios and the potential for dividend growth in the coming quarters.
Another good sign is the growing amount of 'accumulated undistributed net investment income' that increased from $7 million in the previous quarter to $12 million. This could be used as a reserve to cover dividends during worst case scenario quarters or distributed as a special dividend of approximately $0.30 per share or a yield of 2%. MCC is subject to a nondeductible U.S. federal excise tax of 4% on undistributed income if it does not distribute at least 98% of its ordinary income in any calendar year and 98.2% of its capital gain net income for each one-year period ending on October 31.
Revised Rankings
The rankings for MCC have improved mostly due to the increased earnings that affects the profit, return and valuation categories. The return category takes into account the ability to cover dividends and the potential for dividend growth. The valuation category takes into account the increased last twelve months EPS. There was a small improvement in the risk category due to reduced leverage and its utilization of fixed low rate SBIC loans. MCC has also retained its portfolio investment quality with almost 100% of its investment in senior secured term loans. However it still has an average portfolio yield of 13.8% that did not decline from the previous quarter.
Summary
MCC is still a solid investment and has the potential to grow dividends more than the other high-yielding BDCs. It has a better than average risk profile with higher than average yield and has earned its place in my suggested BDC portfolios. Investors should only use this information as a starting point for due diligence. See the following for more information:
Disclosure: I have no positions in any stocks mentioned, but may initiate a long position in MCC over the next 72 hours. I wrote this article myself, and it expresses my own opinions. I am not receiving compensation for it (other than from Seeking Alpha). I have no business relationship with any company whose stock is mentioned in this article.