If you are a fan of Doritos or perhaps enjoy sipping some Tropicana orange juice then you have contributed to PepsiCo's (NYSE:PEP) profitability in one way or another. Strong diversity, marketing techniques and brand management give this diversified beverage manufacturer an edge over its competitors.
Some of the world's most famous brands such as Lays, Doritos and Starbucks belong to PepsiCo and the company has been able to demonstrate strong cross-marketing skills and success in identifying consumer demand patterns. PepsiCo has been utilizing its resources to stay on top of trends and quickly adapt to new opportunities. With its huge global distribution capacity PepsiCo enjoys the economies of scale that allow the company to sell at lower prices.
In the recent quarter, CEO Indra Nooyi gave investors mixed results in regards to the company's performance. It topped quarterly Wall Street expectations and now remains on track to meet full-year financial goals thanks to the strong performance of its snacks business. However, locally, it has seen volume growth fall as consumers prefer healthier options. Now let us examine their two biggest segments that make up more than 60% of profits.
Frito-Lay North America
Net revenue grew 5% due to a volume increase of 3% and effective net pricing. The volume growth included double-digit growth in the Cheetos and Sabra joint venture along with low single-digit growth in Lay's partially offset by a mid-single-digit decline in PepsiCo's Sun Chips.
The segment's operating profit grew by 7% primarily due to the net revenue growth and planned cost reductions across a number of expense categories as well as lower commodity costs. These all contributed to an operating profit growth of 1.5%. These figures included certain operating cost increases such as strategic initiatives and higher advertising and marketing expenses.
PepsiCo Americas Beverages
Revenue decreased by 2% reflecting volume declines of 4% partially offset by favourable pricing. Unfavourable foreign exchange also negatively impacted the net revenue by 1%. The volume decline was due to the North American volume decreasing by 5%. However, operating profit decreased by 3% due to certain cost increases.
The other segments' results were as follow:
Quaker Foods North America
Net revenue declined 2% when volume increased by 3% due to unfavourable product mix whose effect was partially offset by favourable net pricing. The volume growth was due to newer product offerings by the joint venture of PepsiCo and Müller Quaker Dairy.
Operating profit declined by 11% due to losses from the MQD venture which reduced the margin by 8%. The unfavourable product mix, certain operating cost increases and higher commodity costs negatively impacted operating profit performance and caused a decline of almost 4%. It must be noted that as the joint venture becomes more successful we can expect margins to improve.
Latin America Foods
Revenue increased by 9% due to favourable effective net pricing and volume growth. Unfavourable foreign exchange reduced net revenue growth by 6% otherwise the growth would have been near 14-15%. Volume increased 3% due to greater volume increase in Brazil and at a lesser rate in Mexico.
Lower restructuring and impairment charges increased operating profit growth by 15% while unfavourable foreign exchange reduced operating profit growth by 4%. Also, certain operating cost increases, higher advertising and marketing expenses and commodity costs reduced operating profit growth by 22%! Nonetheless, operating profit increased 35% reflecting the revenue growth and planned cost reductions.
Europe
Net revenue increased by 3% due to favourable pricing. Volume growth came from Turkey and Spain whereas the UK and Netherlands experienced declines. However, operating profit increased by 3.5% thanks to previously discussed cost reduction plans.
Asia, Middle East & Africa
Net revenue declined by 3% if we incorporate the impact of the beverage refranchising of PepsiCo's Vietnam business. Foreign exchange translation further reduced revenues by 4% although favourable pricing offered some support.
Growth was seen in China this quarter as the snacks volume increased by 4% and the beverage volume increased by 7% and profits saw a decline of 7%. Not to worry, the decline came from incremental investments that pushed profits downwards. In the future, as these investments reap return, margins will improve.
Now, let us analyze PepsiCo and how it is gaining an edge over its competitor Coca-Cola (NASDAQ:COKE).
The PepsiCo Edge
While PepsiCo and Coca-Cola have both been trademarks in the beverage industry PepsiCo is a more attractive company because it has expanded into other ventures and is no longer solely a soda company. The company provides products such as oatmeal, juices and food items that are considered healthier alternatives to high sugar beverages. As more and more people are choosing healthier options they will most likely choose the healthier products offered by PepsiCo since Coca-Cola does not offer many healthy options.
Gaining Popularity in India
India currently represents one of PepsiCo's largest global markets. PepsiCo recently announced plans for the company and its partners to invest nearly $5.5 billion in India by 2020. PepsiCo also plans to double its production capacity by 2020 owing to the huge potential in demand that India presents. According to PepsiCo's CEO, "India is a country with huge potential and it remains an attractive, high-priority market for PepsiCo." India is part of PepsiCo's AMEA segment and has been a major growth contributor for the company. It generated more than $6.6 billion in revenues in 2012.
Already, PepsiCo's India offerings (Kurkure, Tropicana) are popular and widely accepted by consumers. With this in mind, we can expect future profitability and revenues to be even greater as production capacity expands.
Future Outlook
In a recent report by Moody's the coming year will boost profits for the industry. Sales and profits are expected to grow despite declining volumes in developed markets. It is expect that the annual operating profit growth will be 6% in the coming 12-18 months.
With GDP growth forecasted to be between 4.5-5.5% for emerging markets and 1.5-2.5% for advanced G-20 economies next year, PepsiCo along with other companies endeavor to exclusively market their products in order to gain bigger market shares as volumes grow in emerging markets. For developed economies, the expected volume decline will mean that consumers are going to switch to healthier options offered by PepsiCo unlike its rival Coca-Cola and the segments are expected to experience increased profitability.
According to Moody, PepsiCo will also see year-over-year improvement from the recent restructuring of part of their operations in order to cut costs.
Free Cash Flow to Equity Valuation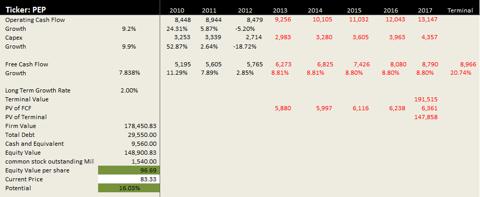 The table presented above shows the assumptions and figures used to calculate the intrinsic value of the stock according to the free cash flow to equity valuation principles. Upon calculation, the model predicts the intrinsic value of the stock to be $96.9 per share with a 16.03% upside potential.
The table below shows the sensitivity of the stock price using different growth and WACC estimates. The best scenario with a maximum growth rate of 2.2% and the lowest WACC of 6% stock has a maximum upside potential of 47.21%. In the worst case scenario of 1.9% growth and 8.68% WACC the stock has a maximum downside potential of 26.72%.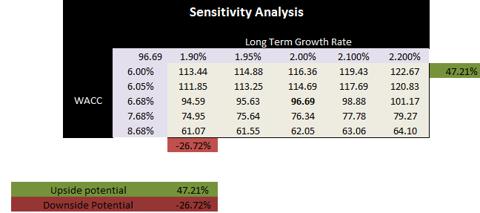 Choosing PepsiCo
With cash, cash equivalents and short-term investments of $ 8.6 billion outside the US, PepsiCo generated 30% more cash from operating activities during the second half of FY 2013 of $ 6.7 billion compared to $5.1 billion for the same period last year. In addition to the strong growth in operating cash flows, dividend increase of 5.6% and share buyback program of nearly $10 billion made effective this June will act as catalysts to move the stock price higher.
Perhaps you could benefit from the increasing share value that PepsiCo has enjoyed in the last 3 years. The company's share value has jumped by more than 25%. As operations in India double and more consumers shift to healthier choices, Coca-Cola may face challenges while PepsiCo may realize greater value for its shareholders.
Disclosure: I have no positions in any stocks mentioned, and no plans to initiate any positions within the next 72 hours. I wrote this article myself, and it expresses my own opinions. I am not receiving compensation for it (other than from Seeking Alpha). I have no business relationship with any company whose stock is mentioned in this article.