It seems that we finally have a budget deal in the U.S., however markets are strangely muted this morning. We expected a deal would provide cover for a rally, but that does not seem to be the case based off of pre-market action. For those who are hoping for further big ticket items in the next few years politically, you might want to think again. The president's approval rating continues to fall and now many key constituencies are more displeased with key bills that were passed than are happy. That is a tough position to bargain from, even with a bully pulpit, and so long as the House Republicans do not over play their hand the economy might be in very good shape as businesses can plan on relative calmness moving forward.
Chart of the Day:
The market is expecting 315k initial claims for the past week, which will be announced tomorrow. Lately the numbers have been choppy with the government shutdown and issues with computer systems being upgraded out west; an event which caused a couple of weeks to have data which needed to be adjusted. We would not be surprised to see a number much closer to 300k tomorrow, although we are not expecting that large of a beat.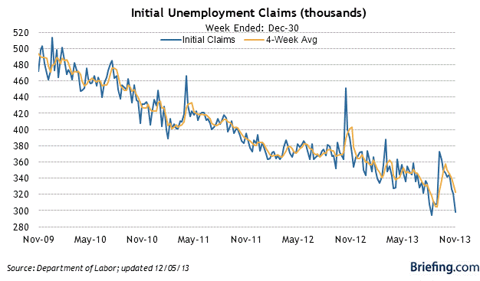 Click to enlarge
(Click to enlarge)
Source: Briefing
We have economic news today and it is as follows:
MBA Mortgage Index (7:00 a.m. EST): Est: N/A Actual: 1.0%
Crude Inventories (10:30 a.m. EST): Est: N/A
Treasury Budget (2:00 p.m. EST): Est: -$140.0 B
Asian markets finished lower today:
All Ordinaries -- down 0.76%
Shanghai Composite -- down 1.49%
Nikkei 225 -- down 0.62%
NZSE 50 -- down 0.05%
Seoul Composite -- down 0.78%
In Europe, markets are trading higher this morning:
CAC 40 -- up 0.71%
DAX -- up 0.23%
FTSE 100 -- up 0.37%
OSE -- down 0.35%
Financials
There was a bit of interesting news out of MasterCard (NYSE:MA) yesterday as the company announced a 10-for-1 stock split. The split bucks the trend of companies refraining from splitting their shares in recent years and should add much more liquidity for the company's shares. This will be the first split of MasterCard shares and should bring in more individual investors as shareholders moving forward. MasterCard also announced that the company's dividend would be increased 83%, to a pre-split level of $1.10/share. Finally, MasterCard announced a new $3.5 billion share buyback program to go into effect once the company's current share repurchase program, with $514 million remaining, is completed. Shares are indicated higher in pre-market trading on the news.
Media
There is no secret that the media space is seeing serious consolidation these days, from content creators to content providers. The latest target in this series of deals appears to be Scripps Network Interactive (NYSE:SNI) which is rumored to be facing a bid from Discovery Communications (NASDAQ:DISCA) after the board of directors of Discovery discussed the matter during a recent board meeting. Shares in Scripps Network are heading sharply higher but investors should recognize that these rumors hardly constitute a deal. In fact, as much as a deal makes sense for both companies we would not be surprised to see Scripps fight this if the price is not rich enough for them.
Pharmaceuticals
Those who either received shares from the spin-off or purchased early on have been rewarded over the past year. The good news is that those who are still on the sideline could still see strong upside based on the company's pipeline.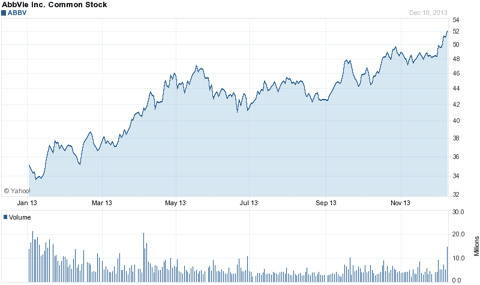 Click to enlarge
(Click to enlarge)
Source: Yahoo Finance
A big mover yesterday was Enanta Pharmaceuticals (NASDAQ:ENTA) which was up due to the company's Hepatitis C drug that they are working with AbbVie (NYSE:ABBV) to develop. Investors have been paying more attention to the Hep C drugs as of late, and with Gilead's FDA approval this week many are looking for other ways to potentially play this lucrative space. The reports that surfaced yesterday were that AbbVie could apply pricing pressure to Gilead's offering. Although we are still early in Phase 3 trials, each successful step within the trial will lead to further speculation that this treatment from Enanta and AbbVie could be a big winner in the space.
Disclosure: I have no positions in any stocks mentioned, and no plans to initiate any positions within the next 72 hours. I wrote this article myself, and it expresses my own opinions. I am not receiving compensation for it (other than from Seeking Alpha). I have no business relationship with any company whose stock is mentioned in this article.