Merrill Lynch released its top ten list of large cap stocks with total return potential for 2014 this week. It is an eclectic and diverse list that includes Archer Daniels Midland (NYSE:ADM), Caterpillar (NYSE:CAT), CenturyLink (NYSE:CTL), Citigroup (NYSE:C), Cisco (NASDAQ:CSCO), DaVita (NYSE:DVA), Exxon (NYSE:XOM), General Motors (NYSE:GM), NextEra Energy (NYSE:NEE) and Nucor (NYSE:NUE).
Out of the selections on Merrill's list I like a couple of the most well-known names for total return potential (Dividend and Capital Appreciation) in the New Year.
Citigroup - There is quite a lot to like about this "too big to fail" financial institution. First, the recent rise in interest rates is good for the bank's net interest margins. This rise should continue in 2014 as the Federal Reserve finally gets around to its long anticipated "Taper". Since the Federal Reserve also has pledged to keep short term rates near zero for the foreseeable future, net interest margin should widen further in the New Year.
Second, Citi has the most exposure to global growth of the major banks including faster growing emerging markets. ~60% of the bank's revenues come from overseas. Citigroup has also maintained a lower profile among federal regulators than competitor than banking brethren JP Morgan (NYSE:JPM) resulting in lesser fines (given the size differential of the two banks mortgage portfolios prior to the financial crisis) and less strident regulatory conflict.
I also like the progress the company has made since appointing a real banker as CEO over the past year. Finally, the shares are cheap at just under book value and around 9.5x forward earnings. Although the bank pays a minuscule dividend, I expect the bank to get permission from the Feds to substantially lift its dividend payout and stock repurchase program in the next 6 to 12 months.
Cisco Systems - This tech laggard and future "Dog of the Dow" selection for 2014 has significantly underperformed the market in 2013. The sentiment on this network giant is almost universally negative and even Citi just started the shares as a "Sell".
The contrarian in me thinks this is a longer term buying opportunity as it is hard to see market sentiment on this tech giant getting worse. I recently picked up a small position in this unloved stock.
In addition, the shares are cheap. The stock goes for just over 10x forward earnings, a better than 30% discount to the overall market multiple. This does not even take into consideration the company's over $30B cash hoard (~30% of market capitalization).
The 33 analysts that cover the shares have a $25 a share price target on CSCO, ~20% above the current stock price. Cisco also pays a 3.2% dividend yield so a value investor gets paid to wait while prospects hopefully turn around in 2014. Finally, the stock seems to have some long term technical support just under its current price (See Chart).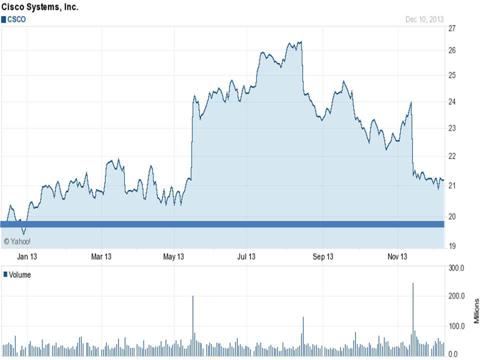 Click to enlarge
(Click to enlarge)
Disclosure: I am long C, CSCO. I wrote this article myself, and it expresses my own opinions. I am not receiving compensation for it (other than from Seeking Alpha). I have no business relationship with any company whose stock is mentioned in this article.