Solar stocks are currently hot with SolarCity (NASDAQ:SCTY), SunPower (NASDAQ:SPWR) and First Solar (NASDAQ:FSLR) showing spectacular stock gains in the last year. Solar City is an installer of residential and commercial solar panels. SunPower both makes panels and installs them in residential and commercial settings. First Solar is a manufacturer of panels which are mainly used for utility scale solar power.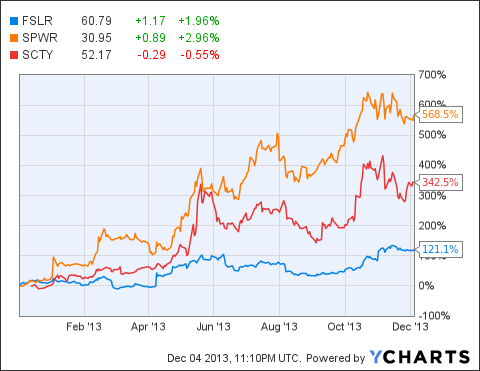 I'll compare all of them to decide which is the best pick going forward.
Revenues
The 2013 estimates are based on guidance provided by the companies for the 4th quarter, combined with the actuals from the first three quarters. SolarCity has First Solar and SunPower beat significantly in revenue growth. However, it is also the smallest of the three revenue wise with a 2013 estimated revenue of $174 million compared to $2.6 billion and $3.5 billion for SunPower and First Solar, respectively.
SunPower's growth doesn't look particularly great but for the time being SunPower is production constrained. Its factories are running at 100% capacity and are expected to do so for the foreseeable future. It has an upcoming new facility in the Philippines but that is expected to enter production in 2015. SunPower is also well positioned in the lease business. It is majority owned by Total (NYSE:TOT) and that is helping it earn business worldwide. Also, SunPower makes the most efficient, lowest degradation panels in the industry.
First Solar ended the third quarter with 80% factory utilization. Unlike SunPower, First Solar's panels are not the most efficient but they are amongst the lowest cost per watt panels. These panels are more geared towards utility-scale usage. This makes First Solar a bumpy stock as their revenue is tied to major projects and sometimes those can dry up. Looking forward, First Solar has ongoing projects to keep it tied up at least a year and its recent further cost reductions make the future look promising.
SolarCity leases panels to customers with power purchase agreements (PPAs). It can buy panels from any manufacturer, and some reports say they are often from Trina Solar. Its business is growing by leaps and bounds as solar economics make a lot of sense especially in states with rebates. Solar City is also tying up with Tesla (NASDAQ:TSLA) to provide batteries for storage.
Profits
From the data in the above graph, SolarCity doesn't look very promising. Both First Solar and SunPower look better poised for a profitable future. However, looking at the last three quarters for Solar City paints a different picture:
It shows that as SolarCity customers have been growing, the loss per customer has been reducing and it has finally reached a profit in Q3. In addition, from the SolarCity Q3 Investor Presentation, it plans to double its total MW deployed.
For both SunPower and to a bigger extent, SolarCity, there is one big elephant in the room. Federal tax rebates. The current rebate on residential solar panels is set to expire on December 31, 2016. So the companies need to figure out being cost competitive even without incentives. It is likely that the incentives will be extended, but if not, that could be a huge setback for both SunPower and Solar City. Let us analyze that:
Currently SolarCity's cost of electricity generation is 14.1c/kWh. The 2014 estimate for average US electricity costs is 12.3c/kWh. Accounting for an inflation rate of 3%/yr, my estimate for 2017 electricity costs is about 13.84c/kWh. SolarCity also targets reducing costs at over 5%/yr. If it only manages 5%, then its cost would be about 12.08c/kWh. Adding 30% to that gives us about 15.71c/kWh.
Current Valuations
| | | | |
| --- | --- | --- | --- |
| | Market Cap | P/E | P/S |
| First Solar | $5.7B | 12.2 | 1.76 |
| SunPower | $5B | | 1.55 |
| SolarCity | $4.5B | | 34 |
SolarCity has been growing revenues more than 34 times faster than both SunPower's and First Solar's growth. So the lofty valuation just might be deserved.
Conclusion
I prefer SolarCity and SunPower over First Solar because they are both not heavily dependent on obtaining large scale projects. Solar City currently has a growth advantage over Sun Power because they can use any panels available. SunPower's short term growth is limited because they are already using all the panels they produce and new capacity is not expected to go online until 2015. However, SunPower is expected to be profitable for the near-term future. Reliable profitability for Solarcity on the other hand, might be a few years away and the stock will probably be more volatile with investors watching quarterly results like hawks.

Disclosure: I am long SPWR, TSLA. I wrote this article myself, and it expresses my own opinions. I am not receiving compensation for it (other than from Seeking Alpha). I have no business relationship with any company whose stock is mentioned in this article.
Additional disclosure: I might initiate a long position in SCTY on dips.