On a Western calendar year basis, few country ETFs have struggled as noticeably as representatives in the China space. Through 2/17/10, the China 25 Index Fund (NYSEARCA:FXI) has lost -6.0%, SPDR S&P China (NYSEARCA:GXC) has shed -5.0% and PowerShares Golden Dragon Halter (NYSEARCA:PGJ) has trimmed -3.0%.
Of course, if one chooses to invest more globally, he/she might wish to suspend Western year-to-date ideation. After all, while most Americans opted to celebrate Valentine's Day on February 14, 2010, China officially recognized the start of the "Year of the Tiger."
In the Year of the Tiger, then, China's economy may be smack in the middle of a sweet spot. Forecasters at The Economist Intelligence Unit project 9.6%-10% GDP growth, relatively mild inflation and a relatively mild exit to previously stimulative monetary policy.
(For anyone that remembers the discussion of a "Goldilocks" scenario for U.S. stocks in the 90s… this is it!)
So why have China stocks been struggling? China equities were clearly due for a significant correction; lending restrictions for banks, short-term interest rate hikes and an increase in bank reserves collectively served as the catalyst for the sell-off.
Consider the technical price support for proxies like PGJ. While the correction may or may not be over, the ability to climb back above a 200-Day moving average is certainly a bullish sign.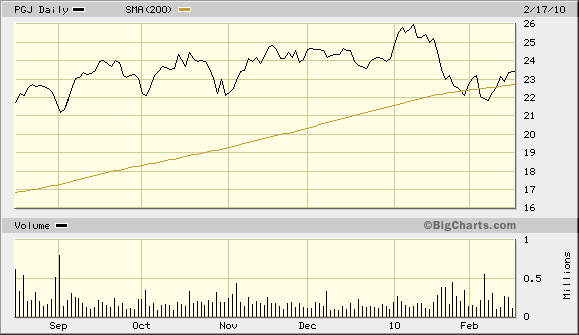 China stocks may be on a fundamentally sound path as well. Markus Rosgen, chief strategist for Citigroup in Hong Kong, explains that emerging Asian equities (1/3 of which are Chinese companies) trade at roughly 13.7 times earnings and 2.2 times book value. In spite of better growth prospects for Emerging Asia, these are similar multiples to most global equities.
(Note: You may want to review my feature on SPDR S&P Emerging Asia Pacific GMF.)
Naturally, there are plenty of naysayers who argue that China real estate prices are "bubblicious." Yet those folks may not be comparing apples to mandarin oranges. For example, many Chinese pay entirely in cash for their homes. Moreover, the average mortgage typically covers about 1/2 the property value.
One thing's for certain: Interest in investing on the China mainland is not a passing fad. ETF providers have been tripping over themselves to give investors more choice in China, including a host of China sector funds. At present, GlobalXFunds has a line-up of 6 China funds that cover a variety of segments, including, energy, financials, industrials, materials, consumer and technology.
My personal favorites for accessing China have been through regional plays, like Emerging Asia (NYSEARCA:GMF) and All Country Asia excl Japan (NASDAQ:AAXJ). With 1/3 or more of the holdings in Chinese stocks, the correlation to PowerShares Golden Dragon China (PGJ) is quite high.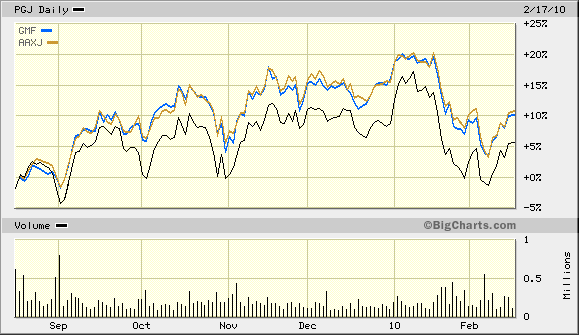 Disclosure Statement: Gary Gordon, MS, CFP is the president of Pacific Park Financial, Inc., a Registered Investment Adviser with the SEC. The company and/or its clients may hold positions in the ETFs, mutual funds and/or index funds mentioned above. The company does not receive compensation from any of the fund providers covered in this feature. Moreover, the commentary does not constitute individualized investment advice. The opinions offered herein are not personalized recommendations to buy, sell or hold securities.