When Home Depot (NYSE:HD) announced their 3rd quarter results on November 19th, they also updated their guidance for fiscal year 2013.HD now expects diluted EPS to reach $3.72 this year. Earnings per share were $3.02 for the first 9 months of the current year (an increase of 30.2% to last year's $2.32).
Analysts expect Home Depot to have earnings per share of $4.42 next fiscal year, giving it a forward price to earnings ratio of 18.06, slightly lower than its competitor Lowe's (NYSE:LOW), which has a forward p/e of 18.96 based on expected earnings per share of $2.53 for FY 2014.
So far this year, Home Depot has had some amazing results, with revenue up by high single digits each quarter. Net income for the first 9 months is up by 24.4% compared to the first 9 months of 2012.
| | | | | |
| --- | --- | --- | --- | --- |
| | Revenue (in $millions) | Revenue compared to last year | Net income (in $millions) | Net income compared to last year |
| Q1 2013 | 19124 | +7.4% | 1226 | +18.5% |
| Q2 2013 | 22522 | +9.5% | 1795 | +17.2% |
| Q3 2013 | 19470 | +7.4% | 1351 | +42.7% |
| First 9 months | 61116 | +8.2% | 4372 | +24.4% |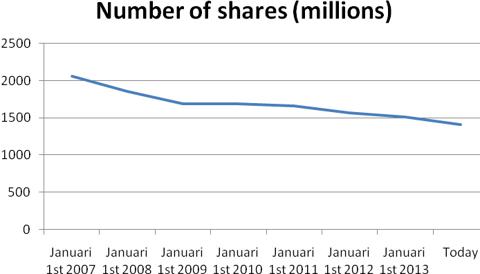 One thing I really like about HD is their share buybacks. Reducing the number of shares means each share represents a bigger part of the company, and thus, entitles its owner to a bigger part of the profit. The graph above shows how the number of shares has gone down, but I feel a better way to show the impact of HD's share repurchases would be to compare the increase in net income to the increase in EPS.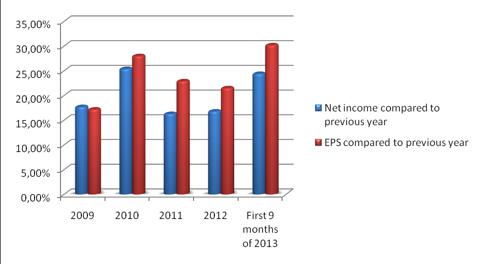 I've also made a graph showing us the difference between HD's and LOW's share repurchases. Home Depot has reduced the number of shares from 2.062 billion in 2007 to 1.410 billion today, while at the same time LOW saw their number of shares dropping from 1.566 billion in 2007 to 1.050 billion today.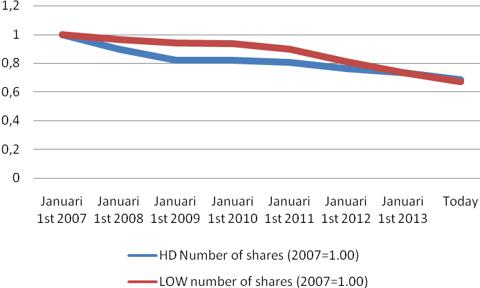 On December 11th, HD sent out a news release in which it reaffirmed its guidance for 2013. It also provided financial targets for fiscal year 2014. I'd like to highlight some of the things mentioned:
-HD expects sales to grow by 5% in FY2014
-HD plans to repurchase $5 billion of their own stock. At a market cap of $110 billion, that's 4.5% of the total number of shares.
-EPS growth is expected to be at 17%, in part thanks to the share repurchases
I think this is great news for investors, as Home Depot has really shown its ability to buy back massive amounts of stock. This greatly reduces HD's dividend costs. Each share they buy back lowers their dividend cost by $0.39 per quarter. At the current price per share of $78.61, $5 billion would buy 63.6 million shares. This will save the company roughly $1.9 million each quarter in dividend payments.
Home Depot currently pays a dividend of 1.95%, which is quite a bit higher than the 1.5% LOW pays its investors. At a price to earnings ratio of 21.5, it does seem a bit expensive. However, I feel this can be justified by its high expected growth. I really like how Home Depot repurchases its own shares, as it increases earnings per share while at the same time reducing the costs HD has to make to pay out dividends. I will be adding Home Depot to my portfolio in the near future.
Disclosure: I have no positions in any stocks mentioned, but may initiate a long position in HD over the next 72 hours. I wrote this article myself, and it expresses my own opinions. I am not receiving compensation for it (other than from Seeking Alpha). I have no business relationship with any company whose stock is mentioned in this article.