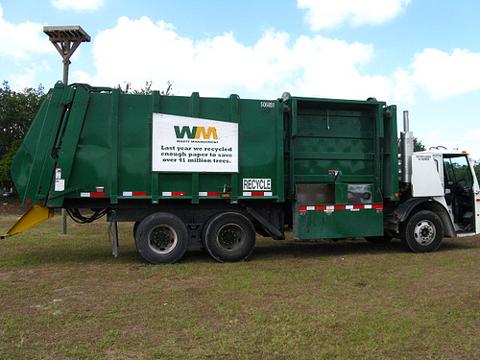 Click to enlargeI have been a fan of Waste Management (NYSE:WM) for awhile and recommended buying shares in my post last June when the stock traded at $28. Waste Management now sells at $33 per share and continues to steadily grow earnings. I would like to take a look at another waste management company, Republic Services. It was just disclosed Wednesday that Warren Buffett's company Berkshire Hathaway (NYSE:BRK.A) had been buying shares of Republic Services in Q4 of 2009.
Republic Services, Inc (NYSE:RSG) is the 2nd largest provider of waste management services throughout the US. Since the merger with Allied Waste in 2008, Republic Services has seen its earnings power increase dramatically. Republic's sales have grown from 3.68 billion to almost 8.2 billion last year. Gross profit increased from $1.2 billion to over $3.3 billion in 2009. Shares currently trade at $27.42 per share. EPS is expected to be $1.67 per share which means shares are trading at 16 times 2010 earnings. 2011 EPS is expected to grow 20% to $2 per share placing a 14 PE on the stock. The growth rate for the next five years is expected to be 16.15%. Republic's free cash flow increased to $109.3 million last quarter.
I do find Republic's low current ratio and high amount of long term debt troublesome. Republic Services added $6.7 billion in debt to its balance sheet when it acquired Allied Waste. There are positive signs however that Republic is working to reduce its high level of debt. Republic has retired $750 million in long term debt over the past year.
So how does Republic Services stack up against Waste Management? Waste Management currently trades at a multiple of 15.5 based on 2010 earnings and a 14 multiple for 2011. Future growth rates are estimated at 8.7% for the next 5 years. Waste Management trades at 2.6 times book value compared to Republic's book value of 1.4. ROA is 4% for both companies. Waste Management's ROE of 15 is much higher than Republic Services ROE of 6. Both companies are highly leveraged and as you can see have similar PE ratios. Republic has twice the growth rate of Waste Management and has a cheaper price to earnings growth (PEG). Waste Management has the higher dividend yield at 3.6% and has consistently increased their dividend over the years.
I think that Buffett was attracted to Republic Services for the following reasons:
- High Barriers To Entry in Waste Management Industry.
- Rising Free Cash Flow.
- Favorable Long Term Earnings Growth Rates.
- Easy to Understand Business.
- Consistent Operating Performance.