Equity markets are closing out the year with solid gains, the major US indices are near record highs, optimistic predictions of next year's closing levels are calling for 1,900 in the S&P and some estimates up to 2,014. This has provoked contrarians to come out and talk of bubbles forming and the various headwinds that will cause many of these lofty estimates to fall short, or at least cause the ride to be bumpy.
Diversified investors are no doubt overweight equities at the end of the year and will be looking to rebalance or at least protect the gains that they already have from the various looming threats that many pundits are talking about. While it is difficult to predict the exact events and timing that will cause a reversal in the equity markets one can assume that when it does occur the markets will most likely react in the classic risk off fashion as seen in many other disorderly reversals in the past. It is at this time that you would want to be ready with a shopping list of securities that you could buy which would benefit from the outcomes of turmoil. In this series of articles I would like to discuss some of the rather unloved sectors of the past year (or more) and the potential headwinds in the current economy that could provide a buying opportunity for these unloved assets in 2014. It is an opportunity for bottom feeding from the unwinding of current market trends. So hold on to some of your cash from those capital gains and prepare for the opportunities.
One of the first topics is the one most pertinent in the news, the threat of Federal Reserve tapering. Great job numbers and better economic growth has many looking at tapering as a sure thing no later than March or as early as this month this hasn't spooked the markets as it did in May and again slightly in September but in the REITs market the pain was certainly felt. Rising interest rates to the tune of about 100 basis points on the 10-year has seen the stock of many REITs drop, specifically mortgage REITs. This is a classic reaction as the price of their assets decline thus eroding shareholder value in terms of stock price and dividend payments. But how much pain is enough to get back in the game for a longer term move?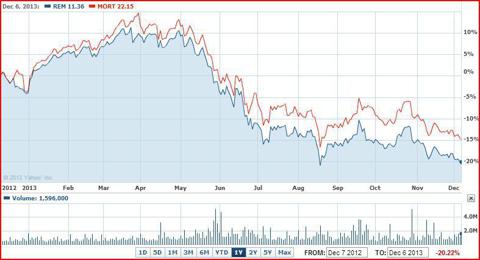 Click to enlarge
The act of tapering could see a lot of these stock hit 2009 lows as they continue to take losses from the value of their holdings and their hedging strategies have been volatile in the past 3 months (yields are a bit awry since the Fed unexpectedly continued the purchase program in September). But with more losses being taken and many of the companies ramping up their hedging, an attractive price could be found.
Looking at some of the stress test scenarios that the companies have posted in their quarterly reports many are not hedged for more than about a 75bps increase in yields, and gradually at that. Looking to the effect that the initial talk of tapering had on the value of the mortgage securities and their ability to generate revenues I took a hypothetical scenario of another 100bps jump in yields over a 9 month period and estimated its effect on both shareholders equity (too low of an erosion could cause firms to dilute shares further) and the stock price, thus deriving a crude estimate for the stock prices of a few securities below:

Combine these discounts together with a yield curve the steepest since 2011 and the increased focus on hedging and you can see some potential start to form in these names. This was just a list of the ones I put through the scenario but as you can see, for the majority of them I would be looking for double digit downside as a result of tapering to make these a potential buy. The larger REITs such as (NASDAQ:AGNC) and (NYSE:NLY) are also big holdings in ETFs, such as (NYSEARCA:REM) and (NYSEARCA:MORT), if you weren't looking to dig through the companies for value individually. In terms of current yields those are expected to decline as well but I would not estimate, in a relatively organized rise in interest rates, these breaking below 6%, but this will have a lot to do with hedging as well.
While one should not load up the moment they break through these prices (and by no means does this guarantee a margin of safety) this point reflects where the rewards of having these nearly uncorrelated assets (to the S&P) might be a fit in your overall portfolio.
Part two in this series will address the threat of a hard landing in China and how the unloved mining sector could be the group to buy in its wake.
Disclosure: I have no positions in any stocks mentioned, and no plans to initiate any positions within the next 72 hours. I wrote this article myself, and it expresses my own opinions. I am not receiving compensation for it (other than from Seeking Alpha). I have no business relationship with any company whose stock is mentioned in this article.