Last week was a great one for Cheniere Energy (NYSEMKT:LNG). On December 2, 2013, the LNG's specialized company announced that the launching of an IPO (initial public offering) has commenced for one of its wholly owned subsidiaries, Cheniere Energy Partners LP Holdings. The latter's only purpose will consist of owning limited partner units of Cheniere Energy Partners, L.P. (NYSEMKT:CQP)
The IPO would first consist of 30,000,000 common shares as well as a 30-day option to purchase an additional 4,500,000 common shares. The common shares have been approved by the SEC for listing on the NYSE MKT under the symbol CQH.
The IPO would be a good opportunity for investors interested in owning holdings units of Cheniere Energy Partners and being involved in the tremendous potential growth that the two export terminals will offer when construction is completed.
Notably, Goldman, Sachs & Co., Morgan Stanley, Credit Suisse and RBC Capital Markets will act as the joint book-running managers for the proposed offering. Cheniere intends to use the cash that it receives from Holdings mostly for the development of its existing assets and for future projects.
A First Customer For Corpus Christi's Terminal
Two days later, on December 4, Cheniere announced that its subsidiary, Corpus Christi Liquefaction LLC, had entered into its first LNG SPA (sale and purchase agreement), contracting with PT Pertamina. Pertamina had agreed to purchase about 0.8 Mtpa (million tonnes per annum) of LNG upon the beginning of operations from the Corpus Christi export facility located on the La Quinta Channel in San Patricio County, Texas.
The Corpus Christi Liquefaction Project is being designed for up to three 4.5 Mtpa trains, with aggregate capacity of 13.5 Mtpa of LNG. According to the release, the SPA has a twenty years' term that should start upon the date of first commercial delivery and an extension option of up to ten years. Notably, deliveries are estimated to occur in early 2018.
Through Cheniere Energy Partners, L.P., Cheniere is developing another liquefaction project at its Sabine Pass LNG terminal adjacent to the existing regasification facilities. The export facilities will be designed for up to six LNG trains, each with a capacity of approximately 4.5 Mtpa. Furthermore, the terminal would also include three LNG storage tanks with capacity of 10.1 Bcfe and two LNG carrier docks.
Bechtel, A Natural Pick
On December 9, Cheniere announced that the Corpus Christi's terminal will be designed and built by Bechtel Oil, Gas and Chemicals, the same company that is designing Cheniere's Sabine Pass terminal. According to the release, Cheniere has entered into two lump sum turnkey contracts consisting of approximately $7.1 billion for the first stage which includes the first two trains, and approximately $2.4 billion for the last stage that should complete the terminal's facilities.
Cheniere has a debt to equity ratio of 1927, which is pretty much through the roof compared to peers, with an average of 90.25 for its industry. Thus, the cost of this debt financing may outweigh the return that the company will generate on the debt through investment and business activities. Therefore, it could become too much for the company to handle if the expected earnings aren't generated in due time.
Freeport LNG, A Fierce Competitor
A similar project is developing in Texas as well with the Freeport LNG terminal, an export facility owned by Michael Smith and ConocoPhillips (NYSE:COP) from which, each own 50% of the general partner of Freeport LNG Development, L.P.
The project is proposing to add liquefaction infrastructure at its existing terminal to provide export capacity of about 13.2 Mtpa of LNG, which represents pretty much the same capacity as Cheniere's Corpus Christi's terminal. In May 2013, Freeport LNG received from the Department of Energy, the authorization to export up to 511 Bcf per year of LNG to non-free trade countries and a second authorization was granted in November 2013 to export an additional 146 Bcf per year to these countries.
Current customers engaged in SPAs, each for the purchase of 4.4 Mtpa are Osaka Gas and Chubu Electric Power together, BP, SK E&S, and finally, Toshiba for the purchase of 2.2 Mtpa. Therefore, the total capacity of the future terminal has been committed already, which bodes very well for the project's success.
However, Freeport LNG is still waiting for the Federal Energy Regulatory Commission's issuing order that will authorize the design, construction and operation of the liquefaction project and subsequently submit its project implementation plan to receive the authorization for construction. The project is scheduled for the second quarter of 2014 and approximately four to five years will be required to complete the facility's infrastructure to begin exporting LNG.
ConocoPhillips, compared to Cheniere, is a safer bet though. As a matter of fact, ConocoPhillips has a strong P/E TTM ratio of 10.48 and an effective return on equity TTM ratio of 16.60%, which compares favorably to its industry's average with 5.64%.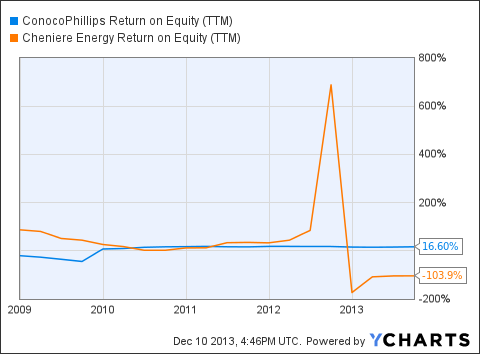 Bottom Line
Whether you're looking for Cheniere's great potential for growth or Freeport LNG's almost complete backlog, the race for LNG in North America is more intense than ever. Cheniere is developing two world-class export terminals that will undoubtedly make huge profits by exporting LNG to non-free trade countries such as China, India and Japan.
As a matter of fact, exporting LNG to emerging markets, in need of cheap energy sources to sustain their economic growth, will be a very lucrative affair since these countries pay natural gas at four to five times the price of the commodity in the U.S. Therefore, LNG export terminals represent a great opportunity to get into the play of the natural gas revolution.
Disclosure: I have no positions in any stocks mentioned, and no plans to initiate any positions within the next 72 hours. I wrote this article myself, and it expresses my own opinions. I am not receiving compensation for it (other than from Seeking Alpha). I have no business relationship with any company whose stock is mentioned in this article.