Zagg Inc. (NASDAQ:ZAGG) is a specialty retailer that designs, manufactures, and distributes accessories for mobile devices in the United States, Europe, and internationally. It offers electronic merchandise including earbuds, keyboards, coverings, device cleaners and other related items. This company, as opposed to Skullcandy (NASDAQ:SKUL) (which I wrote about previously), had a pretty interesting initial public offering. It was lowballed for less than a dollar but quickly gained recognition over the next few months and rocketed 600%. Zagg had consistently shown its ability to grow its revenue QoQ without any means of debt leverage.
Back in 2011, Zagg met some stiff competition and relative market saturation from major corporations and could not maintain growth for shareholders. During this time, Apple generated trendy products and was absorbing a considerably amount of the market, peaking to roughly 20%. Partly due to unhindered marketing success, Apple's product line of iPods, iMacs, iPads, and iPhones created a huge profit margin business. Zagg strategically positioned itself by selling add-ons to Apple's innovative products, but unfortunately could not sustain desirable profitability.
Financial Overview
Revenues grew substantially from 2010 to 2012, rising from $76 million to $179 milion to $264 million. However, the leap in operating expenses (inclusive of unusual expenses and depreciation) has substantially lowered net income and overall profit margin. Recently management issued forward guidance for FY 2013 that revenues will be roughly $30 million under their prior expectations; while EBITDA would sink 3 mm as well. In addition to lack of growth and operational expenses, Zagg has also picked up debt. While assets nearly stagnated YoY, associated debt jumped to nearly 33% of their total market capitalization.
Looking at fundamentals, Zagg does have one bright spot with free cash flow currently peaking to a new all time high of $29 million with a corresponding P/FCF metric below 5. Moreover they have one of the lowest P/S ratios in the entire consumer electronic industry. Fundamental metrics suggest that Zagg is undervalued within the electronic equipment industry:
| | | | |
| --- | --- | --- | --- |
| | ZAGG | HAR | UEIC |
| Price/sales | 0.5 | 1.3 | 1.1 |
| Price/book | 0.9 | 3.4 | 2.0 |
Management Adjustments
I can't speak too positively about Zagg management because of how the company has been moving forward. That said, back in August management announced a new COO, Jason Schwartz, an annoucement to which the market reacted positively, bumping the stock up roughly 11%. He worked and performed well at other companies in executive positions. Directly on the Zagg website under investor relations, they give some background information: "Mr. Schwartz transformed an under-performing corporation into a powerful operating structure attuned to evolving customer and market demands committed to bottom-line performance. Within two years, he reduced operating expenses by 30% and transformed an operating loss into a 15% operating profit." Their CEO, Mr. Hales, followed up by saying, "Jason brings an array of skills and technical capabilities that will allow the Company to execute on our strategic objective." Seemingly the market has already forgotten Mr. Schwartz as a valuable asset. Nonetheless we are still waiting for significant changes in operations to positively impact the companies' financials.
Technicals
As many chartists will say, "The trend is your friend" giving the notion that a stock is a worthy trade or investment based on upward movement. If we take a look at Zagg, all significant moving averages and technicals will suggest this is a sell. The market is considerably bearish on this stock with a short float near 14%. The only positive thing that can be mentioned is that indicators such as the relative strength index suggest it is oversold. However many traders know, just because an indicator has bottomed or topped, doesn't necessarily force a reversal. Overall there are no reasons to buy here, other than a speculative short term trade based on "cyclicalness". Displayed below is the stochastics 12 depicting highly oversold levels, with the share price sitting close to the descending support line.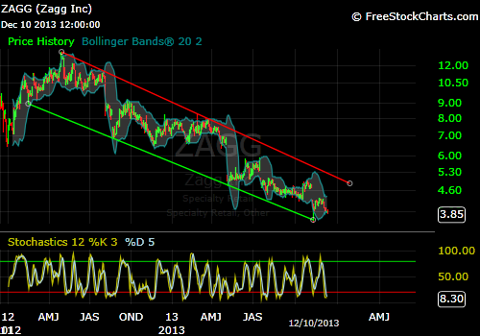 Bottom Line
At a glance, Zagg Corporation does look like a decent investment grade stock based on "cheapness". However when we look a little deeper, we see that there are clear cut issues with profitability and lack of sales revenue YoY. Discounted free cash flow, being moderately conservative, suggests (with an EPS of 22 cents growing 10% annually) a share price value of $2.98. Shares do seems to be trading closer to intrinsic value, however the market sentiment has little reason to recognize it until margins improve. Conclusively, I would not recommend going long or short but to simply avoid this stock all together. It should not be considered investment worthy as any potential turnaround is not yet discernible.
Disclosure: I have no positions in any stocks mentioned, and no plans to initiate any positions within the next 72 hours. I wrote this article myself, and it expresses my own opinions. I am not receiving compensation for it (other than from Seeking Alpha). I have no business relationship with any company whose stock is mentioned in this article.