The latest numbers for commercial ratings (C3) on the four major broadcast networks confirm the struggle they face. The networks not only need to boost their number of viewers, but are struggling to maintain them.
Since the 18-49 demo commands the highest advertising prices, we'll primarily look at that in the article. As for overall viewers, CBS (NYSE:CBS) remains on top of the pack. It has dropped in the 18-49 demographic this year after capturing that crown in 2012.
source: StockCharts.com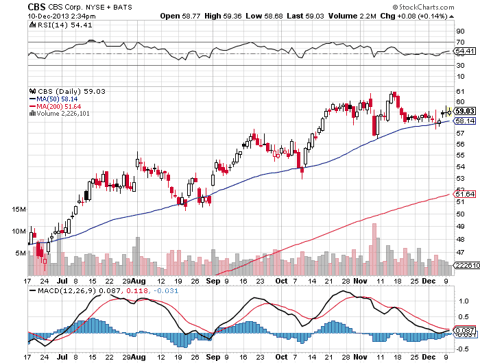 According to MoffettNathanson Research, commercial ratings were up for October 2013 in comparison to October 2012, climbing slightly by 1.2% in the 18-49 demographic. Ratings averaged 11.77 million per night across the major networks.
When removing the effect of sports out of the equation, the story was much different. C3 ratings plunged 3.5%, to an average 10.2 million viewers in the 18-49 demo. That means scripted shows are weak, and that could impact the value of video ads. Premium digital video ad spend won't help a company as much if the digital viewership doesn't do well.
Ratings With and Without Sports
Fox (NASDAQ:FOXA) and Comcast's (NASDAQ:CMCSA) NBC were the main beneficiaries of sports programming because they carried the World Series and Sunday Night Football.
The World Series boosted Fox Ratings in the 18-49 demo by 10.9%, bringing the total number of viewers in the category to 3 million in October. NBC enjoyed success from Sunday Night Football as well, although not to the level of the World Series. It increased the number of viewers in the 18-49 demo an additional 4.7% to 3.8 million.
Without sports, the C3 ratings for Fox plummeted to 2.4 million, a 9.1% decline year-over-year. NBC did fairly well without sports, as it climbed to 2.7 million in the 18-49 group, a gain of 2.3% over the same period last year. That suggests that the network had stronger scripted TV shows than its peer.
As for Disney's ABC (NYSE:DIS) and CBS, the lack of a major sports catalyst showed in their performance. Even with sports, ABC fell 5% to 2.6 million, while CBS was down 3.6% to 2.6 million viewers. Without sports, ABC dropped 7.1% to 2.5 million viewers. CBS lost 2.5 million viewers, a decline of 3.9% in the 18-49 demo for October .
Scripted Shows
This leads to the scripted shows being offered by the networks in 2013. Of the top 20 scripted shows, MoffettNathanson reports that they are down 7% in C3 18-49 ratings in comparison to 2012. Of the 20 lowest rated shows, they have plunged 12% in 2013 against the 20 lowest rated shows of 2012.
What that means is there are fewer shows carrying the load, which creates higher risk for the industry. This year six of the top 20 shows were new, while in 2012 only two of the top 20 shows were new. That means on the high- and low-end of TV shows, there is a general weakness outside of few strong hits. It also reveals that viewers aren't committing to older series'. If this is an ongoing trend, it could hit online ad revenue hard in the quarters ahead.
Broadcast and Cable Advertising Numbers
CBS
In its latest quarter advertising revenue at CBS increased 4%, boosted by its strong summer lineup.
At CBS Television Network, scatter pricing rose in the double digits for the quarter. On the local broadcasting level, minus political, advertising was up in the high single digit range. Automotive and entertainment advertising were the top categories.
Twenty-First Century Fox
Advertising revenue in the first quarter was up 6% domestically for Twenty-First Century Fox, while international advertising revenue soared 21%.
The international ad revenue boost came from the non-sports channels because of an approximate 20% increase in local currencies. Domestic ad revenue strength came from FX and the RSNs.
source: StockCharts.com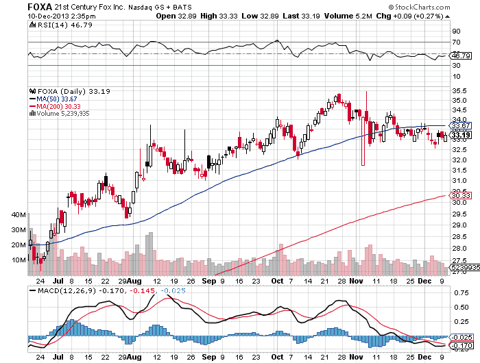 NBCUniversal
At the cable level, Comcast's NBCUniversal was up 3% in its most recent reporting period, not including political.
Its broadcasting unit increased ad revenue 2.6 percent after excluding the Olympics. This reflected a drop in prime time ratings.
Conclusion
Some may think that idea of removing sports from the overall viewing figures is disingenuous, but it's not. The reason for doing so is to understand the strength or weakness of scripted television, and the results are not good.
Major sports will always perform well, but it must be underpinned by a robust group of scripted shows. The future of TV content is a multiplatform one, but that will only be as strong as the premium content offered on it.
In the end, it's the same challenge as always for the networks: to create content that is compelling to viewers. The data shows that they continue to struggle in regard to finding content that viewers will commit to and want to return to in significant numbers season after season. If they can't figure this out, the large media stocks will come under pressure regarding where its revenue growth will come from. Retransmission fees will only get them so far before it hits a ceiling.
Disclosure: I have no positions in any stocks mentioned, and no plans to initiate any positions within the next 72 hours. I wrote this article myself, and it expresses my own opinions. I am not receiving compensation for it (other than from Seeking Alpha). I have no business relationship with any company whose stock is mentioned in this article.