Introduction:
On December 5 the House of Representatives passed a bill aimed at curbing patent troll lawsuits. The reform was not without major corporate support - as some of the largest patent holders in the world backed the reform such as Apple (NASDAQ:AAPL), Google (NASDAQ:GOOG), Cisco (NASDAQ:CSCO) and other major technology companies.
Technology companies largely support the Goodlatte bill, including Cisco, Apple, IBM, Google and other powerhouses. The Association for Competitive Technology, which represents small tech companies, also backs it. (source)
These major technology companies are not without their huge patent holdings and filing activities. In 2012 alone, the number of patents awarded to Apple surged 68% to 1,135. Google came in ahead of Apple with 1,151 patents being awarded in 2012. Retaining the top spot was IBM (NYSE:IBM), being awarded a grand total of 6,478 patents in 2012. Some outliers are Broadcom (BRCM) being awarded 1,157 patents ahead of Apple and Intel (NASDAQ:INTC) also ahead being awarded 1,290 patents.
There is an extreme belief in the area of intellectual property that is resonating to new heights -- that patent reform only protects large companies from being sued. This is the direct point of the bill, to curb lawsuits from patent assertion companies. A key point to remember is that these large corporations have huge patent holdings and filings year after year - so they are directly involved with the world of patents. Just some time ago, a consortium of these large companies named Rockstar started its own IP litigation spree. Moreover, the Samsung (OTC:SSNLF) versus Apple litigation has been focused on patents as well.
Article Aim:
There are many players in the IP field that can be positively or negatively affected by the passing of the recent patent reform bill. For the reasons discussed below, it is my belief that the recent reform is a general non-issue for VirnetX (NYSEMKT:VHC).
Bill Overview With Regard To VirnetX:
Below I will go through the five key points of the bill and its relation to VirnetX.
Require specificity in patent lawsuits: The bill is requiring lawsuits to be more specific going forward. This is a non-issue for VirnetX since the company is specific with regard to its infringement claims.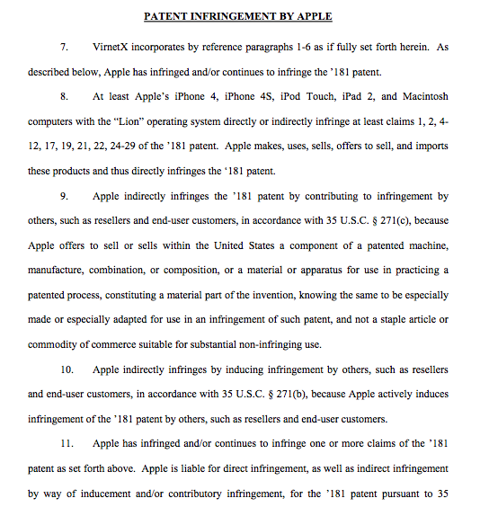 Click to enlarge
(Click to enlarge)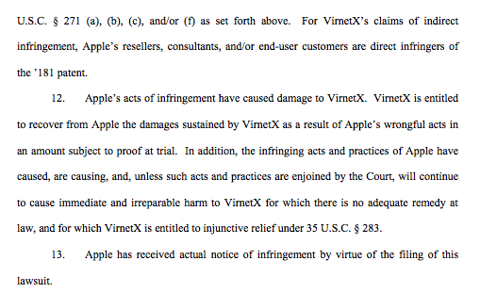 Click to enlarge
(Click to enlarge)
Above are documents from the first lawsuit against Apple, filed on November 1, 2011. VirnetX clearly points out which products are infringing exactly which patent and how Apple has infringed or continues to infringe the patent in question. VirnetX also spells out exactly why this patent infringement is causing harm to the company.
Make patent ownership more transparent: Patent holders can form shell companies and sue other companies from behind a mask. The recent reform requires patent plaintiffs to name anyone who has a financial interest in the patent being litigated. VirnetX is not a shell company, has never purchased patents or is suing for patent infringement on behalf of a separate owner and is the real party of interest. Moreover, VirnetX's patents were originally acquired from SAIC (NYSE:SAIC), a defense government contractor. Some of same engineers who developed the patents are still at work today with VirnetX, expanding the company's technologies.
Make losing plaintiffs pay: VirnetX has over $44 million in cash and cash equivalents (as of last reporting period), so they are not without the financial means to bear the consequence of paying the other sides' legal fees. Although this has not been the case as Apple lost their trial for $368 million last November - a number that is around $440 million today with post judgment interest (Less 25% to SAIC and 8% to counsel). Moreover, Microsoft (NASDAQ:MSFT) settled with the company after losing at trial, NEC, Mitel (NASDAQ:MITL), Astra, Avaya (AVYA) and Siemens (SI) have all settled with VirnetX in the past as well. With regard to the Cisco loss, the company is still awaiting a retrial/JMOL on the '759 patent ruling - several months of waiting so far. As previously discussed in detail in my past articles, the wait is good news as it would take less time for the judge to validate a ruling to confirm the jury verdict.
VirnetX is not shot-gunning lawsuits to hundreds or thousands of defendants. The company is very specific in deciding which companies to go after for the infringement of the company's patents. This laser approach keeps the company's approach very specific in its lawsuits for the best possible outcome.
Delay discovery to keep costs down: The innovation act is also meant to protect defendants from producing millions of pages of e-mails and other internal documents. This protection would come from delaying the discovery phase until after the courts have addressed the legal concerns about the meaning of patent claims.
VirnetX's key case with Apple is already well past discovery. With a severed lawsuit that has streamlined the appeal to move forward on past damages as the company awaits the pending royalty rate/colorably different ruling, the timeline is beyond discovery. VirnetX has also settled with many of its defendants already. With regard to future lawsuits, VirnetX will not be harmed from any discovery delays as its new lawsuit against Microsoft is underway, and its newer lawsuit against Apple for infringement on newer devices is mainly the same argument as the first trial.
This second trial against Apple could be avoided if the company's infringement on its newer products is bundled as not-colorably different, although I would not bet on it. I am expecting a second trial. VirnetX does not need lengthy discovery to build its case as it knows why and how the defendants are infringing its patents, so any delays in discovery are a non-issue for the company.
Protect end users: Some patent owners sue-end users such as coffee shops offering Wi-Fi access rather than the technology vendors. These entities send out thousands of lawsuits and usually the small companies cave and pay instead of facing a lawsuit. This bill protects these small companies by allowing the large technology vendors to step in place of the smaller companies that utilize their products.
VirnetX has never sued a coffee shop and has gone after the industry behemoths that infringe the company's patents instead, such as Apple, Microsoft and Cisco. So these giants do not need to step in place of their customers as VirnetX is not suing iPhone owners - they have taken the high route of going after the parent company itself.
Conclusion and Company Update:
The passing of the Goodlatte Bill, or the patent reform act or the innovation act (whichever euphemism you prefer), has no affect on VirnetX. The company is beyond the timeline of its discovery effects, has gone after the parent companies and has legitimate technologies that major technology companies have infringed upon. Keep in mind that the major technology companies that supported this bill are the world's major patent holders, patent application filers each year and take part in patent litigation on a grand scale.
Apple's reply to VirnetX's appeal brief is due on December 19, 2013. This will mark the roll forward of the appeal process. Many believe, that after the severing of the past judgment award from the royalty rate for past infringing devices, that the Judge will rule on the royalty rate/colorably different issue after this date. It would make sense as this would diminish Apple's chances of rejoining the two severed cases.
In my personal opinion, the passing of the bill can streamline patent litigation and have companies put out their strongest guns instead of throwing knives - although the bill has no effect on VirnetX. Even better, I am sure VirnetX would enjoy letting Apple and other defendants pay its legal fees and clerk costs after a loss to the company.
I strongly suggest all readers and investors to do their own comprehensive due diligence before investing in VirnetX. I have written extensively on the company, and will do my best to keep investors updated.
Disclosure: I am long VHC. I wrote this article myself, and it expresses my own opinions. I am not receiving compensation for it (other than from Seeking Alpha). I have no business relationship with any company whose stock is mentioned in this article. Always do your own research and contact a financial professional before executing any trades. This article is informational and in my own personal opinion.