Micron (NASDAQ:MU) continued to trade higher gaining about 30% since my last report as the company agreed to pay Rambus $280M, ending a 13-year court battle. In hindsight, it seems as though I should have used the throwback following my report to get long shares. It could be worse; I could be short the stock. But I would not do that without a significant catalyst.
Besides that, I decided to change the valuation model I use for Micron, because the 5-year average valuations inaccurately reflect the current operations of the company. The trailing price/book value ratio suggests Micron is overvalued. Bulls may argue that on a forward-looking basis Micron is fairly valued to moderately undervalued, but that outlook depends on the continued profitability of a company that has generated economic losses for the past several years. If it is not overvalued, I think there are better, safer investments in the industry.
I would rather be long Western Digital (NYSE:WDC), EMC (EMC), SanDisk (SNDK), or Samsung (OTC:SSNLF). In other words, I think the fundamentals and the valuations dictate a neutral position. Investors in high-beta Micron will probably disagree.
Fundamentals
The split between DRAM and NAND is almost 50-50. Management's perspective of the industry, DRAM, is that the arms race is over and the current industry players are focused on profitability. I remain skeptical of the current industry structure; plus, Micron is not the market leader in any of its markets.
Next, one of the factors that may contribute to the decline of Micron's share price is the reallocation of capacity from NAND to DRAM. As prices rise and it becomes more profitable to manufacture DRAM, supply of the DRAM increases and prices decline. Consequently, it again becomes less profitable to manufacture DRAM. Also, spot DRAM prices are less relevant for Micron today than they were in the past.
The fire slowed DRAM supply growth from the mid-to-high 20s to the low-to-mid 20s; so, a slight decline in supply growth. Next year, NAND supply growth of 40%-45% is expected. Management does not think that there is enough ROIC in DRAM. And they are expecting roughly 30% price declines in NAND with cost down about 15%.
DRAM supply should increase. The Wuxi plant should restart in Q1 2014, which means DRAM prices should decline. Also, based on the seasonality of the industry, there should be weakness in the current quarter. This suggests a bearish outlook for 2014.
The new NAND offering is 3D NAND. Micron is ramping 3D NAND in the back half of calendar '14, which could lead to gross margin pressure. Samsung is ramping 3D NAND in the first half of 2014, and SanDisk is ramping it in 2015. SanDisk is in the high 40s gross margin in NAND and Micron is in the high 20s. Micron is lagging in profitability and technology.
From a sentiment perspective, investors are bullish on Micron. This suggests to me that I should be planning a bearish position, because the fundamentals are not as rosy as investors are perceiving. Additionally, the valuations are bearish.
Valuation
I think price/book value is an appropriate model to use to value Micron because EPS is volatile and so are cash flows. Right now, Micron is trading at 2.66 times book, which is a 10-year high. Consequently, on a time-series basis, Micron is overvalued.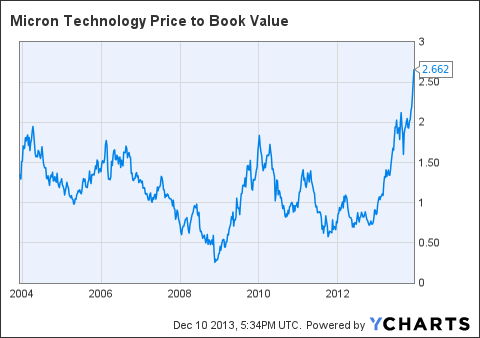 MU Price to Book Value data by YCharts
Relative to the market, Micron is modestly overvalued. The S&P 500 is trading at 2.5 times book and the industry is trading at 2.6 times book. Also, Micron is twice as risky, as measured by beta, as the market. Further, Micron is not growing fast enough to justify a premium valuation. With these facts in mind, Micron should be trading at a discount to the market.
Also, I cannot determine a justified price/book for Micron because the median ROE and the average ROE are too low. To compare Micron to another company in the industry, SanDisk is trading at 2.4 times book value and has a lower beta than Micron, which suggest Micron is overvalued.
I get that there are changes occurring in the industry and changes occurring at this company, but I think it's safe to say that, at this point, Micron is overvalued. Bulls may make the case for the valuations on a forward-looking basis, but this relies on Micron's continued profitability, which is the current subject of debate.
Disclosure: I have no positions in any stocks mentioned, and no plans to initiate any positions within the next 72 hours. I wrote this article myself, and it expresses my own opinions. I am not receiving compensation for it (other than from Seeking Alpha). I have no business relationship with any company whose stock is mentioned in this article.