The advent of the internet several decades ago has forever altered the "delivery" landscape of traditional media industries, including television/radio stations and newspapers. The old-school information delivery systems of the 1970s-1980s for society have been forced into the technology development business since the early 1990s. To stay viable, keep advertiser options and revenues coming in the door, national and local media entities have become leading website developers and players, with increasing assets and sway on the internet. It became apparent by the late-1990s that free to view website information providers would be the biggest long-term winners in the new media age, and a handful of companies successfully jumped on this idea and ran with it. In December 2013, two of the fastest growing, profit-center, internet information plays are also some of the larger participants in this field.
As a result of continued focus on free media content for readers, with internet banner ads and other click through revenue generators as the business model, Yahoo (NASDAQ:YHOO) and America Online (NYSE:AOL) are uniquely positioned to capitalize on the growth in internet information delivery long-term and actually turn big profits for shareholders doing it.

The excitement for me, watching these two companies for better than 15 years, is they have both decided to refocus their extensive business reach and operations on content delivery above all else in 2012 and 2013. Both have undergone giant corporate restructurings, and are now refocusing on the highest profit margin and growth opportunity of their former amalgamations, namely content, content, content. Both have large size and incomes already, and both will have the ability to double and triple entertainment, internet news, video, chat, discussion and analysis options for readers into the next decade.
Trust me, Wall Street investors have taken note in 2012-13, as Yahoo and AOL stock prices have been true champion performers of late. Yahoo is up 80% in the past year and 130% the last two years, before non-core asset sales, large share buybacks and a refocus on its core competency began. AOL has risen 50% the last 12-months and 250% the last 24-months before its massive restructuring started. Nevertheless, Yahoo and AOL still hold better than typical valuations, especially when looking at forward revenue and income growth.
Yahoo
Many readers know Yahoo has been a favorite restructuring play of mine since 2009, from my writings on other websites and venues. The advice prescribed by myself and a long list of activist investors for the company has been heeded over time by 3 different CEOs, including the current Marissa Mayer. The company is slowly selling off non-core assets in Asia to focus on its leading content and entertainment spaces in the western industrialized economies. Alongside its "search" partnership with Microsoft (NASDAQ:MSFT) and profitable business to business cloud and website services, Yahoo has leveraged its main website content delivery for shareholders using large share buybacks and an improving global economy to push up results per share smartly. Monetizing its Alibaba stake in China through the upcoming public offering is a must in my mind to unlocking even more value in Yahoo shares at $40 today. Alibaba is the second largest e-commerce site in China by revenue, operating business to business solutions and advertising, plus a merchandise marketing arm akin to Amazon (NASDAQ:AMZN) or eBay (NASDAQ:EBAY) in the U.S. Alibaba's growth rate in both revenue and income has been better than 50% during calendar 2013. Yahoo sold half of its Alibaba stake back to management and netted around $7 billion in value during late 2012. The rest of the stake held by Yahoo, approximately 24% of Alibaba, is likely worth even more on the coming initial public offering of Alibaba to outside shareholders. Yahoo also owns 35% of Yahoo Japan, another sizable prize that is non-core to its American centered, content creation and delivery operations.
Yahoo has a stellar balance sheet with more current assets like cash and receivables than total liabilities at the end of September 2013, its last accounting report period. Tack on another $10-$15 billion in relatively liquid value for its high growth Asian investments, and the $38 billion total equity market capitalization for Yahoo today is not outsized by any means of analysis. Yahoo stock is still below its $42 price peak in 2006 and $120 price in 2000, despite per share profits and revenues rising well above the levels of even a few years ago. From the annual $0.50 EPS average of 2006-2008, for example, 2014 profits are estimated by Wall Street consensus to be over $1.60 per share. With a little bit of financial engineering, if Yahoo monetized the two Asian holdings for $15 billion and simply bought back an equivalent dollar value of shares around $40 each, EPS would climb closer to $2.50. Adding amortized intangibles back into the equation we get $2.60+ in "adjusted" free cash flow on a $40 current stock quote, or about 6.7% (15x multiple) in your pocket annually as an owner, from core ongoing content-focused operations.
Yahoo Valuation Model
What are Yahoo shares worth? It depends on several factors beyond the general stock market direction. The primary factors to contemplate are the company's outlook for core performance in 2014-15. If the company executes its asset sales as planned, the economy expands some next year, share buybacks are made at reasonable prices, and new content ventures are brought on board, per share performance growth will look quite impressive the next couple of years. While the asset shakeup and value of its Asian investments are better understood by Wall Street now vs. 2009, another more esoteric factor may be of greater long-term consequence for valuations of Yahoo.
Are the remaining content assets similar to a high barrier to entry, brand name entertainment/media enterprise of the past, or is future performance more a transitory beast as internet competition evolves? I personally side with the characterization of both Yahoo and AOL as leading entertainment brands, which will be difficult if not impossible to replicate in the future by other organizations. Both companies have such a big lead now in the mindset of readers and advertisers, with 15+ years of goodwill and experience built up, they are today's equivalent of national newspapers and television networks. In an effort to cement a national media presence for advertisers, Yahoo and AOL are also correctly trying to increase the amount of proprietary news and entertainment video content accessible on their websites.
To highlight their successful approaches, Yahoo and AOL have proven pricing power with advertisers and consumers, plus loyal readership/viewership that is getting harder to tear away by competitors. Yahoo's 2013 gross profit margin, including plenty of search related license-like revenue from the Microsoft partnership, is close to 70% of sales. Few large corporations can match such a number. AOL's gross profit margin is a still strong 30% for comparison, with Walt Disney (NYSE:DIS) entertainment assets around 20%, Gannett (NYSE:GCI) newspaper and local television assets around 40% and the CBS (NYSE:CBS) television network near 45%. Basically, super-low incremental cost increases for webpage advertising draws and video on demand using internet only delivery will allow for sizable jumps in earnings for Yahoo and AOL, given a steady increase in traffic the next 2-3 years.
While I can usually project a tight valuation and price range for the companies and shares I research, there are enough unknowns and moving parts the next 12-24 months for Yahoo that a larger, general range is the only honest way to approach a future value estimate. I believe the shares are worth at least $35-$40 today, but underlying values will continue to increase rapidly if Yahoo stays on the present restructuring course. I am forecasting a company worth $45-$60 a share in 24 months, which provides substantially better upside than the majority of other stocks available for public investment.
U.S. stock valuations in December 2013 are quite high based on trailing five or 10-year performance averages, or overall market capitalization to GDP economic output readings. Downside "risk" in nearly every financial asset class appears to be exceptionally high today after five years of record money printing by the Federal Reserve. To be honest, from the December 2013 high market valuation and optimism sentiment peak, the historically derived odds suggest most stocks and long-term bond products will be lower in price 2-3 years down the road. Don't blame me if this forecast holds true, blame the Federal Reserve for over-pumping reality.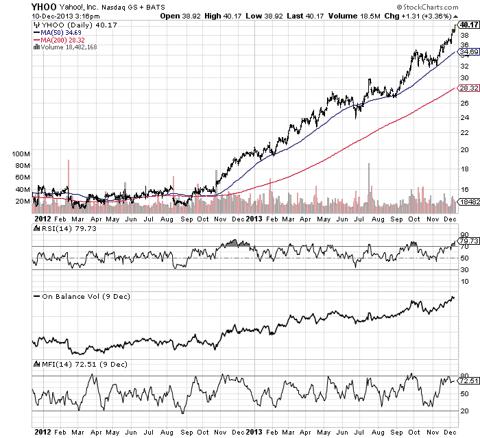 Charts courtesy of StockCharts.com
America Online
While America Online's profit margins are not the sky-high twin of Yahoo, plenty of reasons for optimism in AOL shares exist. AOL decided in early 2012 to sell 800 of its 1,100 patents related to internet page draws and browsing, online ad creation, search, emails, instant messaging and mobile device web interaction to Microsoft for over $1 billion. The company used the cash to buy back shares, pay a special dividend to shareholders, and purchase content related media assets. This major restructuring move came amid a lagging stock price and prodding by activist investors, about two and a half years after the company was spun-off from Time Warner (NYSE:TWX).
The company has smartly focused on building its free to readers, online news and entertainment options the last couple of years. Moving away from the groundbreaking, available nearly everywhere dial-up access to the internet, built in the 1990s, current management is following a business model more similar to Yahoo of late. Purchasing the Huffington Post for $300 million in 2011 has proved a wise decision. Renewed focus on building its content offerings and maximizing AOL's strengths in online banner ad draws, search and chat/email communication should be applauded by all stakeholders. If you want proof in results, consider anyone who purchased AOL for $10 a share at the 2011 low received a special dividend of $5 a share in 2012, and the company will be generating about $3.20 a share in annual free cash flow for 2014, based on consensus Wall Street estimates and the yearly amortization of intangibles. Yet, today's stock price is just modestly above the 2009 spin-off quote of $25.
Given rising profit margins and a stellar balance sheet, holding more liquid short-term assets than total liabilities, what is America Online worth? Using a consensus $3.20 for 2014 in free cash flow per share, I would say a $44 stock price is too low. AOL's value is surely north of $50 a share right now, if it can get above $3.00 in yearly free cash flow generation soon. A premium business ratio valued for its stable and quality media business argues for a fair value above $60 in 2014, if the S&P 500 can hold its own. I would not be surprised if AOL is the subject of a takeover offer next year, from its smaller size and improving metrics. AOL's total market capitalization under $4 billion is quite digestible for 20 or 30 potential buyout parents in the media or technology industries.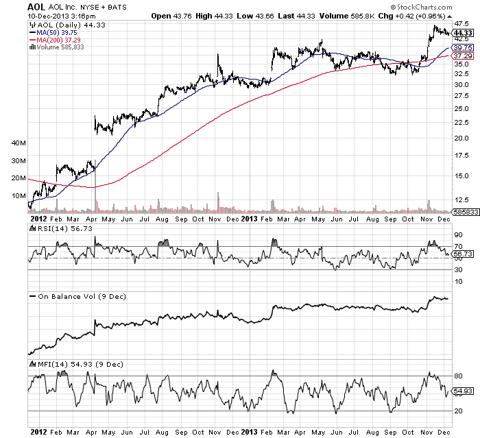 Conclusion
Overall, Yahoo may have better restructuring options to increase value in the coming years for investors, and I like the unique viewership reach and already impressive operational profitability going into 2014. AOL may have better "current" valuation metrics and real takeover potential in the near term by a larger conglomerate. Both are excellent options to consider for your investment dollars, especially if you can pick up shares at a 10% or 20% discount sale on a market swoon in stocks generally or some specific short-term event that trips up Yahoo or AOL for a spell. Long-term business positioning appears to be quite positive for capital appreciation and well above average compounding rates the next 3-5 years.
Historically, when high levels of earnings on revenues and consistency in operations rise above alternative investments, Wall Street has priced such assets on the high end of the valuation spectrum. Investors desire safety and strength features above other considerations, and have bid up the stock prices on such businesses to greater than normal valuations in good times and bad for the economy. Just like they have traded in the past, strong media companies "deserve" premium stock market valuations to the typical S&P 500 business. If you believe, like I do, the core Yahoo and AOL media content assets deserve premium valuation multiples a few years out, shares still have plenty of room to run (or at least outperform a recession and/or bear market in stocks).
As a bonus kicker, these two internet media giants score quite well in a rising inflation or hyperinflation scenario for the economy. Price increases for advertising draws should climb faster than content creation and delivery costs, while overall traffic trends should not be affected dramatically by a related recession in economic output. I would rate them just under gold and silver investments for attractiveness if you are projecting a high inflation world a few years out.
Disclosure: I am long MSFT. I wrote this article myself, and it expresses my own opinions. I am not receiving compensation for it (other than from Seeking Alpha). I have no business relationship with any company whose stock is mentioned in this article.
Additional disclosure: I do not currently own Yahoo! or AOL shares, but have in the past. I am looking to purchase either on price pullbacks in the near future.