With the end of the year approaching, many investors are talking about the market pulling back due to investors booking losses at the year end. With more companies profitable than not, this is less of a concern and the focus should be on the New Year. It is a foregone conclusion that interest rates will rise in the New Year, the only question is when. The climb in interest rates likely this spring, will provide for investment opportunities. The three stocks listed in this article are investments that should see a sizeable return in the upcoming year.
Manulife Financial
Currently, Manulife Financial (NYSE:MFC) is down 48% since the year 2008. As indicated by the graph below, Manulife's share price has been following the 10 year Treasury note rate. Within the insurance sector, company earnings are dependent on bond rates as a dedicated capital pool is required to underwrite policies.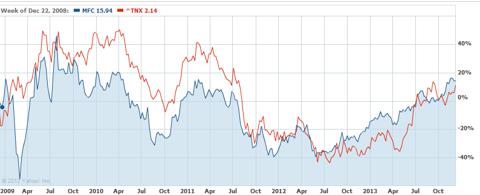 Click to enlarge
As the fiscal tapering program gets underway sometime this spring, it is our opinion that the share price will appreciate greatly. It is more about which fiscal quarter in 2014, we will see the greatest increase. Given that there is a stable dividend at 2.6% per annum, waiting is not a terrible thing. The payout ratio currently is at 59%.
The downside risk appears to be minimal given the current metrics for the stock.
| | |
| --- | --- |
| Market Cap | 35.09B |
| Trailing P/E | 13.05 |
| Forward P/E | 11.84 |
| Price/Sales (NYSE:TTM): | 1.89 |
| Price/Book (mrq): | 1.44 |
| Total cash | 24.56B |
| Total debt | 16.23B |
The short interest is also low, with a decrease from the previous month to 0.35% shares shorted.
Citigroup
This bank is a stock in the financial sector, that we have been following since the low $30's. Now the stock price is in the low 50's, and in our opinion still has much room for growth. While it can be argued Citigroup (NYSE:C) is not the same company as the last decade, there was a sizeable depreciation in the stock price that has been overdone in hindsight. The stock is trading close to its 1987 stock price, largely due to the 1 to 10 reverse stock split.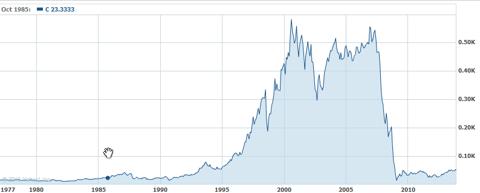 Click to enlarge
During the financial crisis, there was a real risk that some of the major banks would no longer exist. This is no longer the case and Citigroup has been meeting its government imposed Basel III requirements.
In terms of the Tier 1 capital ratios, Citigroup is keeping up with its peers in the financial sector.
Q2 2012

Q3 2012

Q4 2012

Q1 2013

Q2 2013

Citigroup

7.91%

8.64%

8.74%

9.34%

10.03%

Bank of America (NYSE:BAC)

7.95%

8.97%

9.25%

9.52%

9.60%

JPMorgan (NYSE:JPM)

7.94%

8.38%

8.74%

8.86%

9.33%

U.S. Bancorp (NYSE:USB)

7.87%

8.18%

8.09%

8.22%

8.57%

Wells Fargo (NYSE:WFC)

7.78%

8.01%

8.18%

8.39%

8.55%
In fact, Citigroup would likely receive approval from the Federal Government to increase its dividend or initiate another share buyback. This is dependent on the 2014 capital ratios and testing procedure, conducted as part of the Comprehensive Capital Analysis and Review [CCAR].
The federal government is requiring capital plans to be submitted at the beginning of the New Year, as indicated in their press release:
All 30 of the companies in the CCAR in 2014 must submit their capital plans on or before January 6, 2014.
The federal government report was released in March of last year, and is expected in a similar time frame.
Profits will also likely increase as interest rates rise. The interest rate spread will increase as higher interest rate loans are made to Citigroup's customer base.
UrtheCast
While this stock is not interest rate sensitive, it is one of my best picks and has been living up to my expectations. I have been following this company from the beginning and now its full potential is being realized. The premise of this company is to install high definition video cameras on the International Space Station, while leveraging the resources of the Russian Space Agency to lower the total cost of ownership. An in-depth background can be found on a previous Seeking Alpha article, with an implementation timeline.
Recently, UrtheCast (OTCPK:LFDEF) has launched the cameras and they are currently on the International Space Station. Additionally, UrtheCast had obtained insurance covering the launch, which illustrates the confidence in the project.
The stock price has reacted positively since the launch, with over a 30% increase. Two days after the launch, Clarus Securities, Cormark Securities and Canaccord Genuity Corp (OTCPK:CCORF) invested approximately $10 million CDN. This investment represents a $2.20 CDN share price and symbolically creates a share price floor in the near term.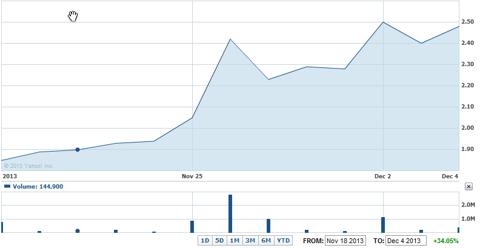 Click to enlarge
Disclosure: I am long C, MFC, OTCPK:LFDEF. I wrote this article myself, and it expresses my own opinions. I am not receiving compensation for it (other than from Seeking Alpha). I have no business relationship with any company whose stock is mentioned in this article.