Google (NASDAQ:GOOG) and Apple (NASDAQ:AAPL) are dominating the mobile systems space (smartphones and tablet PCs) with well over 90% share between Android and iOS. Microsoft (NASDAQ:MSFT) is a far distant third, running about 3.6% smartphone share for their Windows Phone 8.
Some pundits believe that Apple is doomed to sink forever lower in market share, to the point of virtual oblivion, and leave Android with the whole market. With Android hitting 81% global smartphone market share in the third quarter of this year (according to research firm IDC) it seems this may be the future. Some people argue that just as Apple lost the PC wars in the 1990s, so it will lose in this decade to Android.
There is one curious question, however. If you look at sales statistics, then you see that Android currently has about 80% of sales. If you look at installed base, then you see that Android has 64% and iOS has only 20%. These are overwhelming dominance by Android. Wikipedia displays this chart: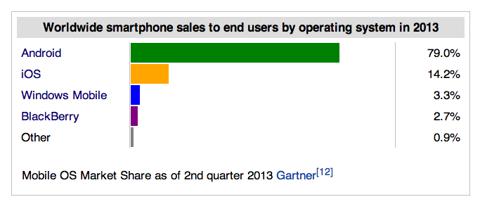 However, if you look at web share - the amount of web traffic that goes to mobile devices - then you get a very different story.
Fortune reported on Dec.1:
Tim Cook [Apple CEO] likes to trot out Net Applications' monthly reports to show that although Apple's iOS ceded market share this year to Google's Android in terms of devices sold, it continues to dominate the Web in terms of devices used -- i.e. connected to the Internet and generating the online sales and ad revenues that power the Web economy.
The corresponding chart looks like this: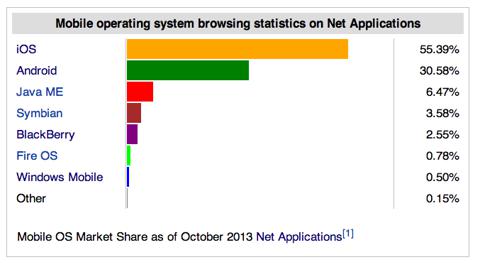 Of course, generating "online sales and ad revenues" are not the only things that people do while surfing the internet, but they are important as this and memberships/subscriptions are what pay for all the infrastructure.
Adobe Digital Index reports:
Online shopping on Cyber Monday hit $2.29 billion in sales…
Total online sales since Thanksgiving Day are up 26% YOY, to a whopping $7.4 billion, which amounts to more than 10% of retailers' total yearly sales.
IBM (NYSE:IBM) just released their Black Friday Report 2013 which provides detailed data for online sales on both Thanksgiving day and "Black Friday." Of particular interest here are the following summary notes:
Mobile Shopping Soars: Mobile traffic grew to 39.7 percent of all online traffic, increasing by 34 percent over Black Friday 2012. Mobile sales were also strong, reaching 21.8 percent of total online sales, an increase of nearly 43 percent year-over-year.
Smartphones Browse, Tablets Buy: Smartphones drove 24.9 percent of all online traffic on Black Friday compared to tablets at 14.2 percent, making it the browsing device of choice. Tablets drove 14.4 percent of all online sales, double that of smartphones, which accounted for 7.2 percent of all online sales. Tablet users also averaged 15 percent more per order than smartphone users, spending on average $132.75 versus $115.63 for smartphone users.
iOS vs. Android: On average, iOS users spent $127.92 per order, compared to $105.20 per order for Android on Black Friday. iOS traffic reached 28.2 percent of all online traffic, compared to 11.4 percent for Android. iOS sales reached 18.1 percent of all online sales, compared to 3.5 percent for Android. [emphasis added]
This tells us several things:
Mobile traffic is important to retail, generating 22% of online sales.
Apple's iOS generated 50% more online traffic, and more than 5 times the sales than Android.
So this raises the question:
If Android has so many more devices sold, then why are they not represented in the web usage?
Why is it that iDevices generated more than twice the online sales traffic (28%) than did Android (11%) if Android has so many more devices out there?
Obviously, this is a complicated issue. Mobile devices are purchased for many reasons as individuals have differing needs, but I think that there are several things happening.
To begin with, let's look at smartphone numbers again. Researcher Tomi Ahonen provides a listing of the top 10 manufacturers of smartphone in Q3 of this year.

Of course the sales figures for tablets is different, with Apple holding a slight lead. However, the interesting thing here is that Apple was not #2 - "Other" was. One in five smartphones was sold by some other company which was not in the top 10. To me this is surprising, that so sizeable a proportion were sold by what Strategy Analytics calls "White box" vendors. These are items sold under names other than their producers, and they represent a large proportion of sales around the world, particularly in developing nations. This applies to both smartphones and tablets.
In Colombia, for example, the minimum wage is about $325 per month. The new iPad Mini costs more than that. But people there love Facebook (NASDAQ:FB), and would like to have a tablet. I have seen them for sale - but not the iPad, nor one of the Samsung (OTC:SSNLF) Tab models. Instead they are something like what is offered on Amazon (NASDAQ:AMZN): Uplay Tablet C70 - 7" Android 4.0 Tablet - Price $49.99.

Needless to say, the performance of a tablet such as this is not going to be anywhere near that of a top line model, whether iOS or Android. And with smartphones it is the same. Here is another posting in Amazon with specs below.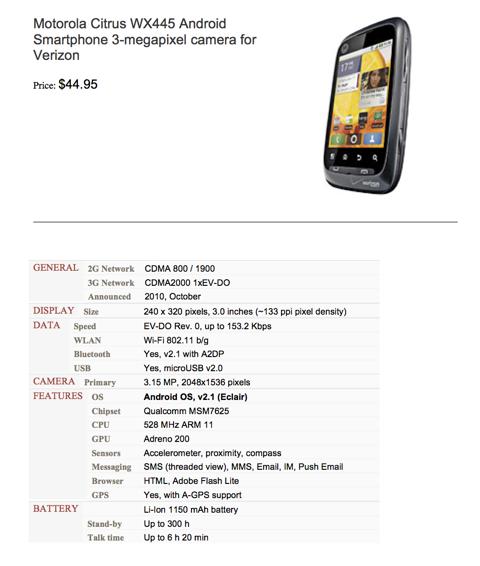 Note the operating system is Android v2.1 (Eclair) from January 2010, almost four years old! Yet even this is prohibitively expensive for many people around the world.
But let's look at this phone. It is small, low resolution, and the overall experience has to be pretty bad for any realistic web navigation. Sure, it may work fine for sending Facebook messages, but not really much more than that on a regular basis. Similarly, the tablets are slow and unresponsive, best for low level games and perhaps text exchanges. Besides, many owners cannot afford data plans and use only wifi for internet connections. And this type of phone is made not just by "other" level sellers, but by HTC (OTC:HTCCY) and Samsung as well.)
In the "tablet" world there is yet another device type that bumps the Android tablet numbers. These are Android based Media Players. They sign into Google Play as a tablet, but have neither screen nor keyboard. They plug into a USB connection for power, and have an HDMI outlet for a TV. On one product a user writes:
This device is practically an android tablet without the screen or a keyboard or mouse. If you hook it up to an hdtv and a wireless keyboard and mouse, you can do everything a tablet can: browse the internet, play audio and video, download and use android apps from the market, and play games.
Another product looks like this: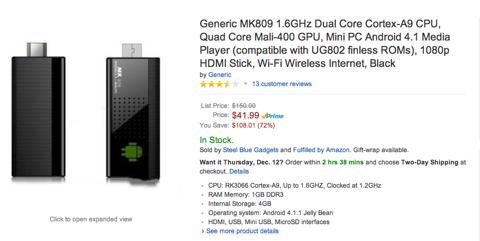 These clearly are not tablets, but they register as such, bumping up Android numbers.
So this is why so many Android products do not show up on web statistics. You might call it the "usage gap" between supposed device sales, and reported web usage.
Other possible interpretations
There are a couple of other possible interpretations. The first is possible errors in web statistics.
We need to understand exactly where these web stats come from. For the most part, they come from monitors that are embedded either in target web pages on the internet, or in your apps on your smartphone or tablet. The purpose of the latter is to gather usage statistics for the app developer. Along the way, the monitoring engine can gather general statistics as well. These systems garner millions, if not billions of data points daily so their sampling size is very large - which is good. But still there is no guarantee that the source population of users it truly representative of device owners overall. Someone, say Ms. B., with a low end device is probably less likely to have a GAP app than someone with a top of the line 5s. Therefore, even though Ms. B. may be an avid internet cruiser from her smartphone, perhaps she and her cohorts show up a lot less frequently on the various cyberspace "radars."
The second potential source of error is the estimates of sales. Apple announces precise numbers for sales of each of its lines (although not specific product breakdowns). None of the other manufacturers do so. Therefore, all Android smartphone and tablet sales estimates are exactly that - estimates. There may be very well thought out rationale behind the estimates, but in the end, none of these figures are really known. So there is always a possibility that these numbers are significantly higher than reality.
Conclusion
The first thing to keep in mind is that the numbers are always changing. As I have discussed previously Apple new products are selling surprisingly well, and this should have positive effects on their market share.
I am not trying to say that there is anything wrong with an Android 2.1 phone being added to numbers. It is a good thing that people with more modest means have access to modern technology, even if on a limited device. But when we think of smartphones, the first thing that comes to mind is the iPhone or Galaxy S series, or Motorola Droid, and in tablets we think of the iPad, or other top of the line systems.
The important thing for the investor who wishes to really understand the market implications, is to realize that these high end devices are not the whole story, but that the low end devices actually make up a huge proportion of the market. Rightly or wrongly, Apple has decided to stay out of this part of the market as it sees no real profit there.
So the investor can use this deeper understanding of the market to better know the implications of data on market share, and better judge their significance. It is not for me to decide for you how to interpret this. You know your own investment strategies and preferences. But I hope I have been able to clarify to some extent what is really going on behind these numbers.
----------
Related story:
Dangers Of Misreading Market Data
Disclosure: I am long AAPL. I wrote this article myself, and it expresses my own opinions. I am not receiving compensation for it (other than from Seeking Alpha). I have no business relationship with any company whose stock is mentioned in this article.