Business Perspective Investing
Warren Buffett and his partners at Berkshire Hathaway (BRK.A, BRK.B) are renowned investors in businesses rather than stocks. In truth, they much prefer buying a whole company than they do a partial interest in a publically-held one. However, when they do invest in publically-traded companies they look for those they believe has a lasting competitive advantage. These kinds of businesses tend to have excellent operating histories and above-average growth.
In Part I of this two-part series we looked at those companies that Berkshire had lightened up on. In this part, Part II, we will review the companies that Berkshire added money to. We will once again utilize our EDMP, Inc. F.A.S.T.™ graphs (Fundamentals Analyzer Software Tool) to look at these selections based on fundamental values.
As was the case in Part I, a comprehensive analysis of each selection is beyond the scope of this report. However, our F.A.S.T.™ graphs do provide essential fundamentals-at-a-glance that reveal significant insights to how well a business has performed on an operating basis over time. They also provide a perspective on valuation, or what we call True Worth™.
As logic would dictate, shareholder returns tend to closely correlate to business success (earnings growth), assuming of course that valuations are in line, especially at time of purchase. Warren Buffett has long understood that you make your money on the buy side. Therefore, using our tool let's examine Warren's recently announced purchases based on valuation related to earnings.
Recent Berkshire Buys
Berkshire Hathaway (NYSE:BRK.A) reported purchasing five companies in its recent filing. As we did with sells, we will provide one graph (NYSE:A) and one chart (NYSE:B) for each example. With respect to these purchases our focus will be on current valuation as it relates to earnings justified values.
For clarity, and as an over-simplification, the earnings line (green line with white triangles) could be thought of as the True Worth™ or intrinsic value line. Therefore, if the stock price (black line) is touching the earnings line, the stock is at fair value. If price is below the line, the stock is undervalued, and if the price is above the earnings line it's overvalued.
The calculation of the earnings line is important and for four of our five examples fittingly represents a modified version of Warren's mentor Ben Graham's formula for valuing a company. The fifth example, Iron Mountain Inc. (NYSE:IRM) is a pure PEG ratio calculation, i.e., the green line is plotted by multiplying each year's earnings by the growth rate of those earnings. As an aside, at least from our point of view, Iron Mountain, Inc. (IRM) doesn't seem to fit the mold of the other four.
The Five Recent Buys
Let's start with Iron Mountain, Figures 1A & B below. Note that there are no earnings to speak of for the first five years. Further note that Iron Mountain trades at a blended PE ratio of over 23 and carries a rather high level of debt. This example seems out of character for Berkshire, perhaps they know something that we don't?
Figure 1A IRM 15yr EPS Growth Correlated to Price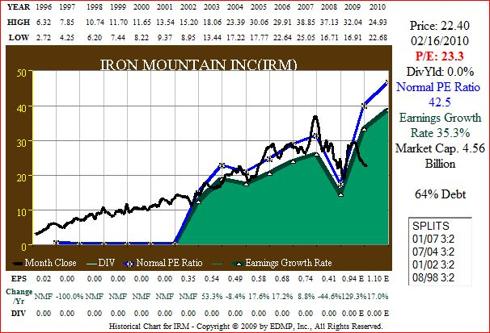 Figure 1B IRM 15yr Price Performance


Our second example is Wal-Mart (NYSE:WMT). The Wal-Mart graph in Figure 1A provides a great lesson on the importance of valuation. Note how the price was in-value at the beginning (black line touching the green line) and ended slightly below the green line, or undervalued at the end. Most importantly note how overvalued Wal-Mart stock became at the end of 1999 and how the price went sideways to down over the next ten years.
This occurred even though earnings growth, or in other words, operating results were quite strong. At the end of the day, Chart B shows that shareholder returns and long-term earnings growth strongly correlated.
Figure 2A WMT 15yr EPS Growth Correlated to Price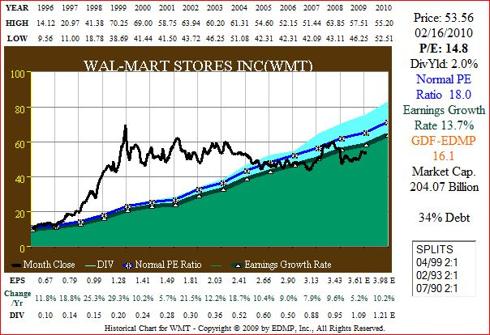 Figure 2B WMT 15yr Dividend and Price Performance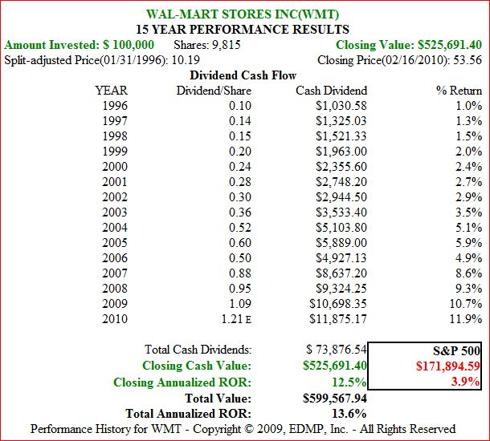 Our next example is Republic Services, Inc. (NYSE:RSG). In Figure 3, Graph A shows that Republic Services is currently at fair value. Note the dividend established in 2003 and its rapid growth since.
Figure 3A RSG 13yr EPS Growth Correlated to Price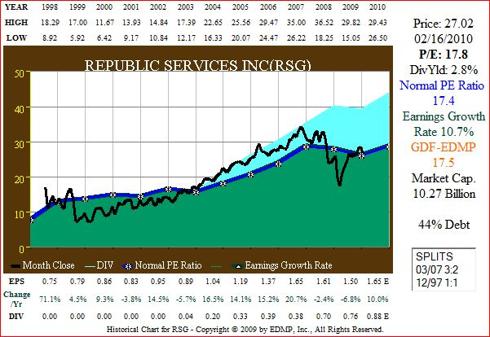 Figure 3B RSG 13yr Dividend and Price Performance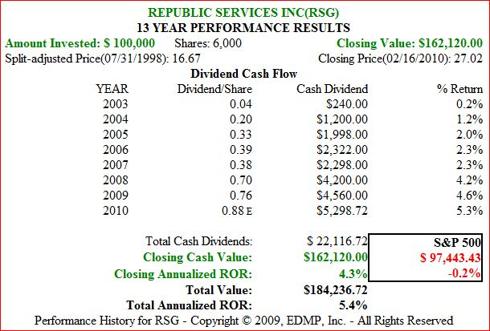 Our fourth example is Becton Dickinson & Co. (NYSE:BDX). This steady-eddy is currently trading at a lower valuation than in any year prior to 2008.
Figure 4A BDX 15yr EPS Growth Correlated to Price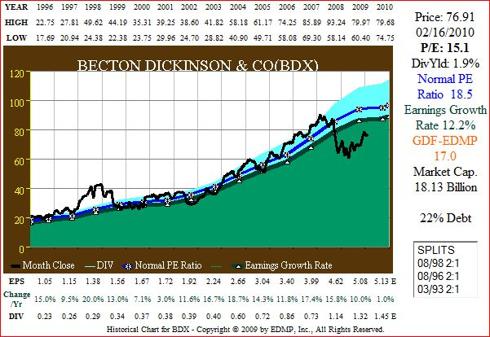 Figure 4B BDX 15yr Dividend and Price Performance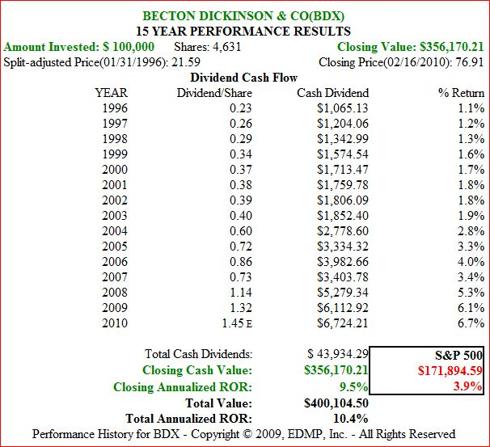 We saved the best for last, at least in Warren Buffett's opinion. It's alleged that he told students last year that Wells Fargo (NYSE:WFC) would be the one stock that he would be willing to put his entire net worth in. Frankly, we don't see the allure, but we are not ones to question the master either. Anyway, below find Figures 5A & B on Wells Fargo (WFC).
Figure 5A WFC 15yr EPS Growth Correlated to Price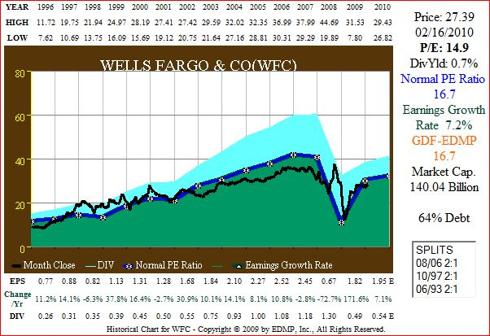 Figure 5B WFC 15yr Dividend and Price Performance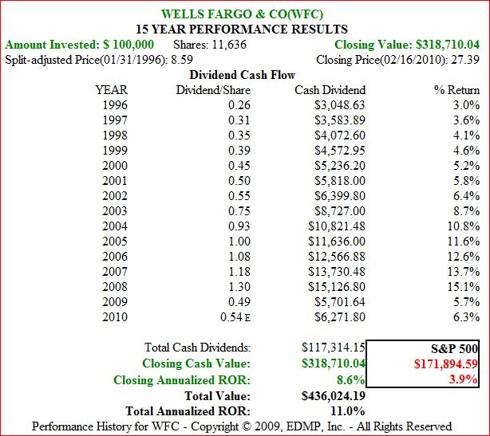 Conclusion
We hope you found this report and Part I on Berkshire Hathaway's recent dealings of interest and value. We view our F.A.S.T.™ graphs (Fundamentals Analyzer Software Tool) as tools to think with. They are designed to compliment and facilitate the fundamental investor's research process. Their true value lies in the skills of the user.
With that said, a report on Berkshire Hathaway's from the perspective of our Fundamentals-at-a-Glance Tool would not be complete without a set on Berkshire itself. Figures 6A & B look at Berkshire Hathaway (BRK.A) based on fundamentals. Enjoy!
Figure 6A BRK.A 20yr EPS Growth Correlated to Price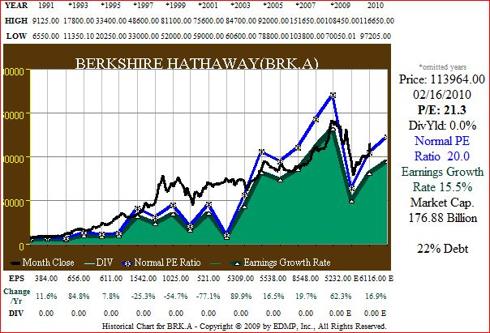 Note: Based on the high stock price for BRK.A, there is limited space for data. Therefore, data is only provided for everyother year.
Figure 6B BRK.A 20yr Price Performance




Disclosure: No positions at the time of writing.