By Chris McKhann
The ProShares UltraShort Real Estate Fund (NYSEARCA:SRS) has fallen by more than 7 percent yesterday, and a large option trade positioned for further declines.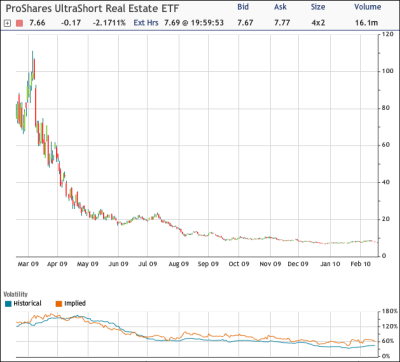 The SRS fell another 2.17 percent to close at $7.66, adding to losses of the last two days that have seen shares fall from resistance around $8.60. The shares, which hit their 52-week low of $6.90 at the end of December, have been falling since the March turnaround when the SRS hit a high of $111.22.
Yesterday one trader bought 10,216 of the July $7 puts for $0.73 against open interest of 263 contracts. At the same time, the trader sold 10,216 of the July 9 calls for $0.75 against open interest of 2,638.
This is bearish trade on its own creates a small credit that will be kept if shares are between $7 and $9 at expiration. It is quite likely that this is a collar trade against long shares, which caps the upside and downside, but is actually bullish up to that $9 level.
(Chart courtesy of tradeMONSTER)