Plug Power the Dominant Player in a Market Growing at 25% per Year
Company Description
Plug Power Inc. (NASDAQ:PLUG) ($1.85) provides alternative energy technology focused on the design, development, commercialization and manufacture of fuel cell systems for the industrial off-road (forklift or material handling) market. Plug Power focuses on proton exchange membrane (PEM), fuel cell and fuel processing technologies and fuel cell/battery hybrid technologies. A fuel cell is an electrochemical device combining hydrogen and oxygen to produce electricity and heat without combustion. Hydrogen is produced from hydrocarbon fuels such as liquid petroleum gas, or LPG, natural gas, propane, methanol, ethanol, gasoline or biofuels. Hydrogen can also be produced from the electrolysis of water. In May 2013, Air Liquide SA acquired a 14% stake in Plug Power Inc.
Plug Power develops manufactures and sells its hydrogen-fueled PEM GenDrive products. GenDrive products are sold to industrial off-road (forklift or material handling) applications, with a focus on multi-shift high volume manufacturing and high throughput distribution sites.
During the fiscal year ended December 31, 2012, Plug Power received orders from Stihl, Mercedes Benz, Lowe's (NYSE: LOW), Carter's and Ace Hardware. It also experienced add-on orders from Wal-Mart (WMT), P&G (PG), Coca-Cola (KO), Sysco (SYY), Wegmans, Kroger (KR) and BMW. Plug Power sells its products worldwide, with a primary focus on North America, through its direct product sales force, original equipment manufacturers (OEM), and their dealer networks. It sells to businesses, government agencies and commercial consumers.
Plug Power offers a range of service and support options, to promote fuel cell adoption and maintain post-sale customer satisfaction. These options include installation, commissioning, remote monitoring, product manuals, as well as on-site technical support. Additionally, GenDrive product support and services may also include customer training and using service personnel from lift truck dealer networks.
According to Fuel Cells 2000, there are over 4,000 fuel cell forklifts in use in the U.S. today. Plug Power currently has an 85% market share. Plug aims to ship 3,000 units and generate $70 million in revenue in 2014. They have a current sales backlog of $28 million and expect the backlog to reach $43 million by the end of the year. With $10 million in recurring revenue expected in 2014, by the end of this year, Plug Power will have 70% of its 2014 $70 million revenue target.
Value Proposition
Plug Power's GenDrive have a clear value proposition for clients including: increased productivity, lower operational costs, zero emissions, more commercial space, and easy transition from traditional lead acid batteries.
Plug Power's GenDrive fuel cells increase productivity. Traditional lead acid battery powered lift trucks lose approximately 14% of their speed over the last half of the battery charge, while GenDrive (Fuel Cell Powered) maintains a consistent speed throughout its charge.
GenDrive lowers operational costs. During a battery powered shift of 8 hours, a lead acid battery is changed at least once. Changing a battery involves the operator leaving the work area, driving to a centralized battery change-out station and getting a replacement battery. This can take anywhere between 15 and 30 minutes. By contrast, GenDrive powered truck will run up to three times longer than its battery driven counterpart, eliminating lost productivity from driving to the centralized battery charge out station and replacing the battery. GenDrive can be charged in as little as 90 seconds.
GenDrive has zero emissions eliminating costs associated with handling, storing and disposing of toxic materials. GenDrive decreases emissions by 80%.
GenDrive increases commercial space. The GenDrive fueling station is much smaller allowing for more commercial space to increase revenues.
GenDrive fuel cell units fit seamlessly into the space occupied by batteries, making it a simple and cost-effective solution for customers to adopt.
Assuming a company has a fleet of 230 forklift trucks, over the 10 year life of a fuel cell battery, similar to GenDrive, saves 53,000 hours of work, has a payback period of 1 year and has a NPV of approximately $4 million, assuming a 10% discount rate, illustrating the value of Plug Power's GenDrive.
Plug Power has a number of Fortune 500 companies as clients providing, further, credibility to the GenDrive's value proposition.
Market Opportunity
Navigant Research estimates the annual revenue from advanced electric forklift technologies in North America will grow from slightly more than $100 million in 2013 to more than $500 million in 2020. This represents an annual growth rate of 26%. In 2007, the Global Forklift Battery Market is estimated at over $1 billion by the U.S. Fuel Cell Council. Assuming no growth (extremely conservative) in the Global Forklift Battery market, even with significant growth in the advanced technologies, there will still be much more room for the Fuel Cell market to grow.
Why Buy Now?
Plug Power is very cheap with estimated upside of 100% based on recently announced 2014 revenue guidance. The recent downturn in global demand has led to a renewed focus on costs and efficiencies at all organizations. Plug Powers products have a clear value proposition which many companies are realizing. This value proposition has allowed Plug Power to acquire many Fortune 500 customers. Plug Powers penetration among their customers is very low allowing for very strong growth without the customer acquisition costs. The fuel cell industry has been in developmental mode for the last twenty years. Recently the technology has been perfected so the cost of producing clean energy is now competitive with other forms of energy. Governments have instituted environmental regulations. Plug Power and fuel cells technology are the major beneficiaries of these regulations.
On December 4th,2013, Plug Power hosted a conference call and web cast to provide investors with a business update. During this conference call, Plug Power stated that they are very confident in reaching a conservative $70 million revenue figure in 2014. By the end of 2013, Plug Power expects its backlog to cover 70% of its 2014 revenue guidance. Plug Power also stated a major deal between $30-$40 million will be announced before the end of the year.
Plug Power has significant potential within its current customer base. Plug Power has 4,500 forklifts deployed to date. This is far less than the combined 250,000 forklifts deployed by Plug Power's different customers. Given the strength of GenDrive's value proposition, adoption should pick up rapidly. A great example is Kroger. Kroger operates more than 40 distribution centers. Plug Power expects to provide 2 to 3 sites per year with 200 to 300 GenDrive units. Kroger illustrates the strength of their value proposition and it is just a matter of time before customer increase orders to Plug Power.
What is this opportunity worth?
To get a Target Price for Plug Power, The Focused Stock Trader uses the EV/Sales multiple of 5.73x, which equals the average EV/Sales of Power companies from 2009-2013. Multiplying the 5.73x EV/Sales figure by Plug Power's conservative 2014 sales guidance of $70 million leads to a Target Stock Price of $4.00 per share representing just under 100% upside by the end of 2014, illustrated in the table below.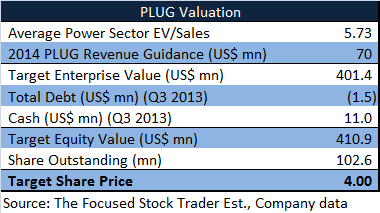 Assuming no change in the Target EV/Sales and growth in the sales of 25%, in-line with the overall market growth, Plug Power's target price should increase by 25% per year.
Technical Analysis by Harry Boxer (TheTechTrader.com)
Plug Power suffered a horrendous down trend over the last 10 years. Its price slide steadily from over $10 to just pennies, interrupted by a reverse 1 for 10 spilt 2 ½ years ago. However, a major turnaround occurred 9 months ago when Plug Power's share price ran in an orderly up channel from pennies to over $1. In the last week, it exploded on positive CEO comments and projections which caused the current spike up near $2.25. It may be overbought in the short term, but momentum is very strong on heavy upside volume. Plug Power share price could extend in the short term before a consolidation takes place, which TheTechTrader.com anticipates. The recent high volume breakout can't be ignored and may be just the beginning of a longer term move. Our technical targets are $3.35-3.50 then $4.00-4.14. Longer term a $6-7 share price may be possible. Near term support is $1.50.
Conclusion
Plug Power has a dominant position in a market growing at 25% per year. After17 years of development and more than 200 million dollars of investment the Company now has a fully developed source of clean energy that is competitive with other sources. They can provide significant value to their clients through increased productivity and lower operational costs. Plug Power has a very low penetration rate within their existing customer base providing ample room to grow. The Focused Stock Trader estimates Plug Power is significantly undervalued given their dominant market position, strong value proposition compared to traditional technologies and their ability to grow. We realize the shares could have been purchased at a much lower price recently. Despite the increase in price we think the shares have great upside. PLEASE CONSULT YOUR FINANCIAL ADVISOR BEFORE PURCHASING THE SHARES.
Disclosure: I have no positions in any stocks mentioned, but may initiate a long position in PLUG over the next 72 hours. I wrote this article myself, and it expresses my own opinions. I am not receiving compensation for it. I have no business relationship with any company whose stock is mentioned in this article.