Recently, Dollar General (NYSE:DG), Kroger (NYSE:KR) and Costco (NASDAQ:COST) reported quarterly results. Dollar General's third-quarter report showed same-store sales advancing 4.4%, which propelled total sales 10.5% higher during its third quarter (ending November 1). Kroger's third-quarter report showed 3.5% identical supermarket sales growth, without fuel, during the period ending November 9, while Costco's fiscal first-quarter results (ending December 1) revealed same-store sales expansion of 3% during the quarter.
Dollar General's quarterly performance not only bested that of Kroger and Costco, but it also stood head-and-shoulders above that of Wal-Mart (NYSE:WMT), which reported a comparable store sales decline in Wal-Mart US and only a 1.1% increase at Sam's club, and Target's (NYSE:TGT) third-quarter performance, where US comparable store sales advanced only 0.9% in the period. Dollar Tree's (NASDAQ:DLTR) third-quarter results showed comparable store sales jumping 3.1%, so Dollar General's lofty mark suggests it is firing on all cylinders relative to its peer group. Dollar General's best-in-class comparable store sales expansion is even more impressive given its geographic footprint.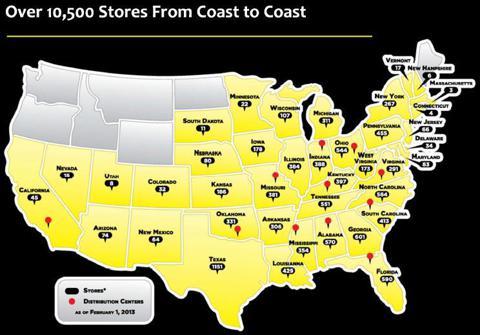 Click to enlarge
(Click to enlarge)
Image Source: Dollar General
Dollar General's strong same-store sales were led by increases in both customer traffic and average transaction value. Consumables sales increased at a faster rate than non-consumables, with particular strength in tobacco products, perishables and candy and snacks. Even seasonal and home products sales performed well. The firm's gross profit margin fell during the quarter, but Dollar General was able to scale selling, general, and administrative (SG&A) expenses to mitigate a material operating profit margin decline. Adjusted net income advanced 10%, while adjusted earnings-per-share leapt 14% during the quarter, the latter roughly matching the pace of Dollar Tree's measure in its third quarter. For the 39 weeks ended November 1, 2013, Dollar General's net cash provided by operating activities totaled $760.6 million and capital expenditures totaled $444 million, resulting in free cash flow of $316.6 million, up 33% from $237.3 million in the year-ago period.
Dollar General tweaked its same-store sales guidance to the lower end of its previously-issued range for fiscal year 2013 (now 4%-4.5%, was 4%-5%), but the record third-quarter strength prompted management to raise the lower end of its fiscal year 2013 earnings-per-share outlook (now $3.18-$3.22 per share, was $3.15-$3.22 per share). More importantly, the performance provided the confidence needed for the company to push forward with plans to open another 700 new stores in fiscal 2014.
Valuentum's Take
Dollar General's third-quarter performance was the best among peers, and we think the consumer "trade-down" continues. Kroger's performance, while not terrible by any means, wasn't as strong as it could have been, and Costco's same-store sales performance came in a bit lower than our expectations in the period. We like how things are progressing at Dollar General the most among its peer group, but shares are trading at the high end of our fair value range. We'll look for an opportunity to be active in the company if shares approach the lower end of our fair value range.
Disclosure: I have no positions in any stocks mentioned, and no plans to initiate any positions within the next 72 hours. I wrote this article myself, and it expresses my own opinions. I am not receiving compensation for it (other than from Seeking Alpha). I have no business relationship with any company whose stock is mentioned in this article.