(Editors' Note: This article covers a stock trading at less than $1 per share and/or has less than a $100 million market cap. Please be aware of the risks associated with these stocks.)
Some of the hottest companies this year for investors are well known - Tesla (NASDAQ:TSLA) and Apple (NASDAQ:AAPL). They're very different but from one perspective both could be considered electronics companies. Whether it's phones, computers, or cars, the products these stocks produce are all electric.
So if Tesla and Apple can do it, which other companies can ride the wave of electronic innovation alongside these all-stars? What is one component that is found in each of them? Well, the lithium ion battery, of course.
The markets have been buzzing about lithium ion for a while but for one reason or another, the excitement tends to die down, much like the actual battery in my smartphone. But perhaps when excitement is running on empty is the best time to start considering entering the market.
Lithium ore prices have been on a rise since the mid-2000s, which encourages miners to produce even more.
Miners like Chemical & Mining Co. of Chile (NYSE:SQM), FMC Corp. (NYSE:FMC), and Rockwood Holdings (NYSE:ROC) have seen mixed results this year, but investors may find it more worthwhile to examine another aspect of the lithium supply chain: battery producers.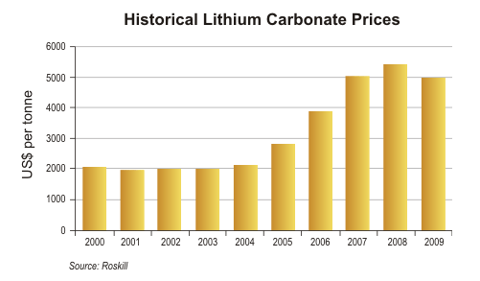 Click to enlarge
Even though lithium ore prices are rising, battery producers all agree that the cost per kilowatt is sure to fall. Manufacturers are getting better at building batteries and they're passing savings down to consumers. That means in a short amount of time, lithium ion batteries will become an affordable option for consumers of all types.
Investing could be a fairly simple concept if you simply pick the leading company of an industry and let your money ride. But that's not necessarily the most prudent strategy, so let's compare the industry leader with some lesser known competitors.
If we look at the leader in terms of market capitalization then Johnson Controls Inc. (NYSE:JCI) would be the one. The company recently announced a $3 billion repurchase of shares, which certainly made investors happy.
Even better, Johnson Controls is getting more profitable. For the fourth quarter of 2013, the company reported a record level of net income with year-over-year growth at about 25%.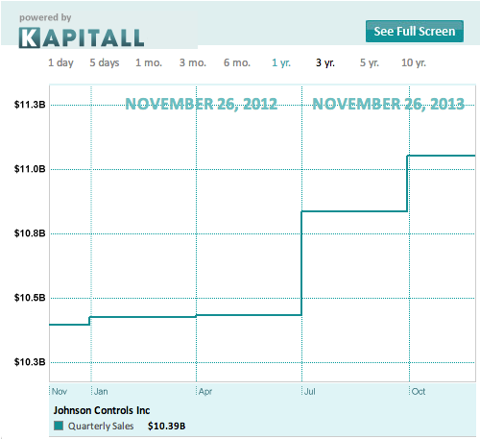 (Click for interactive chart. Data sourced from Zacks.)
Comparing JCI's strong sales growth (2.30%) with its price makes the company a particularly attractive stock going forward. JCI is well established with operations in various industries, such as producing and marketing HVAC systems, energy management consulting, and producing and marketing interior parts for cars and vans, as a few.
Its range of products simply allows JCI to be prudent about the expected growth in use of lithium ion batteries. Once batteries become even more affordable and widely adopted, a company like Johnson Controls could be best situated to quickly turn a profit.
Looking at the Competitors
By no means is Johnson Controls the only company in the lithium ion battery scene. Although it's a leader and well established, its price point and relative volatility could be a concern for some investors. Depending on outlook and goals, investors could also be more willing to take positions on companies more focused solely on lithium ion technologies, but is their small size in comparison to Johnson Controls a worrisome sign for potential investors?
Ultralife Corp. (NASDAQ:ULBI) and China BAK Battery, Inc. (NASDAQ:CBAK) are two interesting players in the lithium ion landscape. Each has its merits and also areas of concerns - especially considering their noticeably small share of the market.
Take Ultralife Corp. for example, a $62.15 million industrial electrical equipment supplier. In its most recent conference call the company's CEO Mike Popielec highlighted the ability to achieve profitability in the third quarter in its battery and energy segment. But Ultralife's B&E revenues were down substantially since Q3 2012 and its gross margins have come down as well. This is largely due to the company's focus on military contracts for its battery and energy products, although it is looking to diversify its customer base.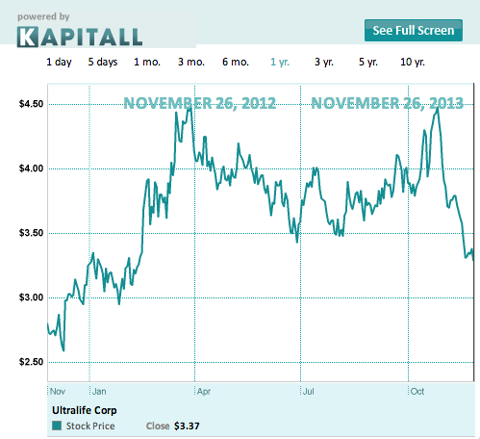 (Click for interactive chart. Data sourced from Zacks.)
With military-grade batteries, the company is looking to expand into the medical devices industry, which could give it a substantial amount of sales growth with minimal product development. This synergy between what ULBI currently does and what it will do in the future could be a positive sign for investors, and could lead to greater market share, especially with strong growth in its newly developed battery products.
However, with another potential government budget crisis looming as early as March 2014 (when the Treasury expects the debt ceiling to be reached again), Ultralife's dependence on government contracts could put it in a bind. Whether Congress squabbles all the way to the final hour or matures and deals with the budget as it should, defense spending towards products that Ultralife provides could be cut, which presents a fair share of risk heading into next year.
Meanwhile, China BAK Battery could be showing even more significant areas of worry for investors. Its current ratio is around 0.50, which could prevent the company from capturing the gains in the growing lithium ion market.
And the company could have troubles meeting its obligations, which could further hurt its prospects in getting additional funding. The company has stated on its most recent quarterly report that there are "doubts about [China BAK's] ability to continue as a going concern." This is fairly alarming but even more so in the context of the same statement having appeared three quarters earlier on its annual report at the end of 2012.
Based on its August 23 earnings release, the company lost $4.1 million more in 2013 than during the same period in 2012. This is certainly not a great trend for the company but investors should not forget that net revenues grew by 34.4%.
China BAK Battery's high-powered battery cells were among the strongest growing revenue sources in terms of percentage, which also happens to be an area of high margin for the company. With strong revenue growth, the company seems to have established good sales but questions remain whether it will still be around long enough to turn a profit.
Conclusion
The market for lithium ion batteries will only get stronger as the technology becomes more established and its use becomes more widespread. With industry analysts expecting costs per kilowatt to come down to a very marketable level, the adoption of the technology is likely to become mainstream.
While a company like Johnson Controls has product lines ready to capture this growth, it is also diversified among other areas. Diversification, along with strong books, will allow the company to weather a storm but could prevent it from profiting as greatly from growth in lithium ion.
Micro cap stocks like Ultralife Corp. look more focused on lithium ion battery technology than Johnson Controls, and competitors like China BAK Battery could be well positioned for increased use in lithium ion as individual product lines adapts to the technology.
However, even with growing revenues and expansions into different markets for lithium ion technology, growing expenditures and uncertain sources of funding mean these companies could pose some serious risk for investors compared to established players like Johnson Controls.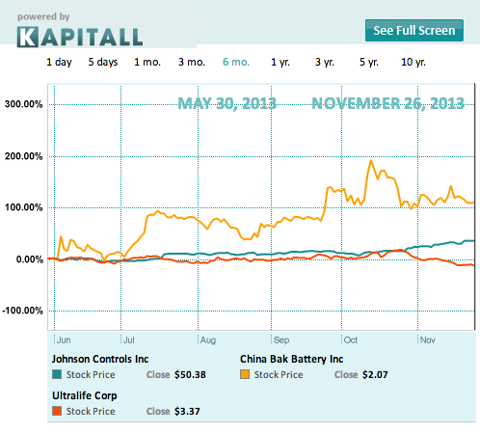 (Click for interactive chart. Data sourced from Zacks.)
Note: Investing in micro cap stocks can be considered risky as many of these companies do not file financial reports with the SEC or relevant regulators, making publicly available information about their operations difficult to find. Many micro cap stocks are new to the market and lack a proven track record. And because many micro cap stocks trade in low volumes, trades large and small can have a greater impact on the stock price compared to investments with larger market share. Learn more about the risks associated with micro cap stocks.
Disclosure: I have no positions in any stocks mentioned, and no plans to initiate any positions within the next 72 hours.
Business relationship disclosure: Kapitall is a team of analysts. This article was written by Antonio Alfonso, one of our writers. We did not receive compensation for this article (other than from Seeking Alpha), and we have no business relationship with any company whose stock is mentioned in this article.