2013 has been very kind to investors, but finding quality undervalued stocks has become increasingly difficult. Sociedad Quimica y Minera de Chile (SQM) has performed poorly, to say the least, over the past year and their 1 year chart clearly shows this.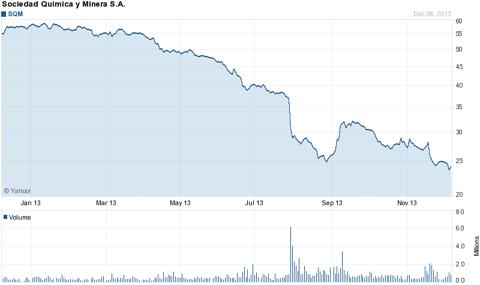 SQM is a Chilean based company engaged in the production of a wide variety of industrial chemicals and applications through its five business lines: Specialty Plant Nutrition, Iodine, Lithium, Industrial Chemicals and Potassium. This is where SQM's value lies. The company is diversified over a wide variety of chemicals and its fate isn't tied to any specific product and it is truly a global company, selling its products in over 100 countries.
| | | | | | | | |
| --- | --- | --- | --- | --- | --- | --- | --- |
| 9 months ending 9/30 | Specialty Plant nutrients | Iodine | Lithium | Industrial chemicals | Potassium | Other | Total |
| Revenue ($millions) | $ 533.3 | $ 358.4 | $ 148.4 | $ 129.3 | $ 472.3 | $ 69.2 | $ 1,710.9 |
| % share | 31% | 21% | 9% | 8% | 28% | 4% | 100% |
Most recently SQM's stock price has been under pressure from the breakup of the Russian/Belorussian potash cartel, which sent potash prices plummeting in August. However, I believe the decline in SQM's stock price from this event is overdone. Potash only accounts for 28% of SQM's total revenue and even with the declining prices, SQM is a low cost producer and still manages a healthy profit at current levels (potash >40% gross profit in Q3).
Reasons for Optimism
Over the past month there has been positive news in the potash market. Most recently, Mikhail Prokhorov (Russian billionaire), bought a 21% stake in Uralkali. Uralkali is the world's largest producer of potash and it appears with calmer heads prevailing that some form of a cartel will be reestablished. Also Uralkali sales chief, Oleg Petrov, recently said:
All corrections will occur in 2013, reaching a bottom in early 2014 with the contract in China, after which there will be a definite rebound.
From SQM's Q3 conference call:
We continue to believe that market demand is the most important indicator when assessing the potash market, and trust that total demand levels in 2014 will surpass this year's levels. We remain confident about the long-term prospects of the potassium chloride market.
Another catalyst for SQM is the increasing global demand for Lithium. SQM is one of the world's low cost producers of lithium carbonate with current total production of 48,000 MT/year. Q3 sales volume was up 30% over 1H2013. SQM sees a continuing global market growth of 5-10% in 2013 and demand to double from 140 KMT/year to 250-300 KMT/year by 2020.
SQM hired a consulting company to find areas to reduce costs company wide and as a result, SQM expects to save $50 million in 2014.
Great Fundamentals:
P/E: 11.1
EPS: 2.15
Div + Yield: 1.25 (5.24%)
Profit Margin (2013): 23.4%
Total Debt/Equity: 0.8
Div. Growth (5yr): 28.3%
Risks
The biggest uncertainty involves the company's chairman and largest shareholder, Julio Ponce, and 3 other executives accused of abuse of power due to trades between subsidiaries that were detrimental to the minority shareholders. Between 2009 and 2011, shares were bought below market value and then sold at higher prices. If convicted, Ponce could serve up to 10 years in prison. This is a serious situation that may have short term consequences, but the mid-long term effect is minimal. (See: Bloomberg article.)
Bottom Line
SQM has performed poorly over the past year, but still has healthy profit margins, healthy revenue streams from growing markets and pays an impressive 5.24% dividend. There appears to be little downside from current levels and the 2014 outlook across all of SQM's product lines is promising.
Disclosure: I am long SQM. I wrote this article myself, and it expresses my own opinions. I am not receiving compensation for it (other than from Seeking Alpha). I have no business relationship with any company whose stock is mentioned in this article.