By Platinum Tiger

For many who celebrate it, the Chinese New Year is all about food. With persistent talk of financial bubbles and with economic uncertainty all around, one thing we can be sure of is that Chinese people will continue to eat, especially for the holiday feast. In the spirit of the season I've laid out below a Chinese menu of PRC food stocks, some sweet, some sour, for you to chew on.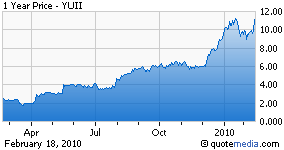 Poultry: Yuhe International (NASDAQ:YUII) is the second largest breeder of day-old broiler chickens in China. With Kentucky Fried Chicken outlets opening at a sizzling pace around the country, chicken consumption is growing and YUII will benefit. The stock had a finger-licking-good day Wednesday with a 10 percent pop on strong volume, and it is now flying just below its all time high. I'm considering a buy if it makes a convincing break through that threshold. At a PEG ratio of just 0.80, the stock could be a good value.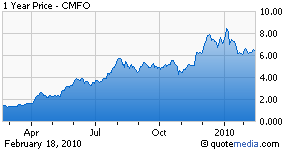 Seafood: China Marine Food Group (NYSEMKT:CMFO) processes and distributes seafood-based snack foods and fresh and frozen marine catch to seven provinces in the PRC. The company recently raised $30 million via a secondary stock offering of 4.1 million common shares. Revenue and EPS are running about 25 percent ahead of last year. It recently double bottomed in the low 6's, and has been swimming along through a low-volume consolidation at around $6.25 to $6.50 for a month. It may encounter upside resistance at its 50-day MA of $7.00. It's hard to say whether this is a good catch, but I'm keeping my line in the water for now.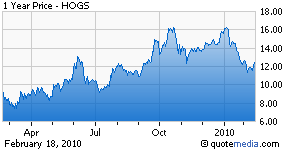 Pork: Zhongpin Inc. (NASDAQ:HOGS) is a meat and food processing company that specializes in pork and pork products, with a distribution network in China that covers 20 provinces and includes more than 3,000 retail outlets. This stock is wallowing in the mud, having just turned up off the bottom of a long, painful, 30 percent slide in value. I'm not recommending a buy here, but how can I resist writing about a company called HOGS? If you like rooting around in the mud for hidden treasures HOGS might be worth a look, but this porker could just as likely to give you a bad case of indigestion.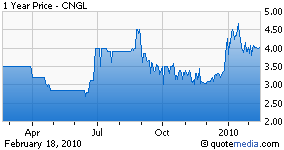 Dessert: China Nutrafruit Group (OTC:CNGL) is a leading producer of premium specialty fruit based products. The company had a sweet 3rd quarter, with revenues up 28 percent and EPS rising 45 percent. The company's facilities are running at over 90 percent of capacity, so they are in the process of adding a $19 million fruit and vegetable powder manufacturing facility that is expected to come on-line in September, 2010. The stock has been in an uptrend since early December when it bottomed out at $2.84. It has formed a mouth-watering 5-1/2 month cup & handle and is hovering at just 5 percent above its 50-day moving average. The P&F price objective is $7.75.

Bon appetit, or perhaps more appropriately, as they would say in Mandarin, "manman chi" ("eat slowly").

My Position: None.