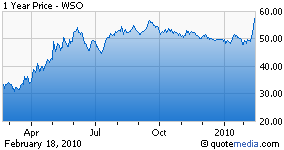 Florida-based Watsco (NYSE:WSO) is a company that investors don't hear a lot about, but perhaps that should change, at least from the perspective of income investors.
Watsco, which distributes heating, air conditioning and refrigeration products, announced better-than-expected fourth quarter results today and expects the first quarter to be more profitable than previously thought. For the fourth quarter, Watsco earned $6.2 million, or 21 cents a share, compared with $2.5 million, or 10 cents a share, a year earlier.
Revenue surged 68% to $563.6 million. Analysts were expecting the company to earn 14 cents a share on sales of $547 million. All of that bullish news led Watsco to boost its quarterly dividend by 8% to 52 cents from 48 cents. The company said the dividend increase is applicable to the class B shares. Watsco has increased its dividend for eight straight years.
Disclosure: No position