With just about 3 weeks left before 2014, it makes sense to start positioning your portfolio for year-end success and potentially strong gains into 2014. There is a huge buying opportunity in many stocks now which are being unfairly punished due to end-of-the year tax-loss selling. Since many investors decide to sell under-performing stocks in order to offset gains in other stocks, the share price of already cheap stocks see even more downward pressure. Investors are often either too fed up and frustrated to keep the shares in their portfolio (or want to "clean-up" portfolios for the New Year), or are selling in order to harvest tax-losses. A great example of this last year was Hewlett-Packard (NYSE:HPQ) which had a very tough year in 2012, and went down even further in the last weeks of the year due to shorts piling onto a weak stock and tax-loss selling pressure. However, it turned out to be a tremendous buying opportunity since HP shares went from about $12 in late 2012, to around $24 by March 31, 2013. Those are huge gains in a short period of time, and while not every stock is going to double like that, gains of 10%, 20% and more are not uncommon when tax-loss selling ends in January. The tendency for many stocks to rise into the end of the year and January is known as a "Santa Claus Rally" and also the "January Effect Rally". Investopedia.com defines this as:
"A general increase in stock prices during the month of January. This rally is generally attributed to an increase in buying, which follows the drop in price that typically happens in December when investors, seeking to create tax losses to offset capital gains, prompt a sell-off."
I think that there is another factor missing from this definition and that is the potential for a short-covering rally. When stocks seem to have little strength and even make new lows, shorts can become very complacent. Again, if you shorted Hewlett-Packard and saw it hitting new 52-week lows late last year, you might have had little incentive to doubt your investment decision or to cover the stock. However, that turned out to be a major mistake, because one of the best thing shorts had going was tax-loss selling pressure and as we all know, that does not last forever. In fact, it is going to end very soon, so investors should start thinking about buying cheap stocks and realizing that if it can trade for "X" now, what might this stock trade for when it is no longer experiencing tax-loss selling pressure? The end of tax-loss selling in January often takes some shorts by surprise as it can change the dynamics whereby a stock shows sudden strength, and that in turn can lead to a short covering rally.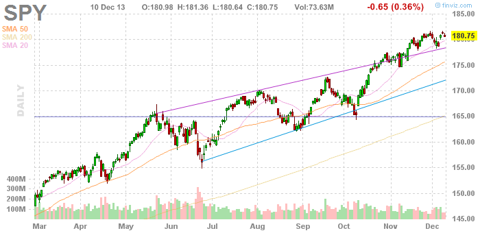 Click to enlarge
As the chart of the S&P 500 Index (NYSEARCA:SPY) above shows, the markets and many investors have significant gains in 2013, which means it is probably a very active tax-loss selling season since many investors are also trying to offset those gains by selling "losers". There is not much time left to take advantage of this and actually profit from it. That means it could really pay to go against the tax-loss selling "herd" now and actually start buying shares in companies that have sound financials, but might have experienced a disappointing earnings release or other issues that have pushed the stock down in 2013. It also could really pay to wait just about two weeks to sell some of your "losers", as you might get a lot more for that stock.
Buying beaten-down stocks at the end of the year might be the only "free lunch" on Wall Street. Furthermore, you don't need to be a well-connected investment banker to do this since it only requires common sense and here's why: We are past earnings season now (for most companies), which means you probably won't see management announce earnings or guidance that could cause the stock to drop. This means that downside risks could be limited; plus, the last couple of weeks of the year are generally light in terms of news on the economy which also means the stock market might be fairly stable in general. If you haven't tried investing or trading based on the "January Effect Rally", you should consider it. I find that it pays to average into beaten down stocks over the last two or three weeks of the year and hold until (at least) January 15, or in the case of Hewlett-Packard last year, even longer to maximize gains. For many weeks, I have been researching stocks that fit the profile for a solid rally into January. For a couple of ideas you can read this article which details why Cisco Systems (NASDAQ:CSCO) is one of a couple tech stocks that might surge in January. In the next two weeks, I will be writing about more stocks that could be poised to rally, so you can "follow me", if you want more ideas soon.
Data is sourced from Yahoo Finance. No guarantees or representations are made. Hawkinvest is not a registered investment advisor and does not provide specific investment advice. The information is for informational purposes only. You should always consult a financial advisor.
Disclosure: I am long CSCO. I wrote this article myself, and it expresses my own opinions. I am not receiving compensation for it (other than from Seeking Alpha). I have no business relationship with any company whose stock is mentioned in this article.